Tonight's episode of Aakhir Kab Tak left me with mixed feelings about the drama, perhaps for the first time! It is turning out to be yet another drama that is going to take a turn for the worse at a point when the viewers want to see it end! There were so many conversations in this episode that suggested that Azfar Rehman's character is going to make an entry in the story once again. It remains to be seen what purpose this will serve. He was bound to resurface at some point but why do it at a time when Fajar and Saim got back together after staying apart for the longest time? Some of the conversations were slightly exaggerated as well just to give the impression that Fajar finally got her happy ending. Noor and Nasir's track is cute but some of the scenes covering their state of mind were also stretched.
Fajar and Saim
Tonight's episode of Aakhir Kab Tak opened with Saim showering Fajar with love and his undivided attention. Fajar was also complimented for her newfound confidence and how content she was with life. Even though Fajar has changed a lot over the years, I doubt that she has the courage to face her rapist and do something about the situation. There were so many scenes tonight showing how good these two were together. These scenes immediately made me wonder if their perfect life will be interrupted in a way Fajar couldn't even have imagined. I am glad that the writer has highlighted the importance of therapy and medication. He has not relied on Saim's love completely to help Fajar heal.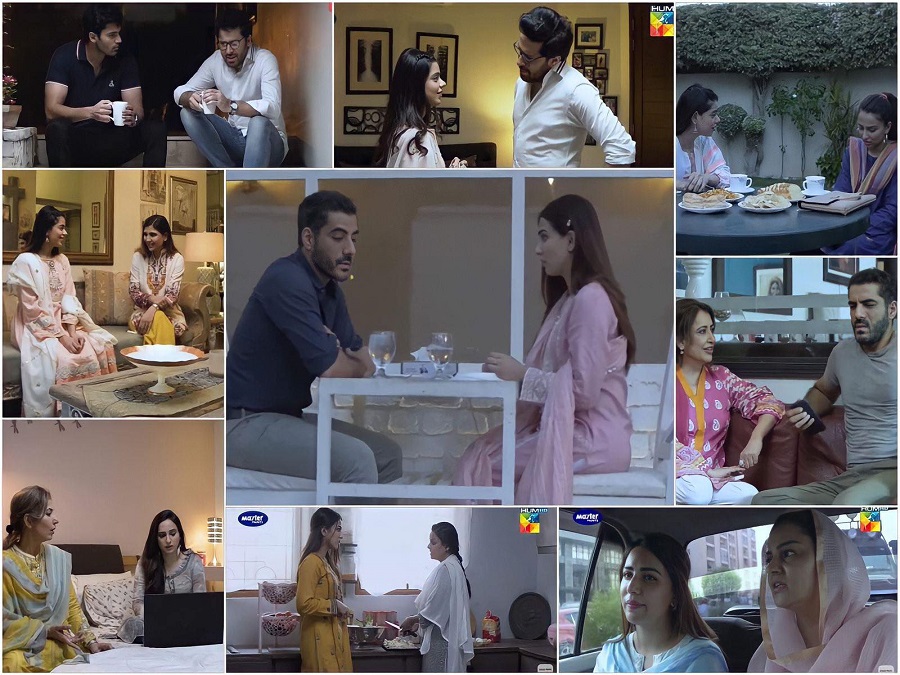 She has surely come a long way but it was somewhat unrealistic that these few days of contentment made her forget how uncertain Saim's mother is and how Saim is also capable of doubting her intentions. Her conversation with Noor in particular showed that she was still naïve and even gullible. These happy moments between Fajar and Saim were slightly overdone. If Azfar's character was to be reintroduced again, it should have been done earlier. The sudden changes in Saim's mother's behavior are also difficult to relate to. Her negative side should not have been given so much screen time. I am pretty sure that the cousin who is due to visit must be the person who violated Fajar. I just hope that this particular development is also used for a meaningful purpose and not just to add more misery to this particular track. Srha Asghar continues to be impressive as Fajar but I really can't see her suffering more!
Noor and Nasir
Noor and Nasir's track even with all its underlying seriousness always manages to put a smile on my face. Noor is turning to be a woman of strength and principles. Nasir is an unusual leading man who has his own way of fixing problems. His scenes are amusing and meaningful at the same time. He has been there for Noor and truly believes in finding a way around problems. Noor and Nasir's conversation about responsibilities was such an intelligent way of showing that their marriage was based on companionship. Nasir understood that it was as important for Noor to be there for her family as it was for him. These two understand each other therefore even before Noor shared her worries with him; he already had a solution in place! Ushna Shah and Adeel Hussein definitely make Noor and Nasir's track even more likable.
Nasir's scenes with his mother were stretched and so were the scenes that lead to their meeting in the store. Even with all his flaws, Nasir has always been a likable character because he respected Noor and his priorities in life right from the start.
Final Remarks
This episode of Aakhir Kab Tak was not as wholesome as some of the previous episodes. The story needs to move forward more rapidly towards an ending. We witnessed all these characters go through so many ups and down in these 22 weeks, the viewers deserve a good timely ending. I hope that the pace of the drama does not slow down further since the preview suggested that Azfar's character might be introduced at the end of the next episode.
Did you watch tonight's episode of Aakhir Kab Tak? Do share your thoughts about it.