Eid ul Fitr 2020 was different to all the previous Eids everyone has ever experienced before. This is the reason a lot of Pakistani celebrities didn't find it in their hearts to celebrate it, in light of all the lives lost due to Covid-19 and recent crashing of PIA flight 8303 on Jumma tul Vidah. Usually during the Eid days, everyone's social media feeds are filled with beautiful pictures of celebrities wearing beautiful clothing but it was different this time around with the mood being sombre and grievous. It was around the second day of Eid when a handful of celebrities shared their joys with their fans and followers and it lightened up the mood.
Here are the beautiful dresses worn by Pakistani celebrities on Eid ul Fitr 2020:
Ivory & Silver Dress of Reema Khan
Reema Khan wore this gorgeous outfit designed by Ruby Shakeel. She went for an elegant dress with pastel shades. It was a long flared shirt with embroidered panels and silver embellishments. The culottes were heavily flared and were made out of baby pink shaded chiffon. Reema Khan drape the dupatta around her arms to match the flow of the borders with the border of her shirt. This way of carrying this dupatta gave the overall look a very nice flow. Reema Khan kept her hair and makeup simple and fresh. She looked elegant as always.
Black & Silver Dress of Nida Yasir
Nida Yasir wore this beautiful outfit designed by Annus Abrar on one of her pre-recorded Eid shows. It was a gorgeous and heavily embellished dress which had a wow factor to it. The combination of black, gold and silver is bound to work. The shirt had a heavily embellished bustier, the rest of the panel of the shirt along with the sleeves had intricate design elements to them. She wore a banarsi flared palazzo with it. The dupatta had a red finish to the borders to bring a pop of color to it. Nida Yasir looked fabulous in this dress.
Taupe Pishwas of Maya Ali
Maya Ali looked absolutely gorgeous in this beautiful outfit designed by her best friend Faiza Saqlain. It was a sleeveless flared gown which was a beautiful shade of taupe. The entire dress was simple but the intricately designed large motifs on the bottom of the flared shirt brought the designing element to it. This sort of silhouette accentuated Maya Ali's petite waistline even more. She carried a graphic box designed dupatta of gold and taupe with this dress. Maya Ali once again didn't disappoint with her brilliant choice of outfit this Eid. She kept her hairstyle simple and wore statement jhumkis to go with this elegant dress.
White & Pink Dress of Sanam Jung
Sanam Jung kept it simple and beautiful this Eid in Maria B's design. Bearing the heat of Karachi in mind, she went for an all white dress with beautiful pink dupatta with it. Sanam Jung decided to go for a mommy & mini me outfit theme this Eid. The shirt that she wore had beautiful intricate embroidery around the bustier and border. The neckline had a button studded detail. The dupatta had an all-stripe pattern along with embroidered motifs to it. A perfect choice for summer's Eid.
Bright Yellow Shirt & Trousers of Sarah Khan
Sarah Khan wore the creation of Shahnaz Anis this Eid. She had a different take on the summery Eid and decided to go for a bright yellow color, which is always summer appropriate. Sarah Khan's dress was simple but elegant. The white laces all over the shirt and dupatta brought in a pop of color over the yellow based dress. The florals were appliqued on the shirt, dupatta and sleeves. The rhombus pattern created out of yellow thread brought another design element to this dress. The similar pattern followed on the trousers too, complimenting the entire suit perfectly. The dupatta and the trousers had the same lace used as finishing. Sarah Khan wore her hair straight and kept her makeup nice and fresh.
Red Gharara of Sumbul Iqbal
Sumbul Iqbal was the head-turner in this dress as she looked drop-dead gorgeous in this beautiful red gharara designed by Zubia Zainab. This dress was what dreams are made out of. A perfect shade of deep red along with golden embellishments and laces all over the shirt, dupatta, sleeves as well as gharara. Sumbul Iqbal not only looked pretty but felt pretty too as it is evident in her pictures. She styled her hair in loose curls, kept her makeup minimal and let the gorgeous dress do the talking.
White & Purple Long Shirt Dress of Ayeza Khan
Ayeza Khan kept it simple and elegant this Eid. She wore a beautifully designed dress of Ansar Jahangir. The dress was made of self-printed criss cross fabric in white. The design element was the purple cutwork border around the dupatta and the purple floral motif splattered all over her dupatta and shirt. Ayeza Khan's dress was on the simpler side, this is why she kept her hair and makeup a bit more elaborate and glamorous. The only accessory she wore are the earrings and completed the outfit wearing white khussas. She looked ethereal and gorgeous.
Navy Blue Flared Dress of Fatima Effendi
Fatima Effendi chose this beautiful creation of Flair by Mawsim and looked absolutely gorgeous. Usually, darker colors are rarely worn during the day but this is what set her apart and made her stand out. It was a simple dress which still had uniqueness to it. The beautiful dress had golden embroidery around the bustier and upper half of the shirt. The rest of the flare was plain with golden border used for finishing. The sheen in the fabric gave it a regal touch. The dupatta was made out of tissue fabric and had small embroidery motifs splattered all over. Fatima Effendi's choice of clothing was beautiful.
Pink & Peach Grown of Kubra Khan
Kubra Khan didn't post anything on her social media as she didn't feel like celebrating Eid in its stride, however she appeared on a pre-recorded Eid show and made a statement. She wore this heavily flared beautiful pink dress which had a lot of design elements to it. It had embroidery on the neckline, net fabric etched at the bottom half of the shirt and another self-embroidered fabric which finished off the shirt. The dupatta also had a multi colored pastel border to it. The main colors seen in this dress were peach, pink, lilac and gold. Kubra Khan looked like a vision in this dress.
Pastel Pink Pishwas of Kiran Haq
Kiran Haq looked absolutely beautiful in this princess-like dress designed by Aisha Khadeeja. A beautiful flared pishwas was made out of chevron self-printed fabric. The sleeves and bustier had silver embellishments over them, which added a beautiful design element to the dress. The border of her shirt had a beautiful net detailing to it which made this dress fit for a princess and Kiran Haq didn't look any less. Kiran Haq wore her hair straight and almost sported a no-makeup look, looking gorgeous as ever.
Colorful Dress of Aiman Khan
Aiman Khan and her daughter Amal wore matching outfits designed by Faiza Saqlain. Aiman Khan decided to go for mommy & me theme this Eid. The shirt and trousers were of pastel yellow shade which were heavily embroidered and embellished using dull gold threads and material. The tissue dupatta brought in the colorful element to the dress which had diagonal stripes of different pastel shades.
Magenta Dress of Armeena Khan
Armeena Khan wore a creation of Ammara Khan. Since solid colors are in, the designer of this gorgeous dress kept it monotone but added a lot of embroidered and embellished details to this dress. The dress had a shirt and fitted trousers along with a bell sleeve. The border of the shirt had a netted detail which followed on the trousers as well. The dupatta was kept plain to not overlap with the beautiful designing of the shirt. The color suited Armeena Khan a lot and she looked gorgeous in her simple and elegant get up for Eid.
Lilac Formal Flared Dress of Kinza Hashmi
Kinza Hashmi wore a creation of Haris Shakeel. It was a heavily formal jora with a lot of sequin motifs all over it. This gorgeous shade of lilac complimented Kinza a lot and looked even better due to it being summer appropriate. Kinza Hashmi styled her hair in loose curls and kept her makeup minimal looking gorgeous. In one of her pictures, she styled her hair in a braid to carry a hair ornament on top of it, which was another beautiful effort that she made.
Peach Shalwar Kameez of Sadia Faisal
Sadia Faisal wore a designed outfit of Xenia Formals. It was a beautiful peach dress with heavy embroudery on the shirt. The dupatta had a self-embossed silver lining to it which was dyed in peach color too. The trousers were straight cut and had a sheen to them. The frill detailing on the sleeves was a cute design addition.
Grey Kurta Trousers of Hiba Bukhari
Hibra Bukhari looked absolutely cute in her Eid pictures. She kept it simple and elegant. The shirt was a beautiful shade of grey blue, however the netted dupatta made it Eid appropriate. She paired it with white trousers to tie the entire dress together. Hiba wore a formal makeup look but kept her hair simple but letting them flow naturally.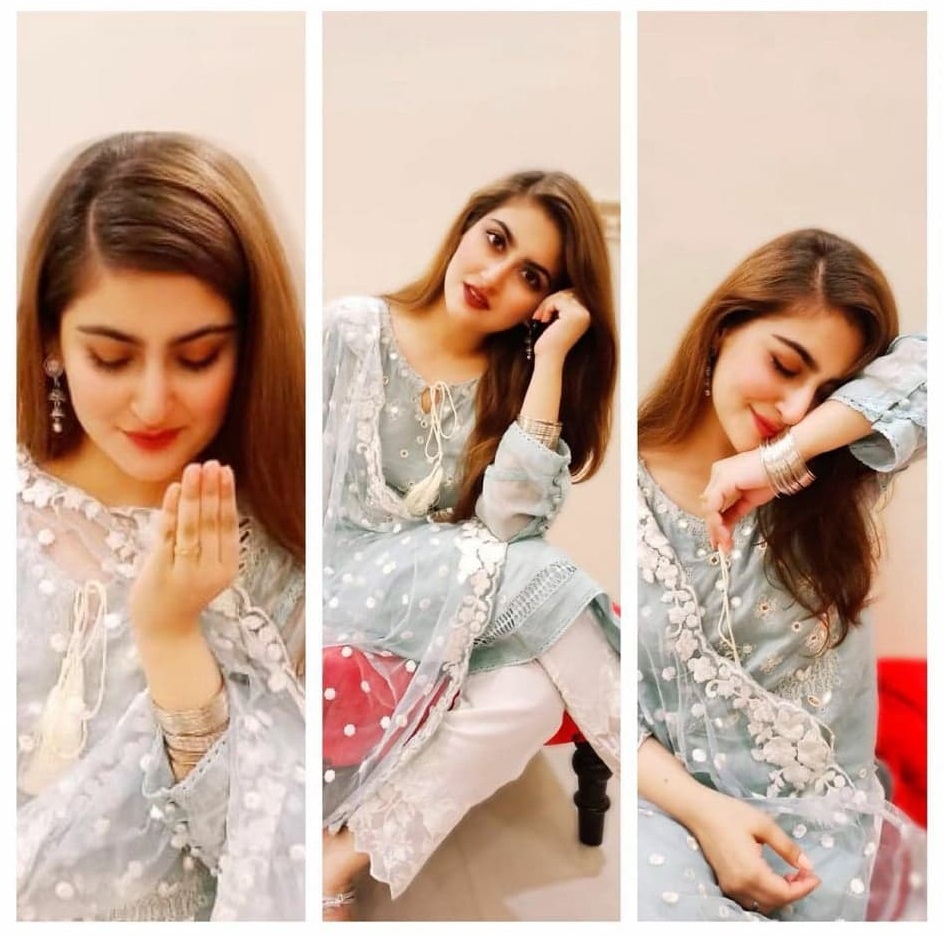 Black & White Shirt Trousers of Kiran Ashfaque
Kiran Ashfaque kept it sleek and stylish in the creation of Mahum Assad. This was yet another solid colored shirt and trousers with white embroidered design on the neckline and trousers. The border of the shirt and sleeves had black embroidery to them. The dupatta however had a digital printed leafy design which looked gorgeous. Effortless yet classic is how Kiran Ashfaque's look can be described.
Floral Flared Dress of Kiran Haq
Kiran Haq's dress for the second day of Eid was designed by Ansab Jahangir and was a beautiful summer appropriate dress due to the colors and simpler floral design. The shirt was heavily paneled separated with golden lace. The print of the fabric was a beautiful floral pattern of red and green. Kiran Haq tied her hair and let a few strands on the loose. She kept her makeup simple too but wore a statement necklace to go with this elegant dress.
All-White Ensemble of Madiha Imam
Madiha Imam kept it simple, fresh and ethereal this Eid wearing an all white dress. What could be more summer appropriate and effortless than the choice made by Madiha Imam. She looked absolutely gorgeous in her short hair, statement jhumkas, lighter makeup and wrist full of silver bangles, complimenting the silver embellishment on the neckline of her dress.
Pink Lehenga of Kinza Hashmi
Kinza Hashmi wore a creation of Amna Ajmal on the third day of Eid. It was a beautiful vibrant shade of pink with sleeveless crop blouse. The lehenga had a golden lace border to it. The tissue dupatta had pink and golden fabrics swen diagonally together and the dupatta was completed with a tasseled border. The golden shade in the dupatta tied the entire look together. The dupatta and lehenga were kept simple because the main designing factor of this dress was the beautifully and heavily embellished blouse.
Pastel Lilac Dress of Mansha Pasha
Mansha Pasha wore Farah Talib Aziz this Eid. It was a beautiful frilly and floral lilac dress which suited Mansha Pasha a lot. The dress had a lot of designing details to it. Different patterns and designs were used to compile this dress. The overall dress was lilac, however the bottom of the shirt and the sleeves had pink netted detailing to it. Mansha Pasha kept her styling simple and makeup glowy, which looked perfect during the hot summer day.
Mehndi Green Dress of Nida Yasir
Nida Yasir wore a creation of Amina Yasmeen during one of the pre-recorded Eid transmissions. It was a heavily flared dress with dull gold designing and embellishment to it. The dupatta was heavily splattered with sequins all over it. The border of the dress, the sleeves had dull gold lace designing to it. The bustier of the dress was made out of another dull gold fabric which was a beautiful design element of the dress. The flare of the shirt had a long wide slit with golden lace around it.
Bright Purple Gown of Areeba Habib
Areeba Habib went for a unique color this Eid wearing a creation of Zubia Zainab. It was a heavily embroidered gown with collar, full sleeves, a bustier detail and heavy flare which was covered in differently designed elements. The dupatta was long and beautiful. The color of the dress set it apart and suited Areeba Habib a lot.
Grey & Blue Shalwar Kameez of Fiza Ali
Fiza Ali and her daughter Faraal wore a creation of Amna Ajmal on Eid. She too went for mommy and me theme this Eid. This beautiful salwar kameez had a perfect color combination and beautiful designing. It was on the heavier formal side which was Eid appropriate yet the lighter color made it fit for the day. The shirt and dupatta were made out of tissue fabric, the shirt however had a silver lining underneath. The sleeves were left sheer which looked beautiful. The shirt was heavily embellished. The dupatta had a rhombus pattern in blue shade which tied in the color of salwar together.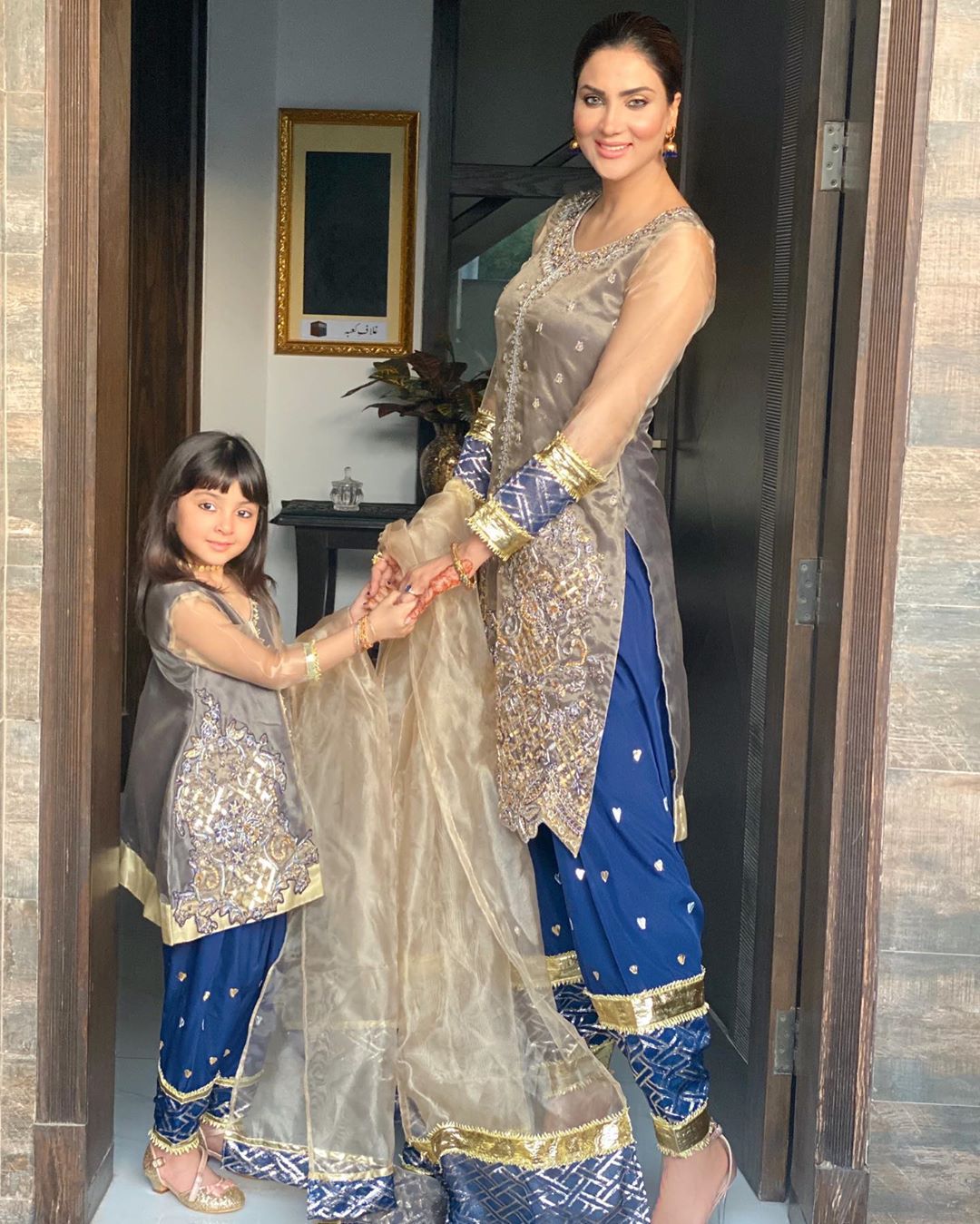 Banarasi Saree of Srha Asghar
Srha Asghar decided to go all out and formal wear this beautiful banarsi saree which belongs to her mother. Srha Asghar also stated that this color was her mother's favorite. Srha Asghar looked absolutely gorgeous wearing a heavy banarsi saree, which looks beautiful in every color and design. Srha Asghar tied her hair in a bun and wore a traditional jewellery set to compliment the saree. A unique way of celebrating Eid.
Peach & White Shalwar Kameez of Urwa Hocane
Uwra Hocane was one of those celebrities who kept it very simple and minimal during Eid keeping the recent PIA plane crash & people affected from Covid into consideration. She wore a beautiful peach salwar kameez. The shirt and dupatta had silver and white design detailing to tit. White lace finished off her shirt, sleeves and the same lace was used on the dupatta too. Uwra looked fresh and beautiful.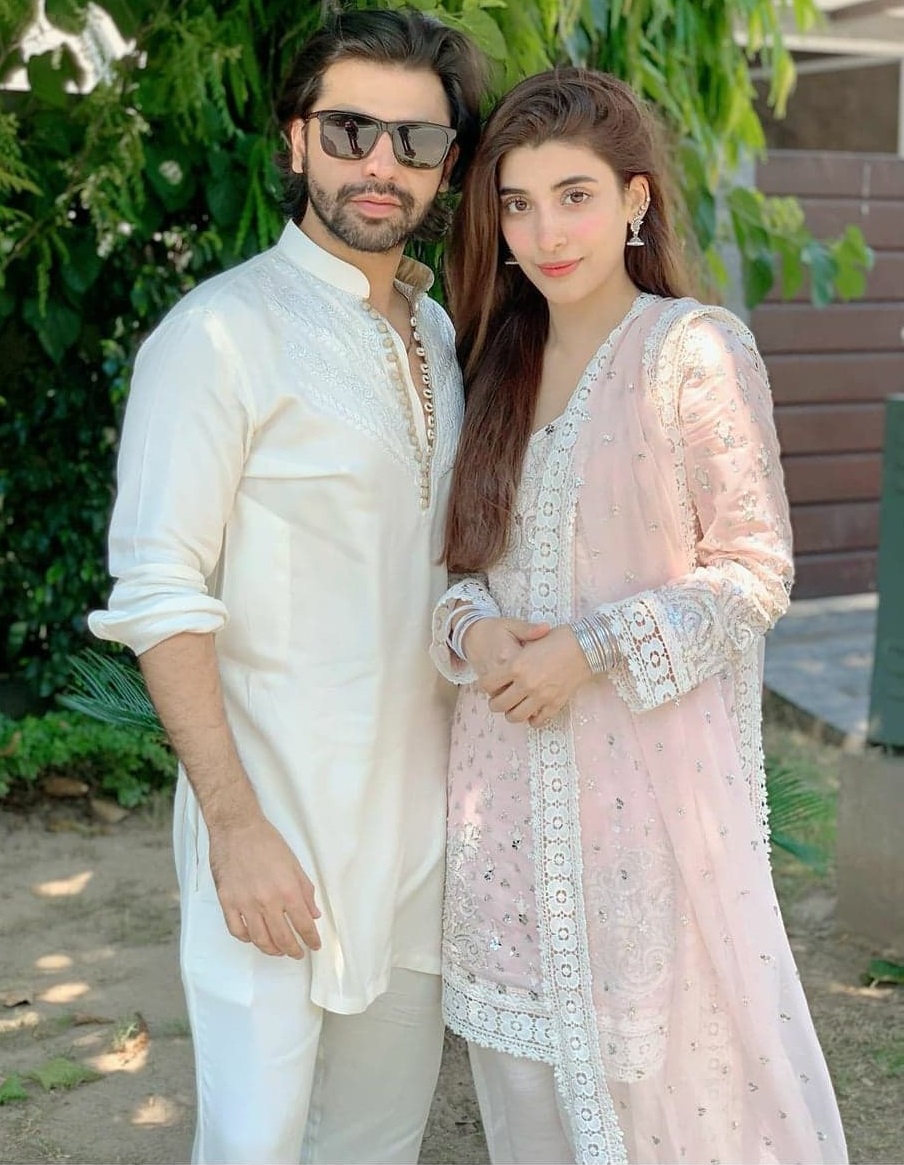 White Floral Frilly Dress of Yashma Gill
Yashma Gill wore a trendy trouser shirt designed by Farah Talib Aziz. Due to the color being white, teh designer opted for different fabrics and materials to bring design elements to the dress. The sleeves had a slit and ribbons tied on top of them. There were floral motifs applied all over her shirt, sleeves and neckline. She wore fitted trousers with it which had studded detailing on it.
Black Outfit of Moomal Khalid
Moomal Khalid is a new mother, therefore bearing the tedious routine of a new mother in her mind, she went for a simple, trendy and cute outfit which was Eid appropriate. The dress belonged to the fashion label Azure. It was a black shirt and trouser with thick golden designed border on the shirt. Formal yet simple and chic.
Black & White Silk Outfit of Saniya Shamshad
Saniya Shamshad wore a creation of Khas Official. It was a silk shirt and trouser. The solid black color along with white printed motifs. She completed the look with white netted dupatta and a pair of black khussas.
This completes the list of beautiful dresses worn by Pakistani celebrities on Eid ul Fitr 2020. Which ones are your favorite? Feel free to share your opinion in the comment section below.