This latest episode of Habs belonged to the phenomenal actors in this drama who always impress with their outstanding portrayals. The director, just like always, deserves credit for capturing every single expression and emotion with utmost precision. The birthday scene was mind-blowing; it was powerful but not overdramatic. While Habs' script can be dodgy at times, especially the characters, the writer has managed to avoid quite a few clichés. Bobby phupo is one example; she had a difficult life, she is the "phupo" but she is not bitter. Basit is scared of getting close to his wife due to his past but he is not disrespectful or spoiled. Bano is a docile daughter but she is also a strong woman who refuses to play the victim. This drama actually has such an interesting variety of strong women – flawed but strong in their own ways. Even the greedy mother is likable at times. Janice Tessa stands out as a teenager who wants a better life and does not get the love she wants at home. Even though she is anything but "perfect", I find myself feeling for Zoya.
Basit and Ayesha's Track
This episode focused more on Basit's relationship with his mother and it ended on an emotional note. Everything that went on with Ayesha's family was more interesting than Ayesha's track which is somewhat repetitive at the moment. Basit's outburst and the flashbacks later on once again helped the viewers understand his mindset. The viewers knew right from the beginning that he was deprived of his mother's love at a young age. But it is only now that we are getting to see what he went through when she left. Everything about his behavior makes more sense and is easier to relate to after watching the flashback scenes. The letters and cards also showed how long he held on to hope and how desperately he wanted to communicate with his mother. The surprise birthday party definitely triggered him which is why he resorted to calling her mother out in public even though till now he had kept his feelings private.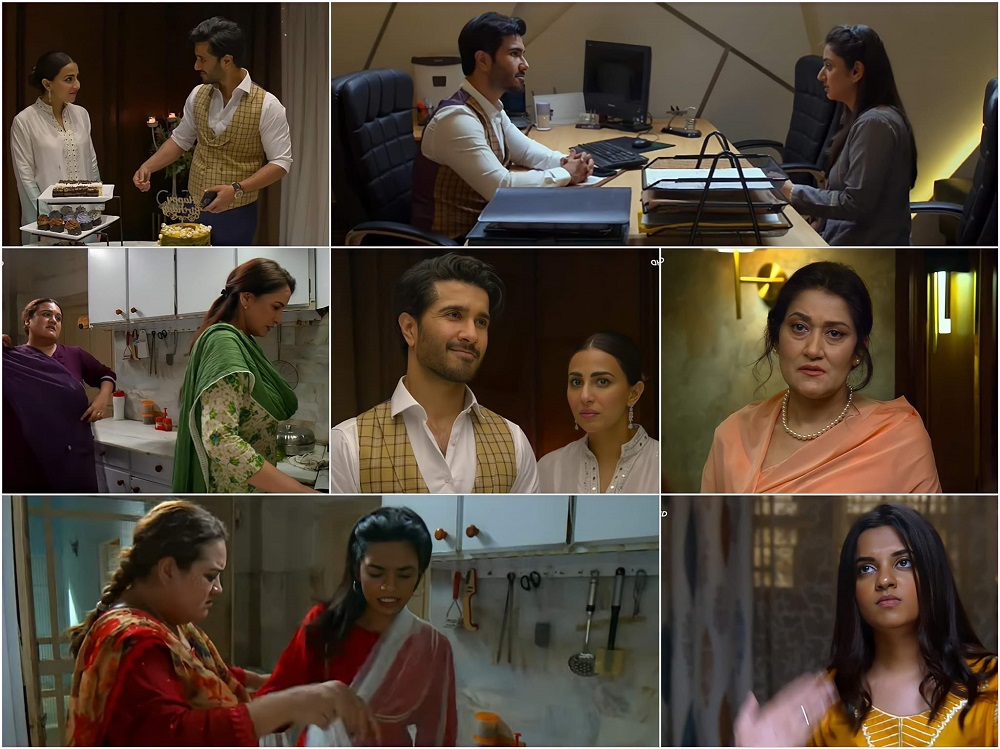 The oddest thing about Ayesha's recent behavior had to be her reaction when Basit caught her red-handed with his belongings. She was clearly violating his personal space especially because her "status" in his life has been made really clear right from the start. It is difficult to decide at times who is being more unreasonable! While Basit has a clear reason to keep his distance, the only reason Ayesha is not happy is because she got herself in a marital arrangement that does not offer love. Very often, I also feel as if Ayesha is simply "bored" and if Basit lets her work, she will not be so unhappy with her life. The writer has tried to convey that since Ayesha holds her self-respect really dear being dependent on Basit is really difficult for her but it is not being conveyed in the best way. Basit is definitely "warming up" to his new companion even though he tried his best not to. I am waiting to see where this track goes from here.
Basit's mother once again lectured Ayesha about how important it was for Basit that this relationship lasted. I feel that these dialogues and scenes have been added to this track in order to give Ayesha a reason to stay. Other than that, these dialogues do not go well with the decision this mother made herself many years back. This character also tends to be confusing at times but the performance is such that even with all the confusion you want Basit to forgive his mother.
Ayesha's Family
Ayesha's family held my interest throughout the episode. From Bano telling Jawad off to Zoya standing her ground, all of it was an absolute treat to watch. The performances are beyond amazing and the entire atmosphere of the house has been shown so convincingly that you feel every single thing these characters go through. The caring phupo and sister make up for the mother's toxicity. Even the mother's toxicity comes from her deprivation, she is looking out for her children and herself because she has to manage on her own. I have been wondering what she did with the money she took from Basit. Did she buy the house? We don't know yet but clearly she still desperately wants Bano to work so that she keeps on getting her monthly income to spend on the house expenses.
Final Remarks
Habs is essentially a drama about relationships which shows that without the warmth of relationships, people suffer and suffocate irrespective of which class of the society they belong to. Most of the characters in the drama; the leading and the supporting ones have either lost in love in some way or are looking for love. Except for Basit and Ayesha's relationship, most aspects of the story make perfect sense. In this episode, the birthday reminder was one of those scenes which come across as comical. How could this mother whose entire life revolves around her son now forget that this was his birthday? And most importantly how come the wife did not even know? Such scenes make you question the script more than once every week. However, as I said earlier, Habs' execution could not have been more perfect. Apart from that, the performances have been outstanding. This episode belonged to Feroze Khan, in particular, Irsa Ghazal's performance was superb especially her expressions in the birthday scene were perfect. Dania Anwer impresses as Bano every single time and I absolutely love Hina Rizvi as Bobby Phupo. I hope Ayesha's character becomes more interesting in the upcoming episode because it is gradually going off track.
Did you watch this episode of Habs? Did you like Feroze Khan's performance? Do share your thoughts about it.