This recent episode of Neem had the most important and grimmest development to its credit. The promo of this episode clearly suggested that Baba Jan was going to exit the story but the way this exit was covered, had to be the highlight of tonight's episode. The build-up leading to the actual scene was not just convincing but also engaging and suspenseful. Karamat's panic attack after he did the unimaginable showed Syed Jibran's range as a brilliant performer. Unfortunately, Syed Jibran only gets to showcase his remarkable acting skills in negative roles. However, I do feel that even though he is constantly cast in such characters, he always manages to bring something new to the table. He is not like other actors who are typecast because every time his character tells a different story and his performances always stand out. Tonight's episode belonged to Syed Jibran who took the task at hand in his stride and actually managed to make the viewers relate to his character at a time when all we should have been feeling was hate and contempt. With this episode, the story is bound to shift in a completely different direction.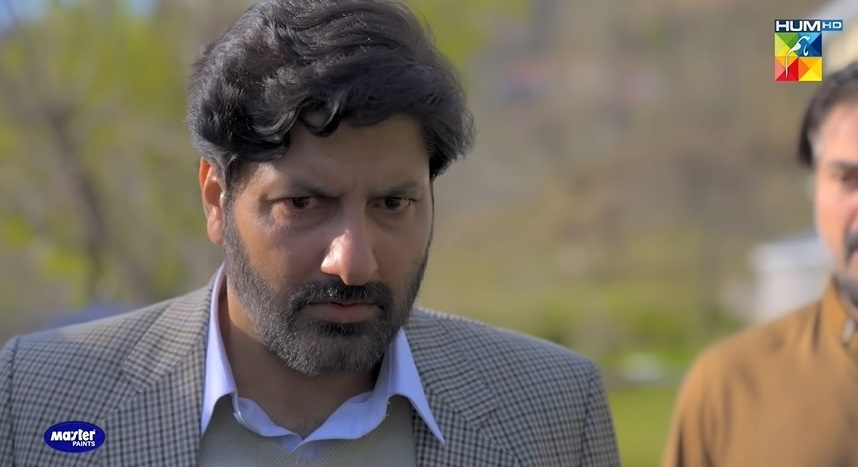 Baba Jan's Exit
Right from the opening scenes till the last one, the focus was entirely on Karamat more than any other character. He decided to confront his father after he found out about the legal work that was in process. Yousuf Bashir Qureshi's character and its dynamics are a lot like that of the one he played in Kuch Ankahi. Especially Baba Jan's relationship with his son is more or less the same. Their scenes together remind me of the father/son scenes from Kuch Ankahi. Both the confrontation scenes were well written and executed. The camera work was also impressive.
These scenes, more than ever before, highlighted the difference in thoughts and perspectives of these two individuals. While Karamat was fully convinced that he deserved a share in his father's assets more than anyone else, his father clearly did not feel that he was worthy or that it was the right thing to do. Ye jaidad aap ke pas amanat hey aap is mein khyanat nahin kr sakte summed up Karamat's stance in one sentence. Mein jab chahun jis ko chahoon jis ke naam chahun zameen kr sakta hu was a reply that said a great deal about Baba Jan's character. I guess we all know now where Karamat's sternness comes from because Baba Jan had that side to his personality as well but because he was a philanthropist, it became his strength. It also became clear why despite all the wealth, Karamat's lifestyle was not grand. Baba Jan lived a simple life and obviously did not give Karamat enough to afford a luxurious lifestyle.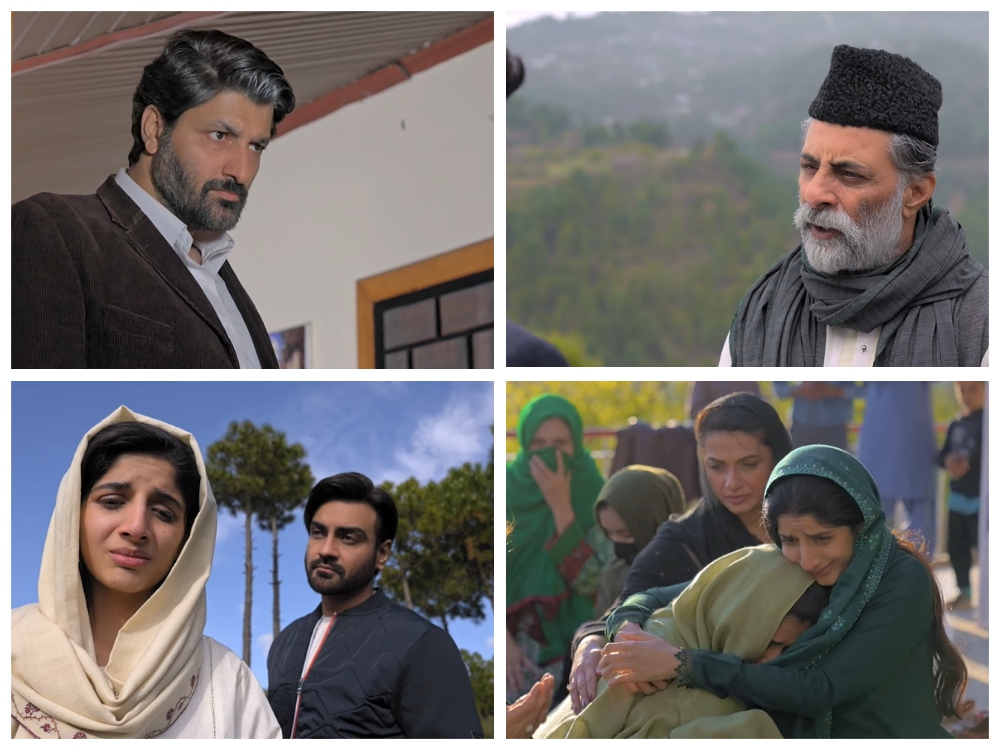 Baba Jan's positive character was translated on screen with the utmost precision. I was not ready or pleased when I found out last week that we will see this character make an exit soon. However, after watching this episode, I am really satisfied with the way it exited and I can also see how important this exit is for the plot to move forward in a different direction. Karamat and Baba Jan's first scene together and its aftermath was faultless. That is when Karamat figured out that his father was bent on acting on his decision and his father knew he needed to speed things up otherwise Karamat will try to hinder him.
Zimal's Track
Zimal was shown working towards the betterment of the educational system and this time around her focus was on the importance of extra-curricular activities. I must say that there were quite a few dialogues in this episode that came across as unnecessarily preachy. Apart from the reasons elaborated on by Zimal in this particular scene, a few of Shazil's brother's dialogues did not go well with his character. With Baba Jan's death as Zimal said she was truly an orphan now because he was not just a father figure but also a mentor. Mawra Hocane did complete justice to all the scenes showing the sense of loss and even helplessness that Zimal felt. Shazil's dialogues have been too plain especially when considering the fact that some of the other dialogues are well-written and 'heavy' at times. The words he uttered to console Zimal were too run-of-the-mill. Even Ashhad's friend's dialogue had more depth than Shazil's character. This was the 3rd episode and even now Shazil's character comes across as too plain and uninteresting.
Ashhad's track revolves around Zimal; all his scenes have been more or less the same. Therefore, the only attraction in Zimal's character is Zimal herself, these two men, so far, do not have much to contribute. On the other hand, Karamat seems to be the strongest contender since he has single-handedly changed the course of Zimal's track. I hope that Ashhad and Shazil's characters will have more to offer in the upcoming episodes.
Final Remarks
Overall, Neem is definitely the kind of drama that gives you a reason to tune into it every week. I must say that the first two episodes were far more meaningful and impactful than this one. If it weren't for Syed Jibran's mind-blowing performance in this episode, it would not have been as engaging as it was. The writer deserves the credit as well for penning down this latest development so well especially because for the first time we got to witness a villain feeling remorse and guilt in this manner. The need for self-preservation and greed for wealth, however, outweighed his troubled conscience. The cinematography in this recent episode was just as impressive as it was in the previous episodes.
Did you watch Neem's latest episode? Do share your thoughts about it.