Pyar Ke Sadqay has some of the most appealing and refreshing characters yet the writer decided to take the story forward in the most clichéd manner possible. Although Abdullah and Mahjabeen's characters are unconventional, the story has taken a turn that is anything but unconventional. Shanzay's sudden interest in Abdullah is the most unconvincing part of this entire development. Tonight's episode of Pyar Ke Sadqay however was much more entertaining than last week. Mahjabeen continues to entertain, her innocence and her attempts to win her husband back were the highlights of this episode. While Mahjabeen and Abdullah's track gives me something to look forward to, Shanzay is simply unbearable and not just because she is the 'other woman'! Yumna Zaidi's outstanding performance makes Mahjabeen's character even more likable. Bilal Abbas Khan has added much-needed nuances to his character. I expected more from Mansoora's character but for now, the writer wants her to play dumb!
Shanzay's Proposal
So, the thappar was successfully used to convince Shanzay's father that she should get the divorce from Esa. And if it wasn't for the thappar, Shanzay wouldn't have gone to Abdullah's office in a night suit, told him that Esa hit her and proposed to him! So using this thappar, the writer fast-forwarded the story and all of a sudden Abdullah and Shanzay were talking about marriage. Shanzay's lip gloss and Yashma Gill's performance both were over the top in this particular scene! Usually, when the writer wants to take the story forward in a certain direction, he or she has two options, either use logic or just do what needs to be done and hope that the viewers will play along! Well, sadly leaving logic behind is never a good idea and that is exactly why most of us are having a really difficult time relating to Shanzay and Abdullah's track!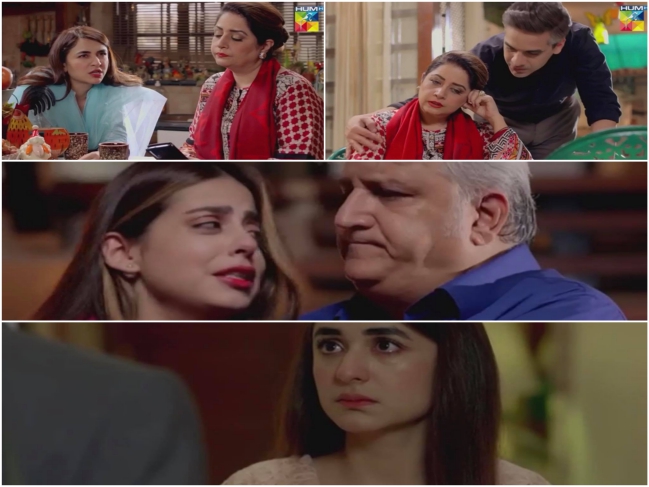 A girl like Shanzay can surely live a few years as a divorcee, she doesn't have 'Mahjabeen issues'! No mohallay ki aunties to worry about and she doesn't need to be afraid of being looked at as a failure! Ever since Shanzay made a re-appearance in the show, she is a completely different person. The person the viewers were introduced to in the beginning few episodes, wouldn't do anything close to what Shanzay is doing. She was a confident and intelligent girl but one bad experience has turned her into a desperate woman who would break someone's marriage to have them in their lives! Also, I am still wondering how and why would Shanzay find Abdullah attractive!
Abdullah's reactions and his confusion on the other hand made perfect sense tonight. I am glad that we were shown in a subtle manner that Abdullah is confused. It gives me hope that it won't be difficult for someone to make him realize that he should not even be thinking about getting married to Shanzay. Sarwar has always been a bad influence, I am waiting for Pho and Washma to be back in the picture for good like they were before. For now, the writer obviously does not want anyone to knock some sense into Abdullah.
Mahjabeen's Character Development
Mahjabeen's gradual character development is the best aspect of Pyar Ke Sadqay right now. Yumna Zaidi has breathed life into this beautiful character, she continues to be the highlight of every single episode. I absolutely loved the fact that Mahjabeen decided to share everything with her parents, good girl Mahjabeen! She proved that she is a wise girl even with all her limitations she handled the entire situation really well. The way she told Sarwar off was extremely gratifying.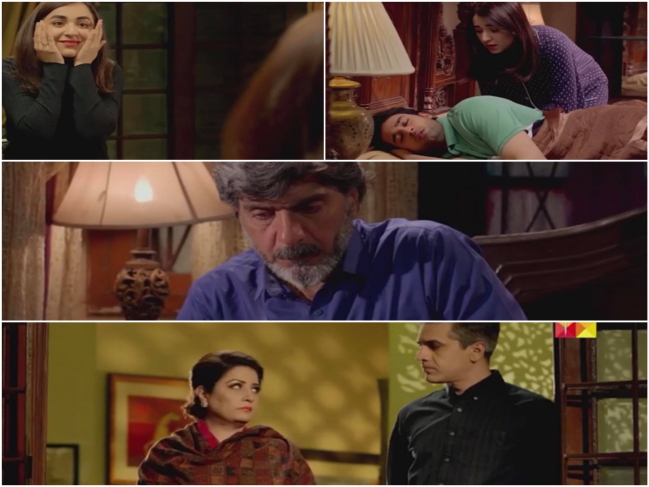 Mahjabeen's opening conversation with Mansoora was used by the writer to show that Mansoora was gradually giving up on her. Mahjabeen hit a nerve when she mentioned Mansoora and Sarwar's age-gap in the most inappropriate manner. She obviously said this out of innocence but Mansoora found it humiliating. Apart from that, all of a sudden, Mansoora has given Sarwar a clean chit and is listening to him the way she was before. He got away with harassing Mahjabeen not once but twice in this episode.
Mahjabeen has come a long way from the girl who was scared of Sarwar and couldn't even think about saying no to him. She confronted him and for a change took a good initiative on her own to look nice for her husband. Mahjabeen is not going to give up on this marriage this easily because she loves Abdullah and of course she just cannot face those aunties asking her all those questions! How cute is Mahjabeen, I love her character. Her confidence and positivity makes her such an admirable character.
Ever single conversation Mahjabeen had with everyone tonight was beautifully written and translated on screen. After watching this episode, I am rooting for Mahjabeen and Abdullah more than I ever was before.
Final Remarks
Except for the Shanzay/Abdullah track, this episode was engaging. There are definitely some serious shortcomings in the script at this point but tonight's episode gave hope that we might get to watch sense prevail in the end. Abdullah and Mahjabeen's track is still logical therefore there is reason to look forward to what the writer has in store for us. The preview of the next episode also suggested that it won't be that easy for Abdullah to leave Mahjabeen and marry Shanzay. He definitely has feelings for Mahjabeen, he just doesn't know it yet!
How many of you watched tonight's episode? Do share your thoughts about it.