Saba Qamar, whose full name is Saba Qamar Zaman is the queen of expressions and versatility. A Pakistani actress who is loved not just in Pakistan but all around the globe, Shehas a unique style and personality. There is a misconception that She changed her name when she entered the entertainment industry, that is not the case. She was given this name by a neighbor when she was born. She does not believe in changing her name for fame.
She was born in Hyderabad, Sindh. She moved with her family to Gujranwala, Punjab after her father passed away. A few years later they moved to Lahore, where she got her education and that is from where she started working in the drama industry. She has done modeling, fashion photoshoots, and even hosting. Saba decided to stick to acting alone after modeling for a few years. She felt like she was born to perform, she thought that being focused and choosing one field would have been a wiser choice.
She  landed in the field of acting purely by chance. She went with her mother's friend to watch the shooting of a Pakistan Day special drama. As it turned out, the heroine failed to make it to the shooting. That is when the director asked her to perform the leading role. Saba read the lines given to her and was surprised that performing came effortlessly to her. Everyone in the room clapped when she delivered her first few dialogues and gradually she realized that this is what she was meant to do.
She belongs to a Syed family in which it was strictly forbidden for girls to work in showbiz. When she decided to take this step, she faced a lot of opposition from her family. She started working in 2004 and she made sure that she proved to everyone that showbiz was a decent profession. Saba Qamar strictly believes that this impression about showbiz is entirely wrong. She thinks that if someone wants to do something objectionable, they can and will do so in any field at all.
The talent of acting is something she has been blessed with by God. She wasn't aware of this talent of hers until she started performing. According to her, she is still camera shy but when she is doing the shooting for her dramas, she instantly gets into action and does not feel shy anymore.
Above everything else, She is a determined woman who feels that she is not in competition with anyone. She believes in giving everything she does her best without caring about the 'race' which goes on in the industry. She has learned a lot over the years and her yoga instructor has played a major role in making her see life and her work in a completely different light.
Saba Qamar Age
Saba was born on April 5, 1984. She is 36 years old. Even when She had just started her career, she played leading roles with actors who were much older than her. At that time many people advised her against it since they were of the opinion that her fans would start thinking that she was much older than her age. Saba Qamar did not pay heed to such advice since she is pretty sure that age is just a number when it comes to performing arts. She thinks that actors don't have a shelf-life and she has always loved to experiment.
Saba Qamar Pic
She is extremely photogenic which is why her family friend thought she has the perfect face for the camera. Here is a beautiful pic of Saba Qamar.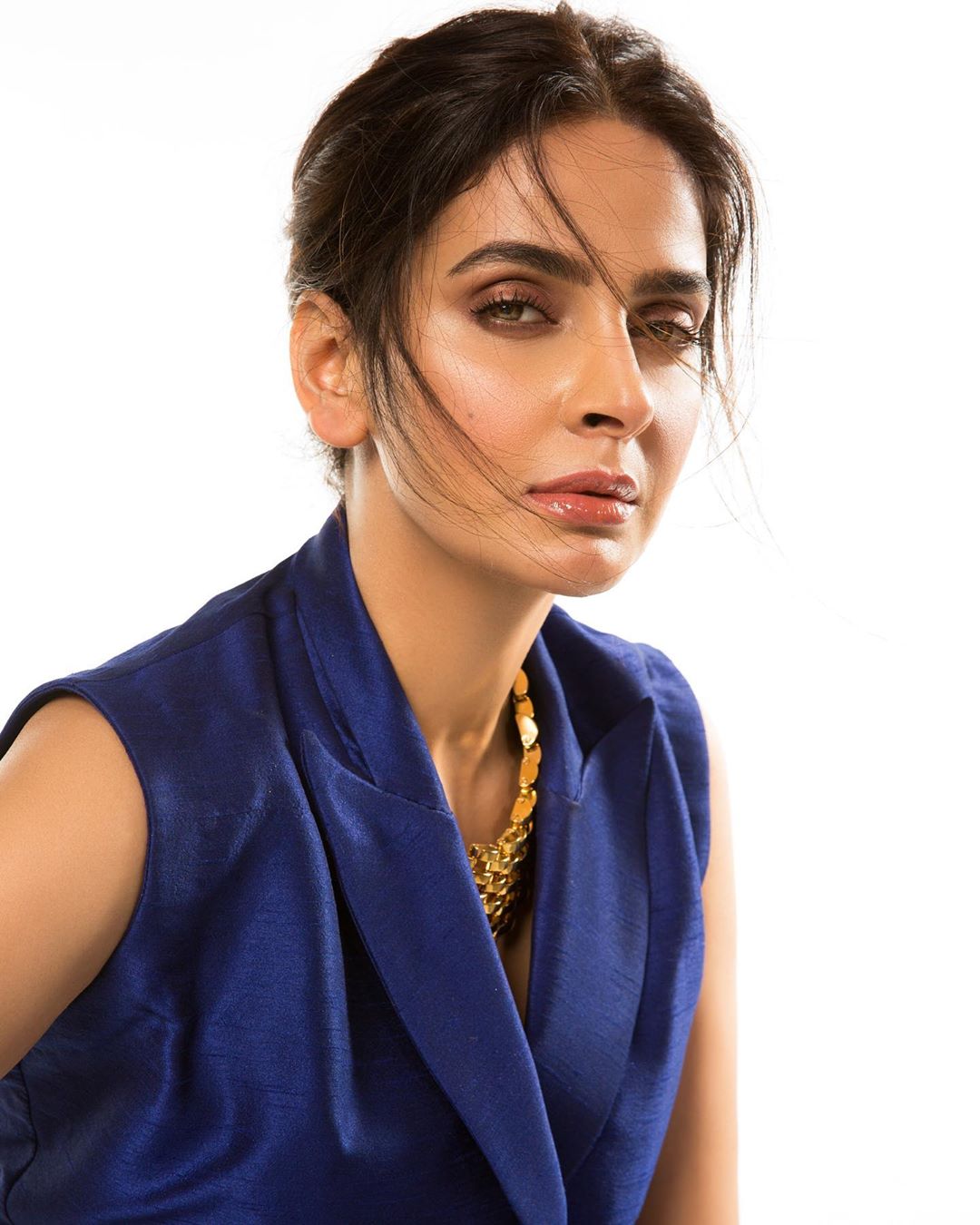 Saba Qamar Height
She has a tall height. She is 5 feet 5 inches tall. That is the reason why she is one of the favorite models of the leading designers in Pakistan.
Saba Qamar Family
She belongs to a Syed family that believes in conserving old traditions. Saba Qamar's father passed away when she was really young. That is when her mother moved from Hyderabad to Gujranwala because that is where her mother lived. She has one sister, her name is Nazia. Saba Qamar's sister is her biggest support, she looks after her house and is also a friend. She also has an older brother.
She shared in an interview that her mother and sister both are really good cooks. All the women in her family make really tasty food. Although She likes her home tidy, she makes sure that it stays that way, she does not like to cook or do house chores. Saba's mother and sister both do not like to join her in interviews. They make a conscious effort to stay away from the limelight.
Saba Qamar also shared that her mother had a dominating personality. Even now when all her children were all grown up, she tells them off when she feels the need to do so. Her mother is suffering from Hepatitis C, Saba Qamar does whatever she can to look after her.
Saba Qamar Sister
Saba Qamar has an older sister, her name is Nazia. Her sister has always been there by her side. Saba's sister lives in Lahore and she tries to stay away from the television. Saba talks rarely about her family in interviews. In one of her interviews, her sister made a brief appearance but did not say much.
Saba Qamar Mother
Saba Qamar's mother has been unwell for the past few years since she has Hepatitis C. She has a strong personality just like her daughter. When her mother was unwell, Saba Qamar posted pictures on her Instagram page from the hospital and asked her fans to pray for her. Here are some beautiful pictures of Saba Qamar with her mother.
Saba Qamar Husband 
She is not married but she often talks about the times she has fallen in love with people who actually taught her a lot. She openly confesses that her heart has been broken many times. So much so, that now she does not believe in taking love too seriously. Also, Saba is really romantic by nature. She has not found someone yet who she would like to spend the rest of her life with.
She looks for positivity in people, she likes to be around such people. She does not like people who are insecure. She feels that an ideal partner is one who trusts and is worth trusting. Saba Qamar spoke unapologetically about the man in her life with whom she spent 8 years of her life thinking that they were going to be together forever. He eventually got married to some girl in his family to please the society and that was an end to a love story that existed only in her mind. She has come to the conclusion that dogs are more faithful than men!
Saba Qamar Drama List
Main Aurat Hoon – 2005
Bint e Adam – 2005
Dhoop Mein Andhera Hai – 2007
Jinnah Ke Naam – 2007
Uraan – 2010
Tinkay – 2011
Dastaan – 2011
Main Chand Si – 2011
Jo Chalay Toh Jaan Se Guzar Gaye – 2011
Maat – 2011
Pani Jaisa Piyar – 2011
Thakan – 2012
Yahan Pyar Nahi Hai – 2012
Shehryar Shehzadi – 2012
Na Kaho Tum Mere Nahi – 2012
Ullu Baraye Farokht Nahi – 2013
Sannata – 2014
Izteraab – 2014
Jaanam – 2014
Bunty I Love You – 2014
Digest Writer – 2015
Kaisay Tum Se Kahoon – 2015
Tera Pyar Nahi Bhoole – 2016
Sangat as Ayesha – 2016
Main Sitara – 2016
Besharam – 2016
Baaghi – 2017
Cheekh – 2019
Saba Qamar Serials
All the drama serials which Saba Qamar has been a part of are mentioned above. Saba Qamar has worked with some of the most popular and talented people. She is also the most sought after actresses.
Saba Qamar Movies
Manto – 2015
8986 – 2015
Lahore Se Aagay – 2016
Hindi Medium – 2017
Saba Qamar Instagram
She has often talked about the ills of social media especially the way some people think that they have a license to say whatever they want to on social media. However, Saba Qamar keeps her Instagram active. She has more than 2 million followers on Instagram. She is definitely not one of those celebrities who measure their success based on their fan following on social media handles. She explains her personality as fiery, unshrinkable, and humane on Instagram.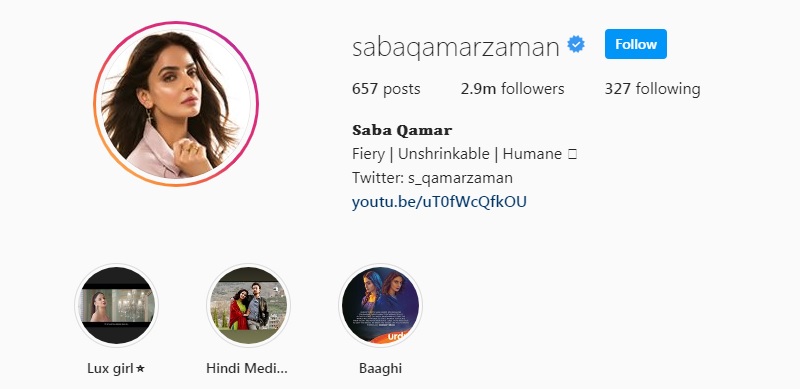 Saba Qamar Pictures