Swaarangi (سوارنگی) is an upcoming film scheduled to release on the 28th August 2015. An independent film , it marks the comeback of Resham in a film after a long gap of nine years. Not a commercial film, it highlights the impacts of drug addiction. It is filmed in the Mianwali district of Punjab. Film star Resham is making a comeback to silver screen after a gap of more than seven years from Swaarangi.
However the film is not released as per plan, as per its official facebook page the film will be released now on 11th September 2015. But as per unconfirmed reports published in press the Central Board of Film Certification (CBFC) has refused to issue censor certificate. CBFC has not stated any reason publicly, but as per press reports it has reservations on many scenes in the film, so the status of release of Swaarangi is quite uncertain.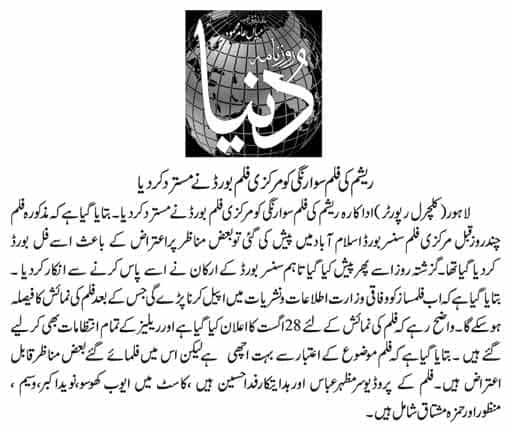 Swaarangi is an entwined story about life, fate, sacrifice and survival. "How long would you wait before giving up"?
Cast: Resham, Ayub Khosa, Naveed Akbar, Waseem Manzoor, Hamza Mushtaq, Shahzaib Johar
Writer: Phida Hussain
Screenplay: Phida Hussain, Mazhar Abbas
Director: Phida Hussain
Producer: Mazhar Abbass
Studio: Flipping Images Productions, Phidahussain Productions
The title track of the film So Jaa is sung by Sami Khan
Plot Outline: Salma (Resham) is not happy with her husband Jamal (Naveed Akbar) due to his drug addiction. Zaryaab (Waseem Manzoor) tries to keep Jamal in this habbit because he sets some goals for himself. Zaryaab cannot acheive his goals without the help of Saieen (Ayub Khosa).
Salma's husband, Jamal is not the easiest man to get along with, but for the sake of their children, she stays with him. Jamal is a heroin addict, dependent on Salma's instincts to protect her wedding vowels so he can takeadvantage of her honorability to get his daily fix. He is lost without her,desperate to change however willing to sell his soul to the devil if need be. Although Salma is powerless to change his sick ways but she has to stand against the odds and
struggle for everything she got.
Rashid Nazir Ali