Model turned actor, Sadaf Kanwal is known for voicing her opinions and stirring the pot every now and then. Sadaf Kanwal joined the industry in 2014 as a model and debuted as an actor in the movie Balu Mahi in 2017. Sadaf Kanwal has done well for herself in terms of professional life where she has also been nominated for several awards but she is someone who does not shy away from sharing what she feels like and also does not care much about the consequences. Sadaf Kanwal surely has spoken about different celebrities and certain issues in such a way which shows that she does not believe in maintaining good relationships within the industry.
Sadaf Kanwal been a part of several controversies so far. Here are the top controversies of model turned actor Sadaf Kanwal's career:
Sadaf Kanwal's Viral Video With Model Fouzia Aman:
Sadaf Kanwal celebrated her 24th birthday in August, 2017 with her close friends. That's when the pictures and a few videos started circulating but one clip from the birthday bash went viral on social media. In that clip Sadaf Kanwal was seen pecking on Fouzia Aman's lips. This video brought a lot of negative attention towards the model but she chose to stay silent on this controversy.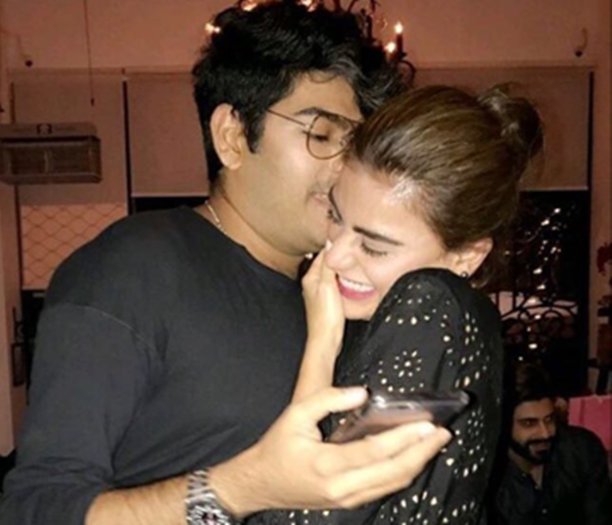 Sadaf Kanwal Spoke About Mahira Khan Just Being Fair:
In an episode of Tonite With HSY which was aired on September 9, 2018, Sadaf Kanwal made remarks about Mahira Khan. The interviewer HSY was speaking about the trend of skin whitening which has overtaken the industry, so in reply to that Sadaf Kanwal said in Pakistan, fair complexion does sell and then she immediately started speaking about Mahira Khan. Sadaf Kanwal tried to cover it up by saying that she loves Mahira but then continued to say that Mahira was nothing special and the fame and success she got was only because of her complexion. Amna Ilyas who was a co-guest disagreed but Sadaf Kanwal being Sadaf Kanwal continued to make remarks about Mahira Khan and her not-so-special features. Amna Ilyas continued to overshadow Sadaf Kanwal because of her maturity and outlook on everything. Aman Ilyas' presence actually showed how far Sadaf Kanwal had to come in terms of maturity, grace and wisdom.
Sadaf Kanwal Did Not Understand The #MeToo Movement:
In the same episode of Tonite With HSY, Sadaf Kanwal yet again shared her regressive sentiments about the #MeToo Movement. According to Sadaf Kanwal, speaking after a long-term silence was something beyond her comprehension. In fact Sadaf Kanwal continued to say that if something like that happened with her, she will immediately speak about it and not wait for a certain amount of time. Sadaf Kanwal sighed and smirked in sarcasm as if this entire #MeToo Movement was nothing less than a joke to her. Amna Ilyas shared a little joke that she and Yasir Hussain shared about #MeToo movement but then, she did say it was something very important which was not meant to be taken so lightly. Amna Ilyas once again showed that she was far more intelligent and mature than Sadaf Kanwal.
This post on Sadaf Kanwal's social media showcased her stance on the #MeToo Movement.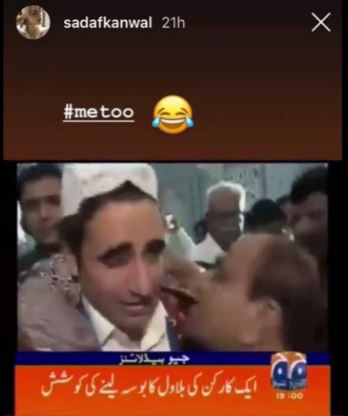 This episode and the statements made by Sadaf Kanwal caused quite an uproar on social media and everyone felt it was necessary to let Sadaf Kanwal know how wrong she was in her approach. Mahira Khan's fans as well as everyone who believed in #MeToo Movement took it over to social media and gave a response to Sadaf Kanwal. Meesha Shafi was also one of those as well who couldn't stay silent over what Sadaf Kanwal had said.




Sadaf Kanwal Shaming Mansha Pasha For Her Dressing Sense:
2018 was the year of controversies and a lot of things surfaced back to back which forced everyone to share their opinions. Mansha Pasha took it to Twitter and spoke about back to back controversies that were surfacing. In an interview with Samina Peerzada, Hira Mani spoke about how she got involved with Mani when he was dating Hira's best friend. Sadaf Kanwal mocked #MeToo Movement in Tonite with HSY and Momina Mustehsan got on a twitter tiff with Shireen Mazari over her song Ko Ko Korina. In one single Tweet, Mansha Pasha hinted about the things that Hira Mani, Sadaf Kanwal and Momina Musteshan had said lately saying that our actresses should learn how to speak properly. It brought all the attention on Mansha Pasha. A lot of people agreed to what she said but Sadaf Kanwal decided to comment on Mansha Pasha's dressing sense. Sadaf Kanwal made a snap which stated "Hum appko kapre pehanna seekhatay hain, app hamain bolna seekhado".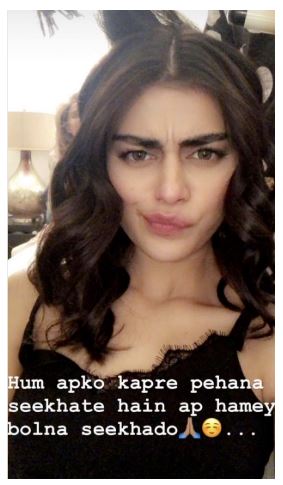 Mansha Pasha ended this entire tiff with her dignified response where she urged everyone to speak about issues that were more important than hair, makeup and clothing. Mansha Pasha handled it gracefully.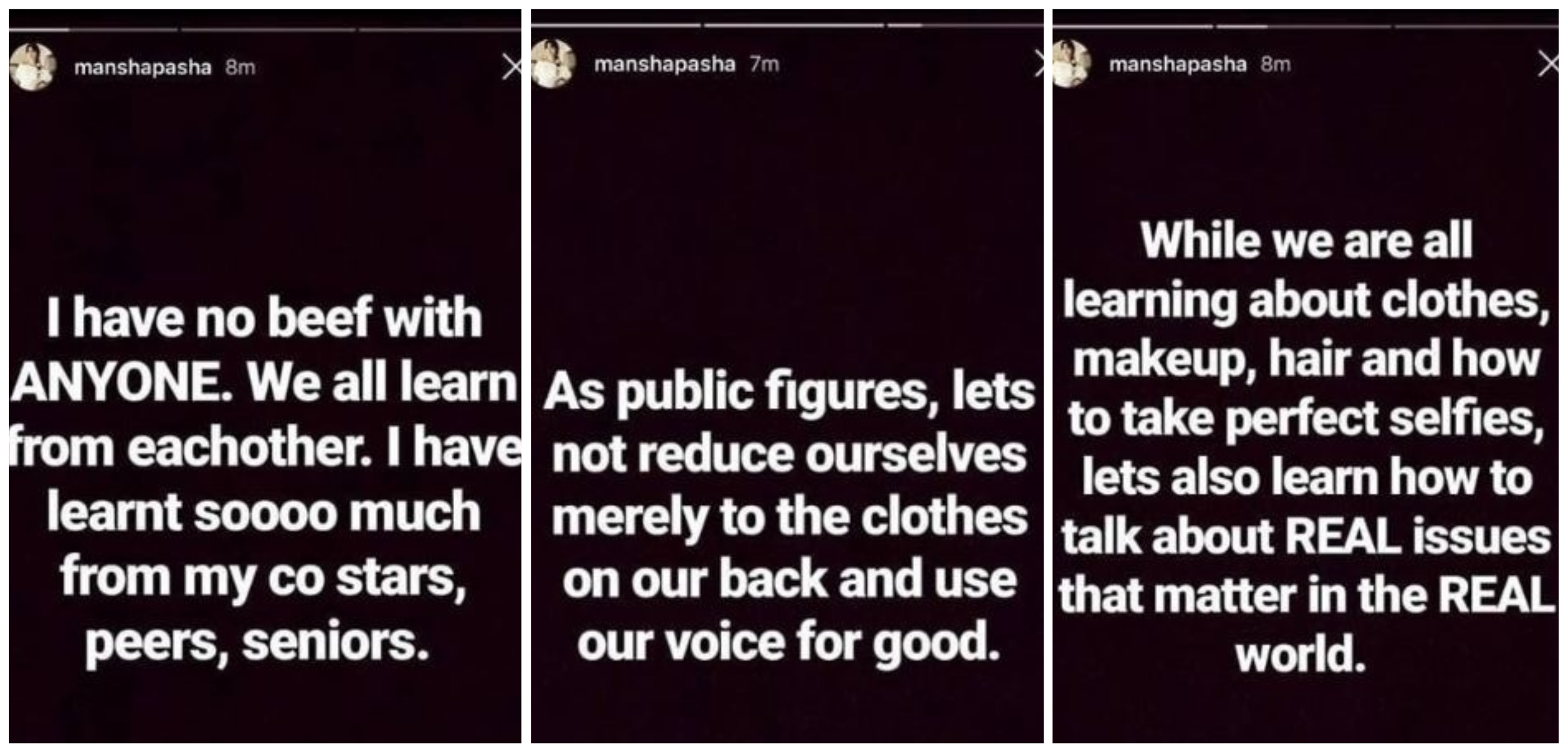 Sadaf Kanwal Believes Mansha Pasha Shouldn't Be In The Industry:
In Bol Nights with Ahsan Khan which aired on September 8, 2019, Sadaf Kanwal once again took a chance to make a personal remark about Mansha Pasha. In a rapid fire round, Ahsan Khan asked which actress shouldn't be in the industry to which Sadaf Kanwal replied Mansha Pasha. Ahsan Khan couldn't believe she had just said and Sadaf Kanwal could totally sense that, therefore she tried to cover it up but it was too late.
Mansha Pasha yet again took it to her Instagram and replied to this entire controversy in a dignified manner. One thing is for sure that Sadaf Kanwal has made it pretty obvious that she dislikes Mansha Pasha.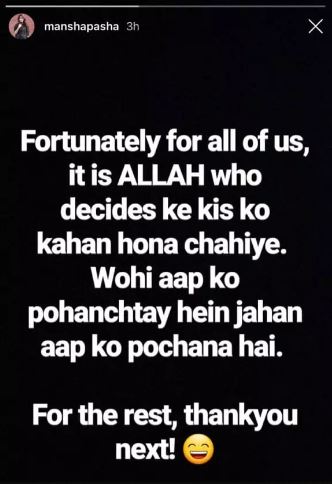 After Mansha Pasha's response, Sadaf Kanwal also posted a picture on her Instagram captioned 'Whatever'.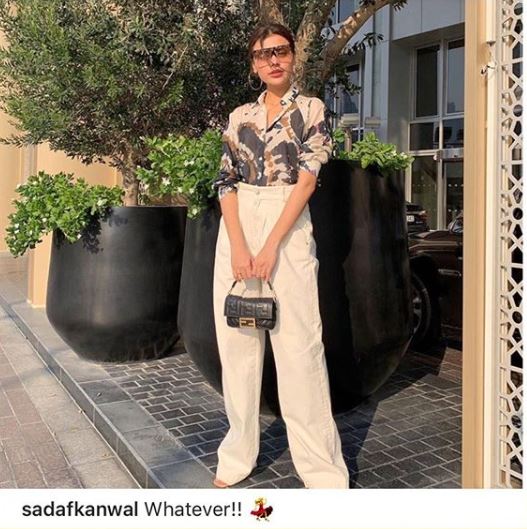 This was the list of Sadaf Kanwal's controversies. Here's to hoping that she has learnt a thing or two about how she should not take jabs at her colleagues.