Where our drama industry produces dramas on the two extremes of the spectrum, that being best & worst, it also produces such dramas that fall in the middle of the spectrum & provide quality entertainment to those viewers who tune to such dramas. 2016 wasn't any different when it came to dramas like these because where we often discussed best & the worst dramas, we didn't get a chance to speak about those drama serials that did well in terms of viewership & popularity. These dramas might not have been mega hits but most certainly kept the attention of the viewers intact due to several reasons like story, cast or characters.
A lot of times, people tune to dramas for the sake of passing their time & this year, we got a lot such dramas which could be labeled as guilty pleasures. Now when all those dramas have ended & if we look back, they qualify as worthy of being binge-watched because they did provide some entertainment & then nothing beats having an option of forward button with you while watching any such drama that you might find slowed down a bit at a certain stage.
So, here's an alphabetically ordered list dedicated to those dramas that did well, provided some quality entertainment & are most certainly worthy of being binge-watched:
Aabro:
Written by: Qasira Hayat
Directed by: Ilyas Kashmiri
Produced by: Momina Duraid
Episodes: 23
Channel: Hum TV
Cast: Eeshal, Farah Shah, Asma Abbas, Imran Ashraf, Noor Hassan, Ahmed Zeb, Zainab Saleem and others.
Aabro scores TOP position in the list, not only because of the name but also because of the popularity as despite being a typical story based on the lines of 'as you sow, so shall you reap', Aabro gained a lot of attention & hit home with the viewers. Aabro most certainly qualifies as such a drama that you can sit & enjoy with your mother because it showed a transition of different characters in such a way that our mothers are most likely going to have a good time relating to them & watching their journey.
Aabro was a story of two reckless & immature people Aabro & Ali who get married only to face the realities of life, but despite living a very tough life, they shape the character of their daughter in such a way that she earns them their long lost respect. In this drama, the aspect that actually seemed appreciable the most was the focus on empowering your children with education but it got lost in the middle of the family politics & the focus on the marriage of young characters, but thankfully the drama did end at such a note where they scored some brownie points by reinforcing the importance of education. Even though, initially, the drama might seem a bit loud & typical, but after a few episodes, everything fell into its place & as the sufferings of Ali & Aabro increased, it did make the viewers feel a bit emotional & heart-broken for them. The last episode was quite emotional & done really really well. Noor Hassan in particular & all the other actors owned their characters however, Eeshal did receive a lot of criticism on her flat acting. You might want to watch episodes 17-22 in fast forward mode but the last episode will surely blow you away.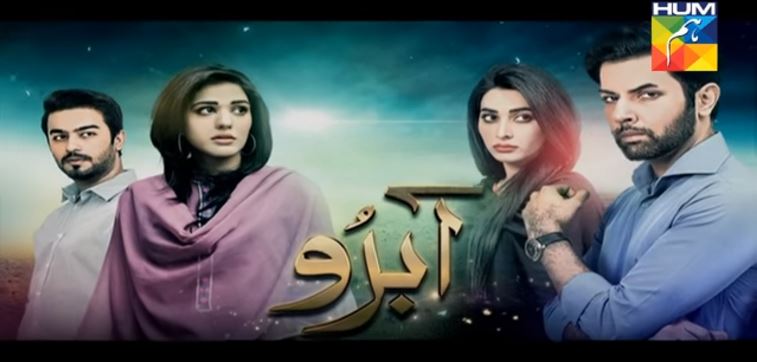 Bheegi Palkein
Written by: Nuzhat Saman & Mansoor Ahmed Khan
Directed by: Furqan Khan
Produced by: Blockbusters Entertainment
Episodes: 29
Channel: Aplus
Cast: Faysal Qureshi, Ushna Shah, Affan Waheed, Faryal Mehmood, Shamim Hilali, Ismat Zaidi and others.
Like most of the dramas in this list Bheegi Palkein isn't grand but it is definitely worth a watch especially when you are looking for meaningless entertainment. Faysal Qureshi is the USP of this drama therefore Faysal Qureshi's fans should definitely watch this one. Also the negative character played by Faryal Mehmood is quite interesting. Ushna Shah plays the seedhi sadhi bechari lrki with precision. At the end of the day it is all about gherulu politics and women fighting over a man but it gets interesting when there are a few twists which are brand new.
The chemistry between leads and the fast paced story especially in the first few episodes makes it a drama anyone would enjoy binge watching. In the later episodes the story gets repetitive but those parts can easily be forwarded when you are watching a drama online.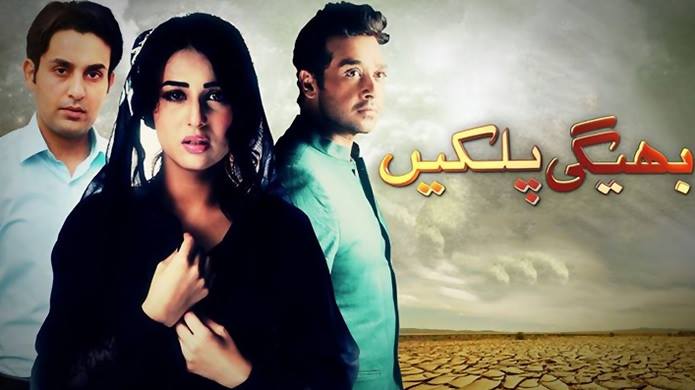 Guzarish
Written by: Sanam Mehdi Jarchevi
Directed by: Owais Khan
Produced by: Six Sigma Plus
Episodes: 25
Channel: ARY Digital
Cast: Yumna Zaidi, Affan Waheed, Javed Sheikh, Saba Hameed, Ahmed Ali, Sara Ashraf, Ali Khan, Maha Warsi, Seemi Pasha, Saba Faisal and others.
Guzarish has some amazing performances and quite a few powerful dialogues to its credit. There are some parts where the story gets weak but overall there were enough twists and turns in this drama to keep the viewers engaged and coming back for more. Yumna Zaidi's potential has been exploited to the maximum in this drama but Sara Ashraf is the weakest link in Guzarish. It gets over dramatic at times but such scenes add more emotional value to the drama. Yumna Zaidi's exceptional performance is the best thing about this play. Saba Hameed is another actress who gives you a reason to look forward to more. There were so many episodes which I watched only because of these two actors. Saba Hameed plays a rather negative character but does it with precision.
The script also has a certain kind of mystery to it which keeps you at the edge of your seat. Guzarish is the story of a love triangle with a whole new twist!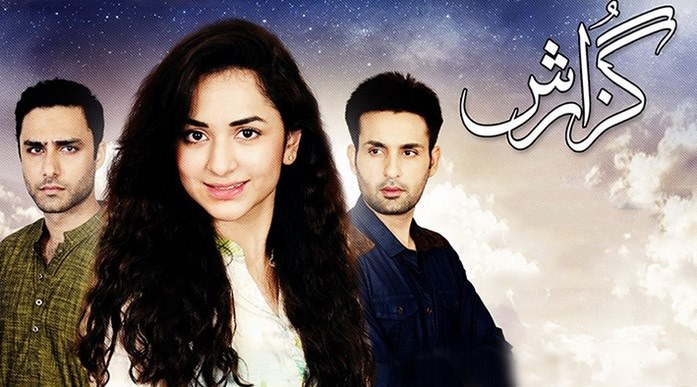 Jhoot
Written by: Reema Ali Syed
Directed by: Syed Ahmed Kamran
Produced by: MD Productions
Episodes: 21
Channel: HUM
Cast: Bushra Ansari, Mansha Pasha, Imran Ashraf, Kamran Jeelani, Nargis Rasheed, Rimsha Akmal, Akbar Khan and others.
Jhoot was fast paced, it had a few interesting characters and the best thing about it was that it was very real! Bushra Ansari's character in particular was the highlight of this drama. She was shown as a controlling mother who is continuously judging others but does not always make the most just decisions herself. She finally has to face the music and that is when things get even more interesting. Jhoot also had a powerful message which was conveyed aptly. Jhoot is another one of those dramas which rose above other average dramas and made the viewers tune into it every week because of the cast and the content too.
The best thing about Jhoot was that unlike many other dramas on this list, it wasn't stretched unnecessarily.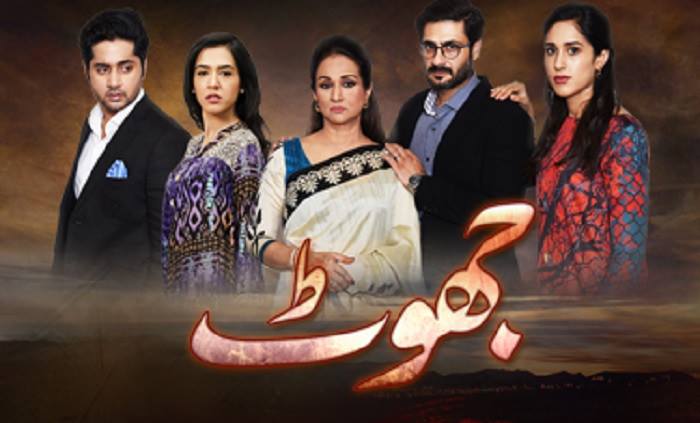 Kathputli
Written by: Faiza Iftikhar
Directed by: Asif Rathore
Produced by: Momina Duraid
Episodes: 19
Channel: Hum TV
Cast: Sanam Chaudhry, Farhan Ahmed Malhi, Samina Ahmed, Gohar Mumtaz, Anam Ahmed, Shaheen Khan, Binita and others.
Kathputli was a story of a survivor. It was a story of a girl who comes from a very oppressed setting but empowers herself with education & puts all her weaknesses aside to emerge as a strong & independent girl who makes her own decisions. What makes Kathputli worth a binge watch is the way the relationship between Mehru & Ahad was established. They both had a great chemistry & their conversations were written really well & were always meaningful. Kathputli easily qualifies as a love story but it was done in such a beautiful manner that it actually struck a chord.
Even though Kathputli had a 100% chance of showing Mehru as a 'bechari', the writer chose not to do that which actually made things a lot better & appealing. The way the director kept things short & to-the-point also made it a success. A lesser number of episodes makes this drama worth a shot & I promise, you won't be disappointed.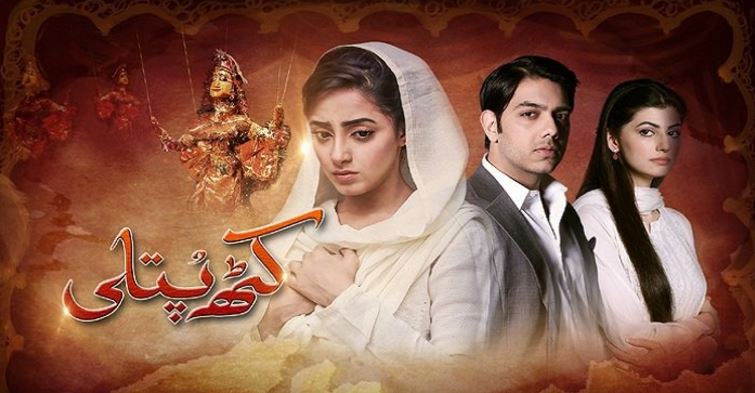 Mana Ka Gharana
Written by: Aliya Bukhari
Directed by: Shehzad Kashmiri
Produced by: Momina Duraid
Episodes: 18
Channel: Hum TV
Cast: Sana Javed, Shehroz Sabzwari, Erum Akhtar, Shamil Khan, Ayesha Toor, Danish Raheel and others.
Mana Ka Gharana happens to be a story of a close-knit family that drifts apart because of the interference of an outsider & also because of the selfishness of a mother who only wants the best for her daughter, but the good thing is, she backtracks & realizes her mistakes. Mana Ka Gharana was the sort of a drama that had a very simple story but the right treatment given by the director made it a very enjoyable ride. The scenic locations & amazing chemistry between some of the characters were some plus points of this drama as well.
Mana Ka Gharana is that kind of a drama which you can have a good time watching when you are in a mood for something light-hearted & nothing too serious. Also, it was one such drama where the viewers were rooting for the supporting characters of Erum Akhtar (Zarri) & Shamil Khan (Maalik) because of their amazing & subtle chemistry more than the main leads Sana Javed (Mana) & Shehroz Sabzwari (Khizar). With 18 episodes to its credit, it can't go wrong!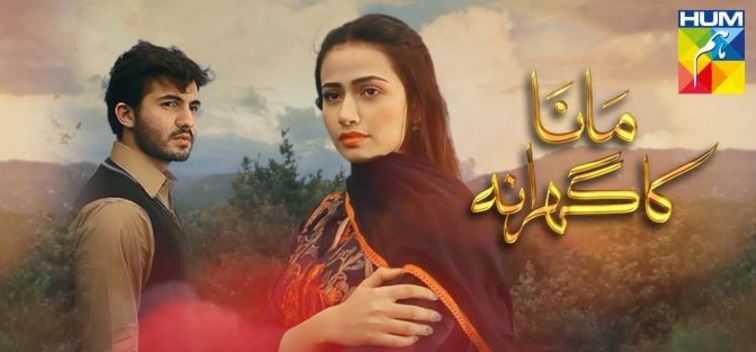 Sehra Main Safar
Written by: Sarwat Nazeer
Directed by: Azfar Ali
Produced by: Momina Duraid
Episodes: 23
Channel: Hum TV
Cast: Zarnish Khan, Ali Kazmi, Emaad Irfani, Shehryaar Zaidi, Lubna Aslam and others.
Sehra Main Safar was a drama that began at a very promising note but lost its charm mid way because of the pace that slowed down considerably, but by that time, those who followed it couldn't give up on it as they wanted to find out the note at which the story will end. It was a story of a girl named Iqra who is pushed into the practical world because of the hardships that her family faces. This story revolved around Iqra & her transition starting from how she misunderstands her family, how she makes a reckless decision of getting married to someone insincere to her, how she realizes her mistakes, understands the importance of her parents & later gets married to someone who loves & most importantly supports her.
Not sure if it was pre-planned or it was because of the popularity that Sehra Main Safar gained, it ended up getting stretched & lost the charm by the time it ended. You might have to forward quite a lot of episodes because of repetition & not getting offered something new in those episodes, however, Zarnish Khan, due to her phenomenal & effortless acting carried this entire drama on her shoulders & deserves all the praises for that.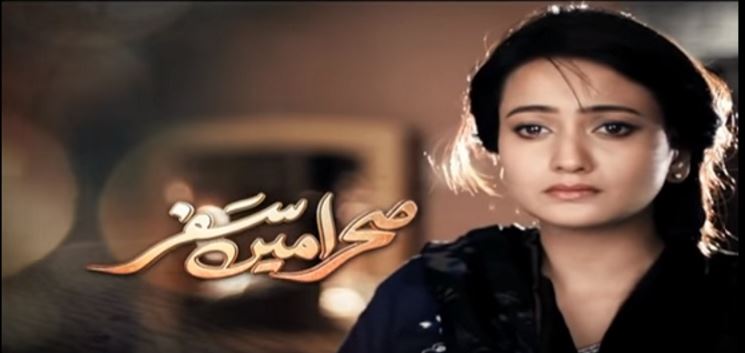 Thora Sa Aasman
Written by: Umera Ahmed
Directed by: Nadeem Siddique
Produced by: Mastermind Productions
Episodes: 21
Channel: Geo TV
Cast: Alyy Khan, Baber Ali, Zeba Bakhtiyar, Qaiser Nizamani, Yasra Rizvi, Ushna Shah, Seher Afzal and others.
If you are ever in a mood to watch something grim, serious but meaningful, Thora Sa Aasman will be the drama for you. Dramatized after one of the best novels of Umera Ahmed, Thora Sa Aasman had a lot of lessons to offer & was based on the theme of 'what goes around comes around'. This drama had a lot of controversy attached to it & may be that is the reason it wasn't heavily promoted by the channel but it surely was a drama worth your time. Thora Sa Aasman was dramatized back in the day on PTV Home & it went unnoticed, may be that is why GEO TV decided to dramatize it again.
The best things about this drama are the direction & the pace, because it has so many characters & the way the director introduced them, that too the right time helped a lot in keeping the interest of the viewers alive. Where a lot of the actors under-performed, Seher Afzal surely takes the crown for her flawless acting. Thora Sa Aasman was one such drama that left the viewers asking for a few more episodes because it seemed that it ended a bit too quickly. This is one such drama that will make you forget that you have an option of forwarding it because it is quite captivating.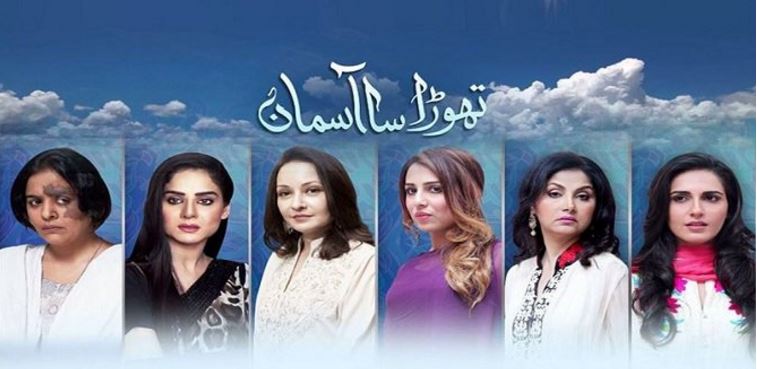 Tum Kon Piya
Written by: Maha Malik
Directed by: Yasir Nawaz
Produced by: Abdullah Kadwani and Asad Qureshi
Episodes: 29
Channel: Urdu1
Cast: Ayeza Khan, Imran Abbas, Ali Abbas, Hina Khawaja Bayat, Qavi Khan, Mehmood Akhtar, Hira Tareen, Shameen Khan and others.
Tum Kon Piya's story is done-to-death and is certainly not free from clichés but it is not devoid of logic. This drama was far more engrossing than many other love stories which were promoted by some of the leading channels. Yasir Nawaz's meticulous direction, his creativity and Maha Malik's eloquent script made this typical story special. Also, there were quite a few twists and turns which took you completely by surprise. Ramish's character and Elma and Ramish's love story, which is more "imagined" than real is poignant and easy to relate to.
Ayeza Khan's honest and effortless acting gives her character the much-needed charm. There is an undeniable chemistry between Ayeza Khan and Imran Abbas. Ramish Hassan, the role played by Imran Abbas, is that of a likeable hero who is not faultless but appealing nevertheless. Some of the negative characters will also keep your interest alive in the show. This drama is also shot beautifully.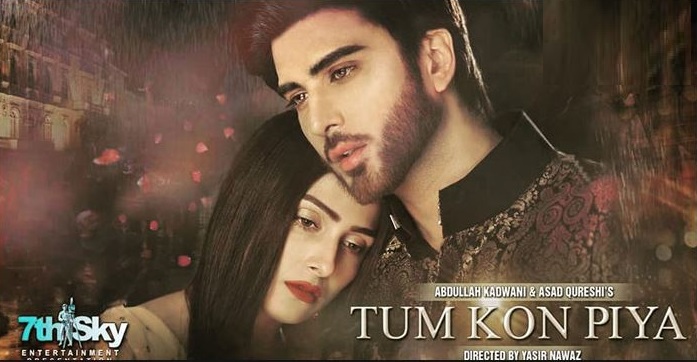 So, this concludes the list of those 2016 dramas that are worth a binge watch. Please feel free to add more names and share your thoughts about the list as well.
Zahra Mirza & Fatima Awan.
Note: This list contains dramas which ended in 2016. The dramas that did not end in 2016 will be covered in the list of 2017.
Aiman Khan – Biography, Age, Family, Engagement, Dramas