The HUM TV awards were shown in the repeat yesterday while going through parts of the show I questioned myself was English our first language? Are we ashamed of speaking Urdu? Does speaking English make our stars feel superior or more refined? Or it could be that they do not know any Urdu! Whatever the reason maybe but it was saddening to see that these Pakistanis who were paying tribute to Pakistani culture and entertainment did not think that it was necessary to speak in their national language. I am very certain that many viewers like me would have found their efforts much more impressive if they spoke good quality Urdu. If the guests could not do it then at least the hosts could have since whatever they had to say was scripted. Learning a few good lines of Urdu would have made the show look more Pakistani but equally modern. Pakistani dramas are in Urdu, our songs are sung in Urdu so that they can reach the masses but the shows that are held to celebrate these entertainment mediums largely depend on the use of English although they are meant for the Pakistani audience too. It was uplifting to see hosts like Samina Peerzada and Fahad Mustafa speaking in Urdu.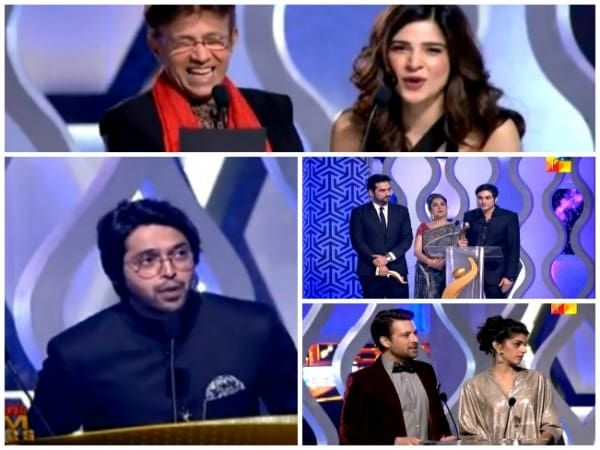 The effort that was put into the show was very evident from the sets and the well choreographed dances but why not put an equal amount of stress on ensuring that the content on which the artists are performing is Pakistani too. Pakistani artists have a lot of hit numbers to their name, why not promote them in these shows? On one hand Indians are criticizing the cheap lyrics of their songs and on the other we cannot get enough of them. HUM TV is a big enough entity to have bands sing special songs which can qualify as dance numbers in their shows. Talking about dance numbers, the stress on dances in the show was a reason because of which I am sure many people forwarded most part of the show. What happened to witty skits? The very few skits that were part of the show were much more entertaining then all the dance numbers put together.
Through this article I want to tell our beloved actors and entertainers once again that the awaam does not get impressed by foreign English accents, Western dresses and naach gana on foreign songs but we want to see Pakistani content and we want to see our celebrities speaking Pakistani language in award shows. Shalwar Kameez is a beautiful dress that can be worn in many stylish ways, we would like to see our celebrities experimenting with Shalwar Kameez instead of wearing party gowns. We want to see the same representation of Pakistan in our shows which we see in our dramas. How many viewers agree with me?
Saud