i1950's filmstar Sheila Ramani passed away on 15th July 2015 in India. Sheila was a Parsi born in Sindh in British India. After the partition in 1947, Sheila migrated to India and worked in many Indian films including Taxi Driver (1954) and Surang (1953).
As an Indian citizen, in 1956 Sheila visited Pakistan to work in few Urdu and Sindhi films produced in Karachi on the request of her Uncle residing in Karachi. Among them Anokhi (1956) is still remembered for its melodious song of Garri Ko Chalana Baabu (گاڑی کو چلانا  بابو). 
Here is the song of Garri Ko Chalana Baabu (گاڑی کو چلانا  بابو) in the voice of famous singer Late Kauser Parveen featuring Sheila Ramani.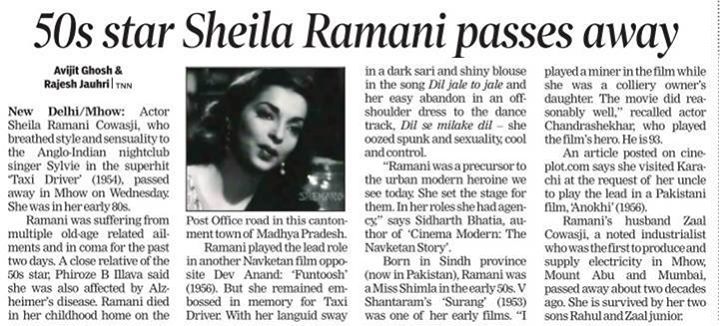 Rashid Nazir Ali