Sadequain Naqqash was a world-renowned Pakistani artist and, is yet to date, considered as one of the finest painters and calligraphers the country has ever produced. He has previously been awarded with the title of  Tamgha-e-Imtiaz, Pride of Performance and Sitara-e-Imtiaz from the government.
Yesterday, 30 years after the death of this prized asset, the artist acquired yet another milestone career achievement posthumously. His artwork titled 'Crucifixion' was offered a remarkable bidding price of £118,750 (about 16 million Pakistani rupees) against an estimate of £60,000-90,000 by an anonymous bidder at Bonhams, an international auction house. The event was solely held to celebrate and acknowledge the brilliance of Pakistani art, where the sales comprised of works belonging to the country's some 21 choice artists including, Ustad Allah Bux, Eqbal Mehdi, A.Q. Arif, Abdur Rahman Chughtai, Waseem Ahmed, Shazia Sikander, and many more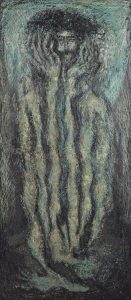 Tahmina Ghaffar, Bonhams Modern and Contemporary South Asian Art Specialist, on record with Geo News sang praises for the event's success: "As proud supporters of Pakistani art for numerous years, Bonhams is delighted with the results achieved at our first Art of Pakistan sale. The enthusiastic bidding in the room, on the phone and online for the top lots demonstrates the increasing demand for, and recognition of, Pakistani art by serious collectors. 
Pakistani heritage is far reaching and untethered. Conceived as a country of refuge and sanctuary, with new residents came new languages, foods and customs. Pakistan's art is complex and challenging and the country has carved its own artistic identity."
There remains a void in Pakistan to value artists and their work. The government should set aside a budgetary allocation that would fund the exposure of arts in the country.