Mahira Khan is on the direct hit of the Maharashtra Navnirman Sena controversy. Her Bollywood debut release is also approaching and MNS is threatening that they will not let the film release due to the presence of Pakistani actress.
As the haters are commenting, Mahira is all set to handle them!
Lately a person made a very rude and stupid comment on a photography of Mahira and her son.
Saami786 said, "apko india se abhi danday nahi paray".
Mahira, gave the guy a very perfect answer "aap ko apni ammi say parhe hotay toh iss tara ki bakwaas nahi kehte.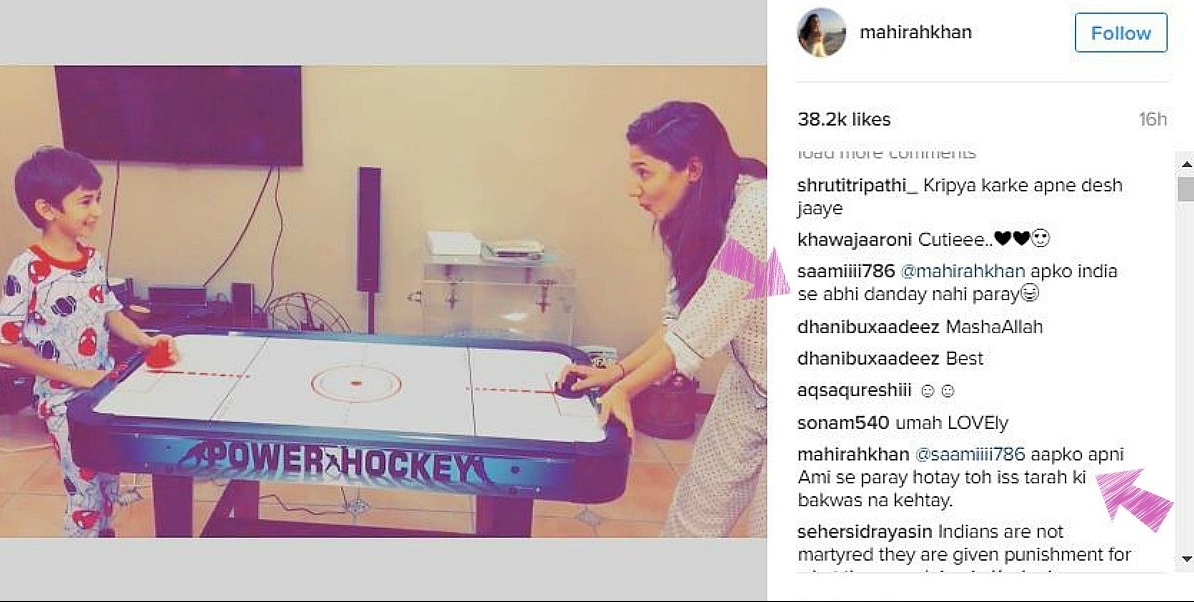 The commenter, was a guy who belonged to Pakistan and criticized Mahira for working in Pakistan but soon Mahira friends gave him detailed answers for all his questions.
Few messages from Mahira's Fans are mentioned below, have a look.
Suboohiii said, "Hey Mahira, such a lovely pic. So proud of you, babe. Big fan from across the border. We are all loving [Pakistani] dramas insanely. Don't react to those fools, love. Haters gonna hate anyway. You are doing it all right… [Those Muslims who criticise you for your actions need to examine their own behaviour first.] May Allāh bless you with more success throughout life."
'Enchantress' stressed that her fans from both sides of the border, should put their differences aside: "To be honest being an Indian i feel ashamed that people of our country have such a mentality. We shouldn't have any kinda ill feelings for anyone specially the people who haven't caused any kind of harm to us. They are not to blamed for anything just because of the country they reside in. I do agree that both India and Pakistan share hostile relationships but just give it a thought that whats the difference between all of us. We bleed the same colour, we have the same kind of food, we live on the same planet earth and we breathe in the same air. So please rather playing a blame game learn to respect and appreciate artists for their work and not say anything which is unacceptable and blame them for deeds of other people."
Harinder Jeet said, "So unfortunate to see people bashing each other on a beautiful mother-son photograph. Let no one's hatred affect you, Mahira. You have many admirers and your hard work and dedication to your work will keep inspiring us." :)