Pakistani drama industry is gifted with actors who are multi-talented. Some of these actors can easily be termed as gurus in their fields but not all of them are very eager to change their looks. Many of them have not even altered their hairstyles in years and even when they do experiment with their looks a little it is almost as if they are scared of going that extra mile to change their looks altogether. They look great nevertheless and some of them are very "well-preserved" but it will be refreshing to watch them experimenting with their looks every now and then if not very often since experimenting and being creative is an essential part of any field of art.
All of these actors are good-looking people who are exceptionally confident about their looks but the looks which they have sported for many years also prove that they would much rather play it safe than change their looks to give the characters they play a certain degree of uniqueness which can be identified with every character that they have played in their career. All these actors have signature looks that remain constant no matter what kind of a character they are playing because of which most of the times they end up looking like they walked from one shooting set to another and their characters can not be differentiated because of the monotony of their looks. There are many different ways in which an actor can alter their looks but so far these actors have not ventured into anything drastic which would have taken their fans by surprise.
Here is a list of those actors who definitely need to and should experiment with their looks:
Hamayun Saeed
Yes! Hamayun Saeed is most certainly one of those actors who are very "well-preserved" but he also falls in the category of those performers who have sported the same look for years. Hamayun Saeed made his comeback with drama serial Dil Lagi after a long time but even then his look in the play was pretty much the same as the one he sported many years back. Apart from the fact that Mohid was very "desi", there was no drastic change in Hamayun Saeed's look although this was the perfect time to come up with something brand new. In Bin Roye Hamayun Saeed has grown a beard but there is no drastic change in his hairstyle or overall look.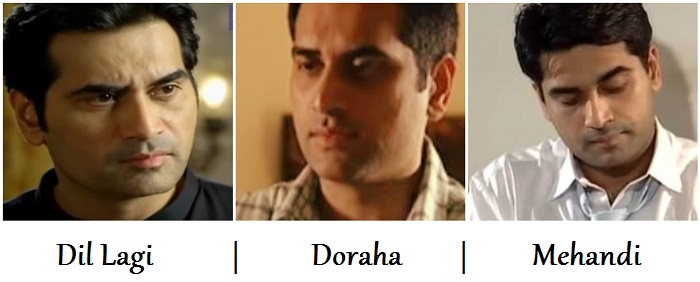 Imran Abbas
The only time Imran Abbas experimented with his looks was in drama serial Akbari Asghari, other than that he always has the same boyish looks, his hairstyle never changes, he always sports a stubble and his overall appearance including his makeup remains the same. It is impossible to tell which drama a screen shot has been taken from because his looks are all the same despite the nature of his characters, although in drama serial Mera Naam Yousuf Hai in particular and even in Khuda Aur Mohabbat there was definitely a lot of room for experimenting for him.

Ayeza Khan
Ayeza Khan is definitely one of those actresses who need to change their overall look because ever since she has stepped into the industry, she has had the same hairstyle and her dressing is the same irrespective of the roles she plays. Another reason for this is that most often Ayeza Khan is seen playing similar roles. She has a signature look which suits the seedhi sadhi larki she is seen playing in dramas most of the times. The promos and BTS pictures of her upcoming play Shehrnaz suggest that Ayeza Khan might finally have decided to experiment with her looks, we are waiting to see what she has in store for her viewers.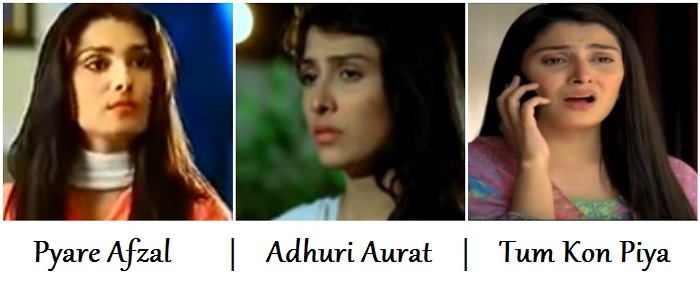 Zahid Ahmed
Zahid Ahmed is a phenomenal actor but sadly, that can't be said about his styling skills as he is stuck with a same look ever since he has stepped in the drama industry. Zahid Ahmed does change his clothing but his overall hair-styling & beard pretty much tells that while going to the shoot of another drama, he stopped on his way to home to change his clothes because other than that, you never see him in a different avatar. Zahid Ahmed is lucky to have great acting skills which pretty much keep the viewers attention hooked to him, but he most certainly needs a new stylist who can experiment with his looks & gives him a makeover.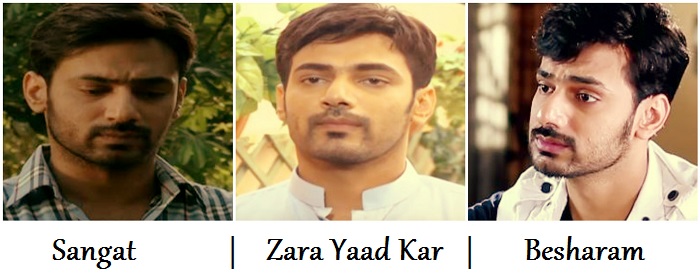 Noor Hassan
If you refer to the screenshots below, you will assume that these were taken from a single scene of a single drama but to surprise you all, that is not the case actually. If there was an award dedicated to looking consistently boring on-screen, Noor Hassan will bag it hands down because Noor Hassan is one such actor who takes pride in looking boringly monotonous on screen. The same hairstyle, same skin-fit T-shirts & same expressions, it looks like Noor Hassan is frozen in time & due to which the gel on his hair froze eternally too. For a little part in the drama serial Aabro, Noor Hassan looked different because that was the demand of his character where he had to showcase a time lapse & he actually pulled that look off gracefully, so I think Noor Hassan definitely needs to change his looks & experiment a lot more!

Mikaal Zulfqar
Mikaal Zulfiqar has come a long way when it comes to acting, but sadly, he is still stuck in a rut when it comes to his overall styling. Mikaal Zulfiqar has been sporting he same look ever since he has stepped in the Pakistani drama industry. I don't remember any such project in which Mikaal's hair weren't partitioned differently or his hair-color wasn't brown. Mikaal Zulfiqar has one of those faces which can pretty much carry any sort of styling but Mikaal has become a little too comfortable with the idea of the same styling that he just doesn't experiment at all which is definitely needed.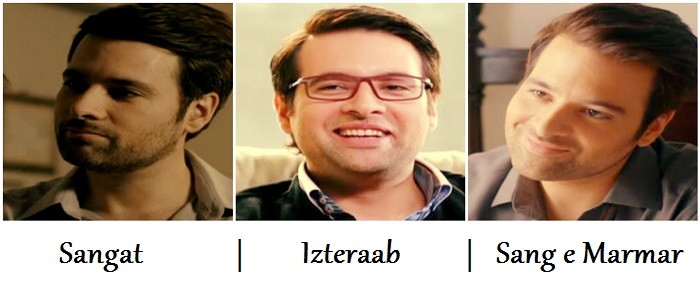 Sana Javed
Sana Javed has a very pretty face and she would look great in anything at all yet she also is one of those actresses who are stuck with the same look. Sana Javed does not even change the way she partitions her hair let alone experiment with something which will give each character she plays a different look. Sana Javed hasn't played a lot of glamorous roles in her career. Her characters in Pyare Afzal, Goya, Mera Pehla Pyar, Ranjish Hi Sahi, Mana Ka Gharana, Zara Yaad Kar and almost all the dramas she has ever starred in had the exact same look which make her look monotonous & boring on screen.

Aijaz Aslam
I still remember Aijaz Aslam from his very first drama serial Kashkol and ever since then this man has not experimented with his look at all. He is also one of those many actors in this list who take good care of themselves and have managed to stay young but watching him in the same get up for the past so many years has been quite monotonous. It would be nice to see some variation in his look because till date he has only grown in & out of beard in all his dramas but his hairstyle always stays the same!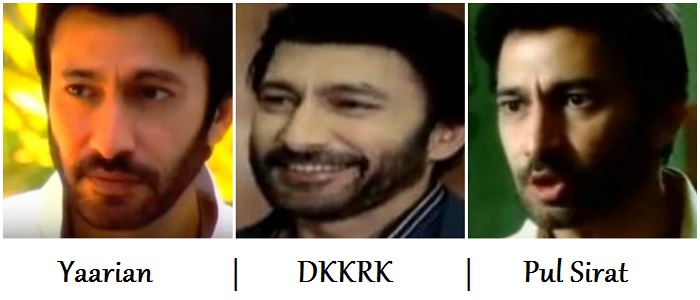 Adnan Siddique
Adnan Siddique is one of those actors who has aged gracefully, but that does not mean that he has to stick to the silver locks all the time. Adnan Siddique ends up choosing those dramas in which he is paired opposite the actresses who're half his age, so where his character requires him to look a little young, his monotonous look, hair-color & hairstyle screams the opposite. I actually can not remember a drama in which Adnan Siddique wowed the viewers with a change in his styling & appearance. I think it's about time that Adnan Siddque does something especially with the hair because that will not only make him look vibrant & different but will make him look less lethargic too.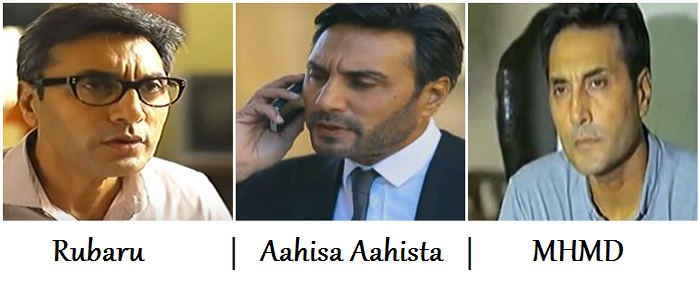 Hareem Farooq
Hareem Farooq has lost weight but she is not very open to any radical changes in her overall look. In all her drama serials whether it was Mausam, Mere Humdum Mere Dost and now Sanam, she has the same hairstyle and her make-up has always been unimpressive. Even in her brief appearance in the film Janaan, she sported the same look. There were a few pictures in which for a very brief period Hareem Farooq changed her hair color but later on she was seen in the same old look in drama serial Sanam.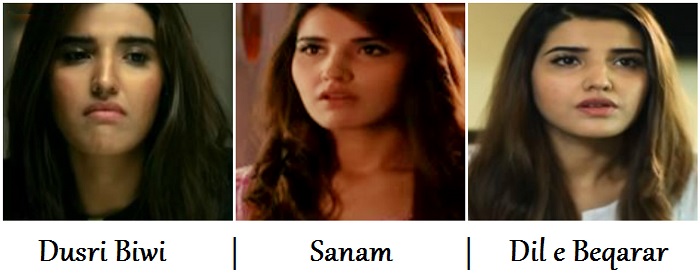 Emaad Irfani
Being a model, it is definitely expected from Emaad Irfani to change his looks because he has seen himself in different get ups so he knows which looks he can sport but ever since he has started taking his acting career seriously, he has stopped experimenting with his looks completely. Emaad Irfani most certainly has become comfortable with a single look which includes uncombed curly messy hair & a neatly done stubble, which actually makes him look boring on screen. Emaad Irfani definitely is improving as an actor but at this stage I think to make his presence felt in the dramas, he should work harder on his looks which will actually earn him some attention of the viewers.

Mansha Pasha
Mansha Pasha experimented with her looks a little just once when she was playing Romaissa's bubbly sister in drama serial Mohabbat Subha Ka Sitara Hai. Other than that even after being part of so many dramas and being attached to the entertainment industry for a few years now Mansha Pasha has retained the same looks in all her dramas which pretty much revolve around curled or straightened hair. Mansha Pasha definitely needs a makeover & she should change her makeup artist too. It would be nice to see her trying out different looks because most of the times it ends up looking like she came straight from her home to the shooting set & started acting, without paying much attention to how she will look on camera.

Farhan Saeed
Farhan Saeed has an undeniable screen presence which has won him many fans but does he experiment with his looks? Most certainly not! In drama serial Udaari, Farhan Saeed sported a pony tail for a short period of time but there was no major change in his look although there was a lot of room for experimentation. In all his other dramas too Farhan Saeed usually goes with the perfect hair and a very neat look overall irrespective of the role he is playing. This basically goes to show that he is also one of those actors who like to play it safe. The only changes one can see is in the height of the puff that he sports on his head, which actually makes it look like he is heavily inspired from the infamous Johnny Bravo!

Junaid Khan
I don't remember a drama when the puff on Junaid's head faltered giving him a different look. If there is one such actor who can give Noor Hassan a run for his money in terms of monotony, it is Junaid Khan. The most effort the viewers will see him make would be shaving his stubble off but other than that, everything stays the same starting from his puffy hair to the smile which he relies on a lot, even in the scenes where he is may be mourning a death of a character. It looks like Junaid Khan is quite satisfied with his boring look & loves flaunting his stiffness, be it in terms of his hairstyle, his expressions or his body language.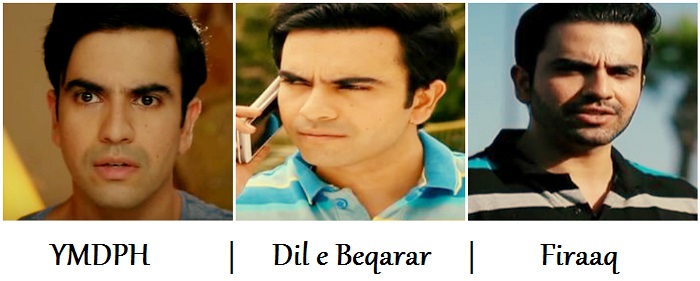 So, with this, we conclude out list. Would you like to see all these actors mentioned above experimenting with their looks? Do you think it is important for an actor to alter their looks completely to give every character they play a unique outlook & make their performances a little more impactful? Do share your thoughts about the subject and don't forget to add more names to the list.
Fatima Awan & Zahra Mirza.