Ohkay so, we; the masoom viewers have been put up with a lot lately so I thought it's a high time to reciprocate some honest & heartfelt feelings about certain actors who've given us a hard time. I have always known that exaggeration is one such thing that will annoy any person therefore I feel before joining showbiz, our respected actors worked really hard & practiced harder; the art of exaggeration that's why sadly they've taken it to a whole new level.
I think it's about time to dedicate a whole article to the bunch of exagger-actors who love to overdo things that they're needlessly comfortable in & oh it just hit me that I've introduced a new term i-e exagger-actors. Sounds good right? :) I must say recently we've seen all the exaggeractors sticking to certain things that made the viewers pull their hair out but unfortunately, every single actor's so hopelessly & helplessly comfortable in what they're doing that even after the viewers have given up on them they're continuously doing what they're good at. I must say it takes a lot of courage to not budge & be allergic to experimenting. So, there you go:
Mawra Hocane who overdoes crying without glycerin:
Yes, she's someone who has forgotten that there are some other expressions & emotions that a normal healthy human being is capable of experiencing but seems like by default she's missing a vein which stirs the expression of smiling on a face therefore all that we see her doing is: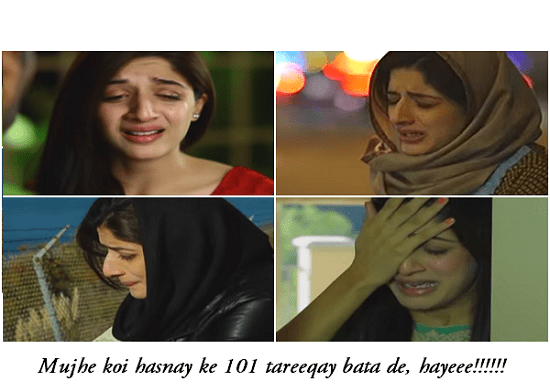 Sami Khan who also overdoes crying with glycerin:
Not sure who wins the crown for being a rotlu of Pakistani drama industry Mawra Hocane or Sami Khan but seems like they decided that she should be a crying queen while he can be a representative of all those men who love to cry, hence he's a new-found crying-king.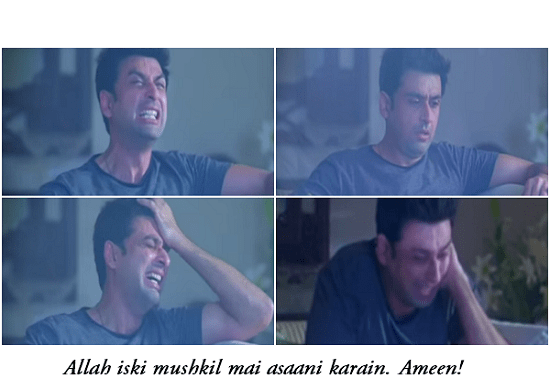 Yumna Zaidi who overdoes expressions:
Ohkay, I must say she's someone who rolls her eyes at a speed of 10000000 rps (rotations per second) therefore it really gets hard to watch her because she can give you an eye-ache.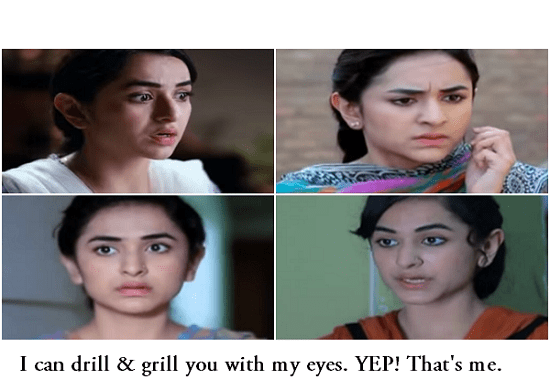 Ushna Shah who overdoes asthma:
Looks like the poor girl is suffering from asthma that's why she frequently runs out of breath while speaking. Can someone please buy her an inhaler so that at least she has enough breath to complete her sentence without shivering?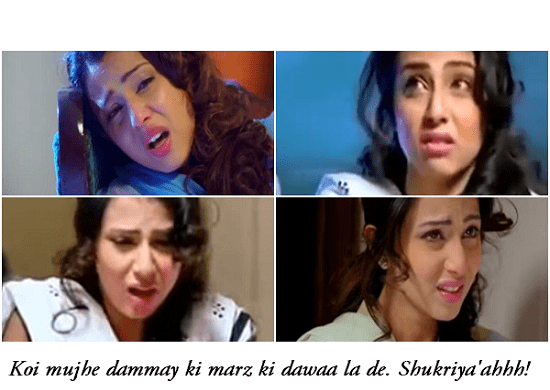 Maheen Rizvi who overdoes an accent:
Seems like she chucked a handful of walnuts in her mouth, that's why she has a hard time delivering her dialogues without faking an accent. Can someone make her barf those akhrots out, please?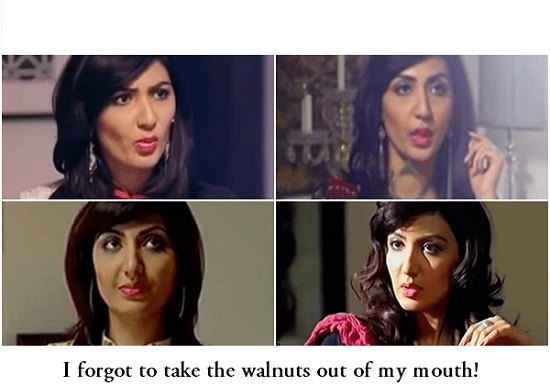 Mikaal Zulfikar who overdoes glutton-ness:
He's a guy who'd only smile at a dining table. Who'd be seen hovering around food to sniff it, he's someone who'd be ecstatic at a sight of an approaching food tray. Yes, he's someone who'd kill for a piece of ROTIIIIIIII, therefore: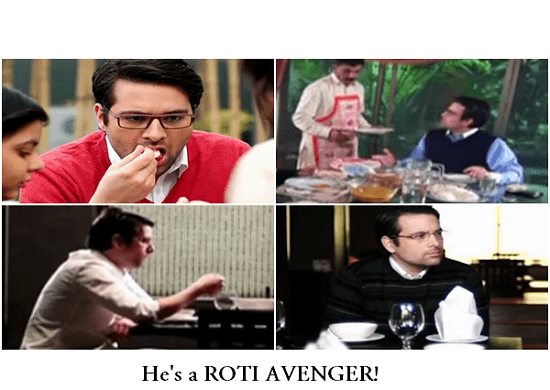 Hareem Farooq who overdoes calcium hydroxide i-e choona on her face:
Yes, I think in the wee years of her life, Casper was the first children's movie that she saw & ever since she has been so inspired by the character that she feels it's her duty to become an ambassador of Casper's fan club in Pakistan.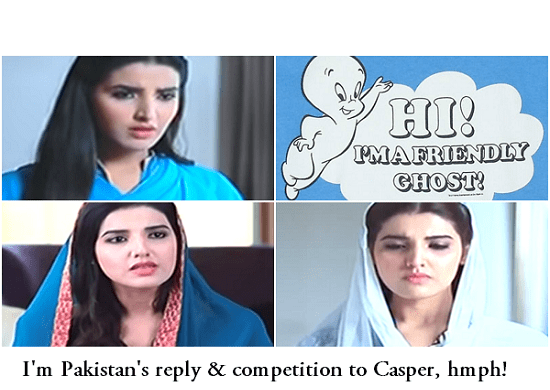 Ahsan Khan who overdoes unrequited love i-e nakaam ashiqui:
Yes, he's someone who just doesn't believe in giving up on love. He's someone who's blessed with a misfortune when it comes to love but he keeps on trying again & again & again & again till the word again doesn't want to appear again.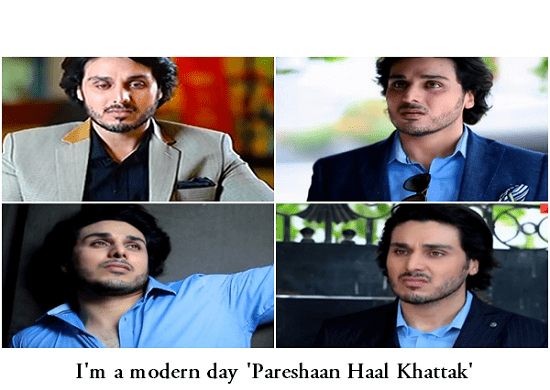 Adnan Siddique who overdoes midlife crisis:
I know the cat's out of the bag already as Adnan Siddique's guilty of working opposite the youngest of all female co-actors & then we do get to see him getting a bit too cordial with them unnecessarily. The latest flick was with Mawra where he felt an apple would taste good if he looks at her while eating it, ahem!!!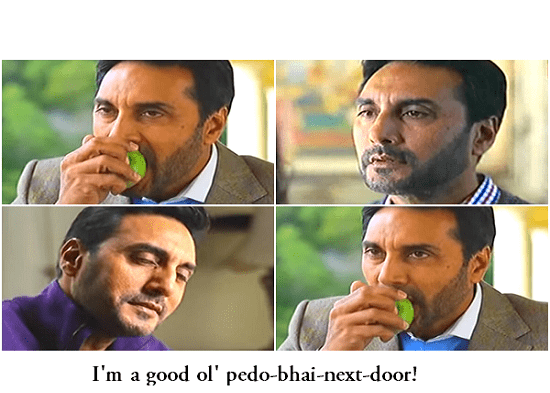 Saba Qamar who overdoes the usage of her nostrils:
Yes, even though she's a great actor, I feel she relies a lot on her nostrils to express herself. I wish she puts her nose to rest & starts using other facial features for expressions. I am sure she'll be surprised herself.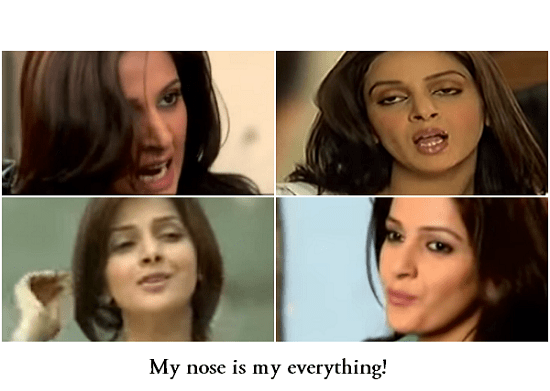 So, there you have it. My list of exagger-actors who need to either stop what they're doing or should experiment to sustain in the industry without making their fans too bored with their typicality. Share who do you feel is an exaggeractor & who's too scared of experimenting. :) Share your thoughts on this please.
Keep Supporting,
Cheers,
Zahra Mirza.