Humaira Arshad and Ahmed Butt have been married for many years. They also have a son from their marriage but it looks like the differences between these two which were never a secret appear to have taken a very ugly turn. Humaira Arshad always used to give hints in different shows in which the couple appeared together that Ahmed Butt wasn't a very loyal husband but this time she called a Press Conference in which she shared everything traumatic that had happened to her in all these years of being married to Ahmed Butt.
In this Press Conference Humaira said, "Ahmed aor uske bhai aqeel butt ko bhet mertaba galat kamo me mulawwis paya lakin apni izzat ki khatir khamosh rahi hoo. Ahmed ke lerkio se talluqat hai jab bhi mene usko mana kia usne darjano baar mujhper tashadud kia aor yeh bhi dhamki di ke mai tumhare mu per tezab phenk duga. chend roz pehle wo hamare bete ko apni maa ke gher le gya aor 4 din tek waha rakha. Ab ahmed ka mutaliba hai ke mai usko 3 crore rupees du lakin ab mai uski black mailing me nahi aawgi. Ab hamare raste mukammal torper alag hai aor mai kisi terha ikhatte nahi reh sakte".
Translation;
"I caught Ahmed and his brother Aqeel Butt involved in wrong activities many times but to save myself from embarrassment I stayed quiet. Ahmed has affairs with many girls but every time I asked him to stop he reacted by being violent and also threatened that he will throw acid on my face. Few days back he took our son to his mother's house and did not bring him back for four days. Now Ahmed wants me to give him 3o million rupees but I am not falling for his blackmailing now. We are going our separate ways now and there is no way that we can live together now."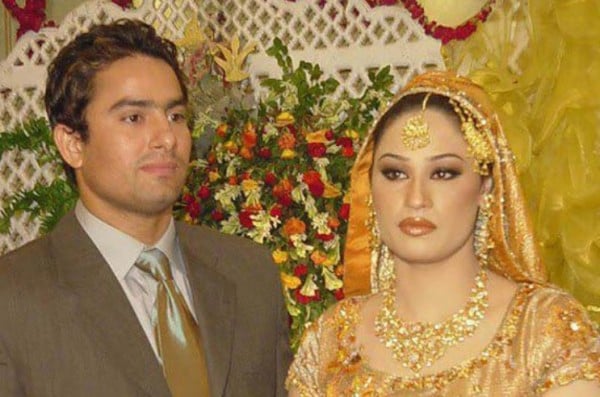 This is like an official statement in which Humaira Arshad publicly declared that she could not live with Ahmed Butt anymore. Ahmed Butt talked to the press too later and said that his wife had filed a bogus case against him kidnapping his son. He also said that he did not want this marriage to end because that wouldn't be good for his son. He also said that he was never violent with his wife. He also went on to say that he never demanded any money from his wife.
Ahmed said that Humaira Arshad and someone named Sakhi Sarwar were 50% partners in all the properties. He said that this was quite a coincidence that she started to hurl accusations at him when he objected to this.