Mahira Khan recently paid a humble tribute to the strength, determination and resilience of an accomplished Pakistan Army officer, Lieutenant General Nigar Johar, by portraying her character in a biopic (telefilm) Aik Hai Nigar. As Pakistan Army's first female Three Star General, Johar is a force to be reckoned with, and her inspirational story is a must-watch.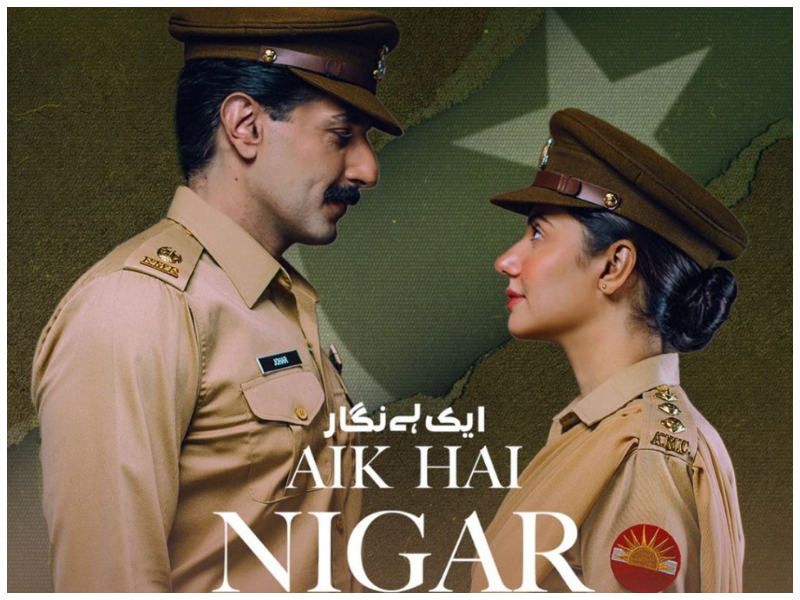 As television viewers, we are accustomed to watching a certain type of women on television and it's a rare occurrence to find 'strong female characters surrounded by supportive people' in our dramas. Despite Mahira's remarkable performance, the audience criticized Mahira for her controversial dialogue about doctors in telefilm.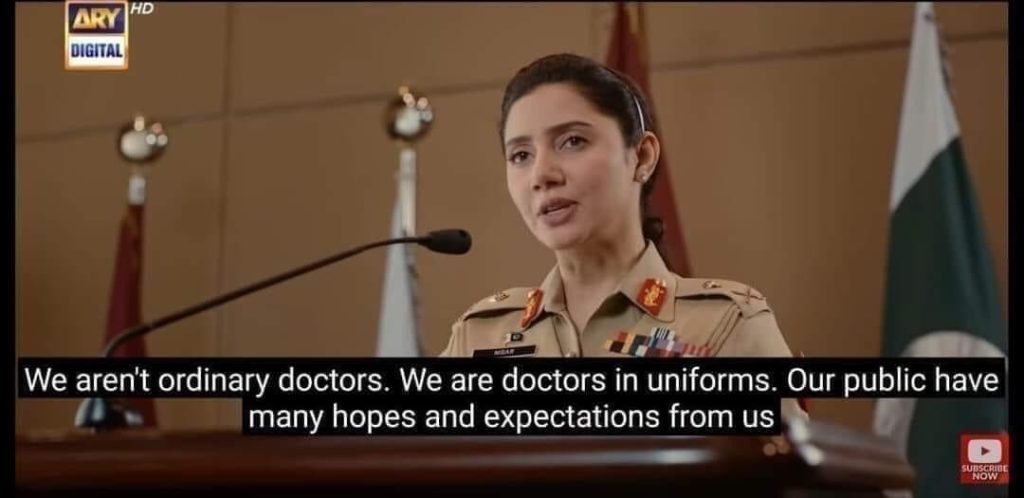 "We aren't ordinary doctors. We are doctors in uniform. Our Public have many hopes and expectations from us", says Mahira Khan. Right after the video clip went viral on social media, Mahira Khan faced immense backlash from the audience. The doctors also bashed Mahira for calling them ordinary doctors. Here we have gathered some public reviews, have a look!
ایک خاتون کی کامیابیوں کو پوری میڈیکل کمیونٹی کی توہین کیے بغیر سراہا جا سکتا تھا، خاص طور پر COVID کے دوران ان کے فرنٹ لائن کردار کو دیکھتے ہوئے جب یونیفارم والے ڈاکٹر عام شہریوں پر اپنے دروازے بند کر رہے تھے۔

اتنا تکبر کس بات پر کے آپ کے پاس یونیفارم ہے اور سویلین کے پاس نہیں pic.twitter.com/mmMhzxvRlE

— Imaan Zainab Mazari-Hazir (@ImaanZHazir) October 27, 2021
Doctor doctor hota hai#OrdinaryDoctor#extraordinary pic.twitter.com/iZx5dwSLu6

— Muhsin Ali (@muhsi_alee) October 28, 2021
Ksi na sach hi bat kahi🤧#OrdinaryDoctor pic.twitter.com/0jpjRM6w4P

— 𝕯𝖎𝖑🖤𝖙𝖎𝖆𝖟𝖊𝖒 (@drmeshii) October 27, 2021
Happy or sad 😭
Grace , how do you feel? When 5 years of hard work pays you back with word "Ordinary Doctor".😭💔😭💔😭💔 #OrdinaryDoctor pic.twitter.com/wpj0Mr7Lb6

— Pakistan Medical commission (@O_Lalaa) October 27, 2021
Doctors without uniform are bloody civilians ordinary doctors, Thats how our minds have been manipulated #OrdinaryDoctor pic.twitter.com/HHQk0UMTg8

— saman 💚 (@sfartst) October 26, 2021
Exta-ordinary closed their hospital for Bloody public of this country at the peak of corona #OrdinaryDoctor pic.twitter.com/fS8kOGDQys

— Dr. Aijaz ali Shar Baloch🇵🇰 (@Aijazbolcz1) October 27, 2021
Dear @OfficialDGISPR! When the doors of Your MH & CMHs were closed & your doctors in uniform were stopped to treat the bloody civilians,our ordinary doctors were losing their lives while treating the common folks suffering from COVID-19.#RoyalArmy#BrahmansOfPak#OrdinaryDoctor pic.twitter.com/2Tr2CedP3q

— Salman Karim 🇵🇰❣🇵🇸 (@Salman__Karim) October 27, 2021
Alhamdulilah , I am a Proud Civil #ordinarydoctor
Poor selection of words , poor script writer, poor editor and poor acting. There is only one Gen Nigar , but we civilian doctors have hundreds of thousands such incredible stories around us. Mgr afsos k Hum #BloodyCivilian hein

— فہد (@Fadiiness) October 27, 2021
Docters are docters and their work is to serve nationAnd they are serving by burning mid nights oil
How can u distinguish between ordinary and Army docter?Ordinary docters have to struggle more than Army doctors because they are not provided with luxury lifestyle#OrdinaryDoctor pic.twitter.com/hO2KBSyd8u

— kashaf (@kashafkhan0) October 28, 2021
Not so long ago, these army doctors in their so called uniforms closed the hospital doors for general public in the midst of the pandemic.#OrdinaryDoctor✌️#ordinarydoctors pic.twitter.com/P32eGAyXta

— LAIBA ABDALI (@laibaabdali) October 27, 2021
Not Public @TheMahiraKhan , Please Correct, Only Uniform Officers have many hopes & Expectation from Us.
There is no Hope or place here for Bloody Civilians..! We aren't only Doctors in Uniform.We are far superior than Ordinary Doctors.#OrdinaryDoctor pic.twitter.com/pSKhPDQSnv

— Muhammad Yassir (@yassirsaleem) October 27, 2021
The only hope and expectation public have from you is, please 'Behave' like ordinary doctor.#ordinarydoctor pic.twitter.com/HIheoxS1wI

— 🇵🇸 X Scientist (@seharishhh) October 27, 2021
#OrdinaryDoctor
Absolutly they are't ordinary doctors they just wear uniform while ordinary doctors give sacrifice pic.twitter.com/1ItJr12jaJ

— Salar Khan (@SalarKh41612886) October 27, 2021
I am an ordinary doctor with no "uniform ". #AikHaiNigar We are equally juggling our families, career and yes our common people has high expectations and many hopes from us too.Our brothers, father and husband have supported us too and we are equally competitive.#OrdinaryDoctor pic.twitter.com/zemYyfcYVb

— Dr. Hina S. Lodhi (@Hina19782) October 27, 2021
The extra ordinary doctors are not available to ordinary people but the bloody civilian ordinary are available 24/7…
That's the difference!!#OrdinaryDoctor pic.twitter.com/CjWRIQ6Fym

— Dr. Fawad khan (@KhanBunere) October 27, 2021
An #ordinary Pediatric Surgery Resident Dr working in COVID ward in MH brought her mother to me in govt hospital. She told me WHILE CRYING that she was REFUSED admission as she was #OrdinaryDoctor (She had been working in COVID ward despite being surgery resident & took virus) pic.twitter.com/70RjRoiA5O

— ینگ ڈاکٹر (@NOTsoYoungDR) October 28, 2021
Alhamdulilah, I am a Proud #ordinarydoctor
Poor selection of words, poor script writing.. There's only 1 Gen Nigar, but we civilian drs have hundreds of thousands such incredible stories around us. Respect shld b given to every dr whether in unifrm or white coat #proudofwhitecoat pic.twitter.com/8gSNAp825f

— Lubna Hassan🇵🇰 (@MeenaKhattak93) October 27, 2021