As Indian Prime Minister Modi's BJP soared to victory in one of the biggest states of India, an eleven year old Pakistani school girl wrote to him saying that he should now focus towards winning more hearts of Indians and Pakistanis, by becoming a bridge of peace between the two nations.
Aqeedat Naveed, a citizen of Lahore understands how important peace between bitter neighbours India and Pakistan is. She has written to Modi to work towards establishing peace between the countries.
In her letter, Aqeedat wrote, "Once my father told me that winning hearts is a marvellous job. Perhaps you have won the hearts of Indian people, therefore you won the election in UP. But I must tell you if you want to win more Indian and Pakistani hearts, you should take steps towards friendship and peace. Both countries need good relation."
"Let's make a peace bridge between India and Pakistan. Let's decide that we will not buy bullets, will buy books. We will not buy the guns, will buy the medicine for the poor people," her letter said.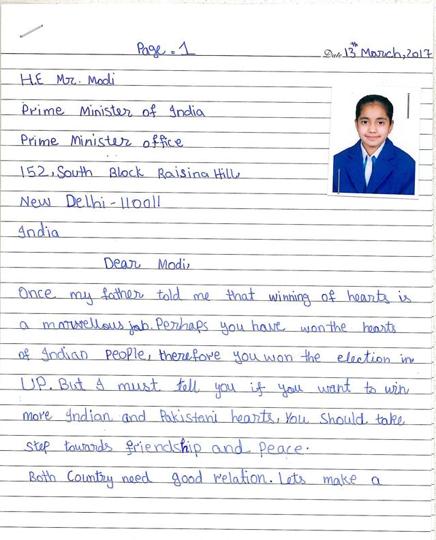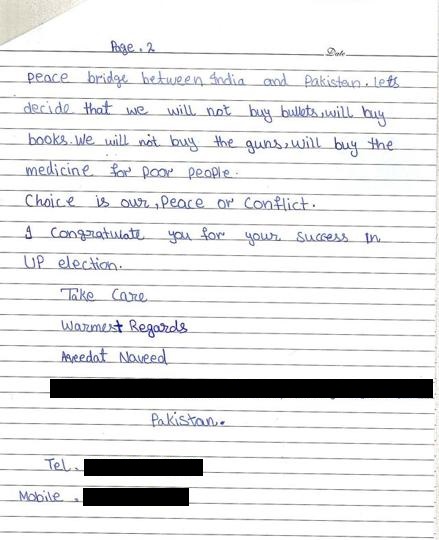 Aqeedat has earned accolades in Pakistan for writing letters in support of peace and tolerance to world leaders, including that of India and Pakistan.
In another letter, Aqeedat and her brother Moarikh Naveed (14) have written to Pakistan's chief of army staff Qamar Javed Bajwa congratulating him for the success of the recently launched operation against terrorists. She praised him for his efforts to restore peace, reported Dunya News.