Armeena Rana Khan is not just a pretty face. She has a voice which she always uses to express the importance of everything she stands for and has also used her voice and standing for many philanthropic efforts. Armeena is one of the stars who has been preaching peace and love and is telling the world how war destroys lives and society. Priyanka Chopra is a Bollywood star and also an ambassador for UNICEF. She was also among the artists who appreciated the IAF after they crossed the LOC.
Armeena took to Twitter and asked her out on her hypocrisy that how she can appreciate war when she is an ambassador for UNICEF. This is what Armeena had to say: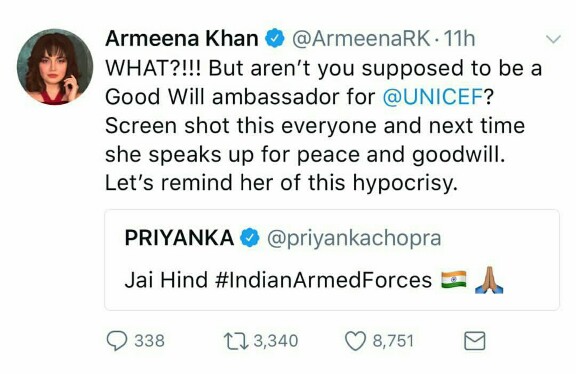 Pakistani stars have been trying to talk sense and propagate peace in the ongoing chaotic situation!