Recently a 'private' and objectionable video of singer cum actress Rabi Pirzada went viral on social media. The video, leaked by unknown sources, spread like wildfire and soon a number of people were found sharing Rabi's dance video without consent.
Some bashed, some supported Rabi for the leak of her videos but most people came forward calling out those who were sharing and spreading the objectionable videos. Following the leak, Rabi, herself, stated that the videos had been in an old smartphone of hers which she had sold and she had sought out help from cyber crime cell against the person she had sold the phone too.
Singer Meesha Shafi, advocate Nighat Dad and filmmaker Jami, also came forward in support of Rabi, stating how the culprit should be punished for leaking the video without Rabi's consent and that people should stop bashing her for whatever happened.

Following the leak, fake news about Rabi Pirzada committing suicide out of shame has also been doing rounds. Although there is no grain of truth to this news, people have been quick to comment and pass judgement about how Rabi ought to have committed suicide for the mistake she made.
In a society, where a number of people have already succumbed to suicide due to societal pressure and condemnation, actress Armeena Rana Khan, was quick to point out that we didn't need any more of such incidents whether Rabi had been responsible for the leak of the videos or not.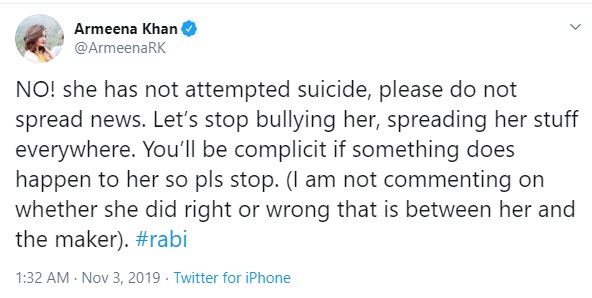 Stating the fact that Rabi hadn't committed suicide, Armeena Khan added, "Let's stop bullying her, spreading her stuff everywhere. You'll be complicit if something does happen to her so pls stop. (I am not commenting on whether she did right or wrong that is between her and the maker). #rabi"
Armeena further stressed the point that people needed to be careful with their bodies and the use of smart phones since once something was out, nobody had any control over where it went and how it went.