Although she has been away from our television screens for a while now, Armeena Khan is very much active on social media. The actress has been raising her voice for human rights, fighting for the children in Syria and actively campaigning for Kashmir.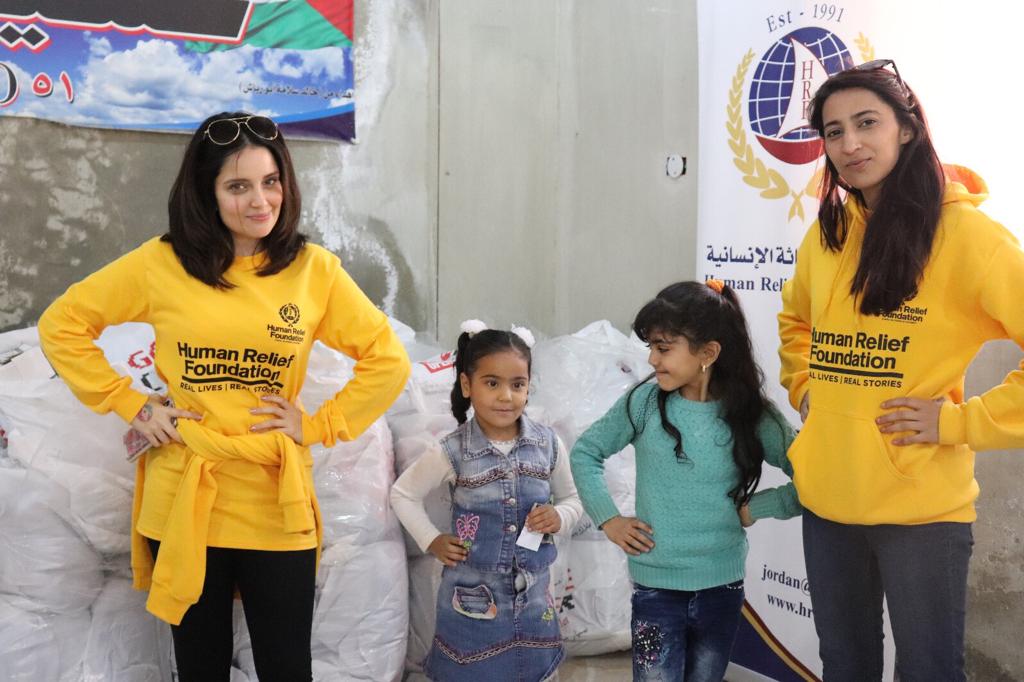 Recently Armeena Khan also wrote a letter to UNICEF to point out how Priyanka Chopra, a UNICEF goodwill ambassador had been promoting war amongst India and Pakistan by aiming to support Indian atrocities in Kashmir. Following her letter, the actress and her fiance Fesl Khan also met UNICEF representatives to discuss Kashmir issue and the plight of Kashmiris.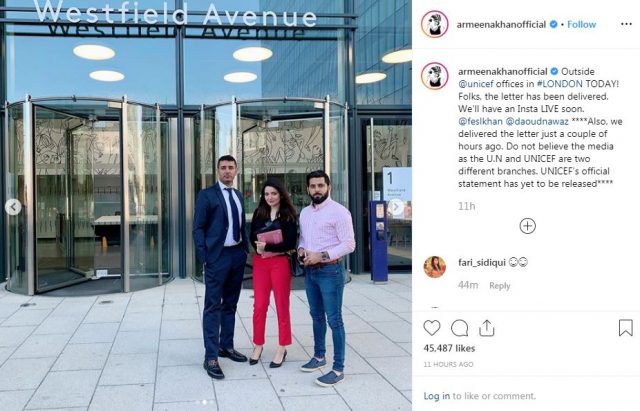 Staying vocal about the causes she supports on Twitter, Armeena Khan, has time and again pointed out how she has been bullied and called out names by social media trolls. Khan has often schooled her trolls teaching them basic manners through her tweets as well.
However, it seems, things have gone way to far this time. Armeena recently tweeted how she sought positivity and happiness and Twitter wasn't the place she was finding this anymore.
"Twitter is a real negative space now full of scumbags, racists and bots. Everyday it zaps my energy, you can't even share anything positive without someone pooping all over it . I think I'm going to look for a better platform elsewhere. I like happiness, positivity and fun stuff," wrote Armeena on her Twitter handle.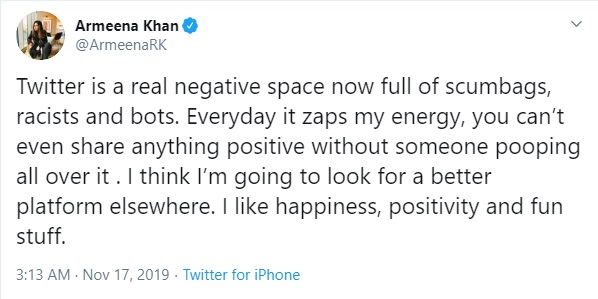 Earlier, Armeena Khan has changed the privacy settings of her Instagram account from public to followers only as the actress had enough of cyber bullying and racist comments from the users. Following her bad experience on Twitter, does it mean, Khan will be swearing off this one social media platform as well?
We, certainly hope not. Hang in there Armeena and teach these scumbags a lesson they'll not forget for the rest of their lives. Why should we shut up because a bunch of losers don't like us talking about what matters to us?