Ayeza Khan is the most popular Pakistani actress and model. Her fan following is unprecedented. She has a pleasant personality and is especially generous while sharing glimpses of her private life with her fans. She is also one of those few celebrities who are really conscious about their image. Even though she is always in the limelight but she has never been part of any controversy. She is also a mother and a wife for whom family comes before everything else.
She does not hold back while giving interviews. She works hard to stay on top of things whether it is family or work. At the same time, she makes sure that she stays grounded. Recently when her drama serial Mere Pass Tum Ho became a mega-hit unlike the rest of the cast she actually refrained from giving interviews. Her reasoning behind this was that she was actually afraid of giving interviews considering the huge expectations people had from her. Even after all these years, She takes her fans' wishes and sensitivities into consideration while signing projects.
[lwptoc]
Ayeza Khan is a talkative and fun-loving person for whom spending time with family is more important than anything else. Her career in showbiz started purely by chance. Many people who know Ayeza as the delicate and extremely lady-like, will be surprised to hear that Ayeza Khan was a tomboy while growing up. She was surrounded by male cousins. She used to play with them and therefore she even saw herself as a boy. When she joined the industry it was only then that she realized what her true identity was. Then when she decided to embrace her feminine side, there was no turning back after that.
Ayeza Khan considers drama serial Pyare Afzal to be the most rewarding experience of her life. She likes being part of dramas written by Khalil-ur-Rehman Qamar because he is really appreciative if she plays the roles written by him with precision. After she got married, Ayeza Khan started taking her career even more seriously than ever. According to her, she became more focused after her marriage. Acting for her is not a pastime but clearly a career choice which she takes really seriously.
She was even offered a film from across the border. She was even considering the offer but the ties between India and Pakistan severed and as a result she never got to go to India to talk about the offer. Ayeza has absolutely no regrets in life, she believes that everything happens for the best. It is this positive attitude which has helped her get where she is today.
Ayeza Khan Age
Shewas born on January 15, 1991. She is 29 years old.
Ayeza Khan Height
She is 5 feet and 4 inches tall.
Ayeza Khan Pic
There is a good reason why She is everyone's favorite model. She has a photogenic face and perfect features. Ayeza loves taking pictures with her family as well. Here is a beautiful picture of Ayeza Khan.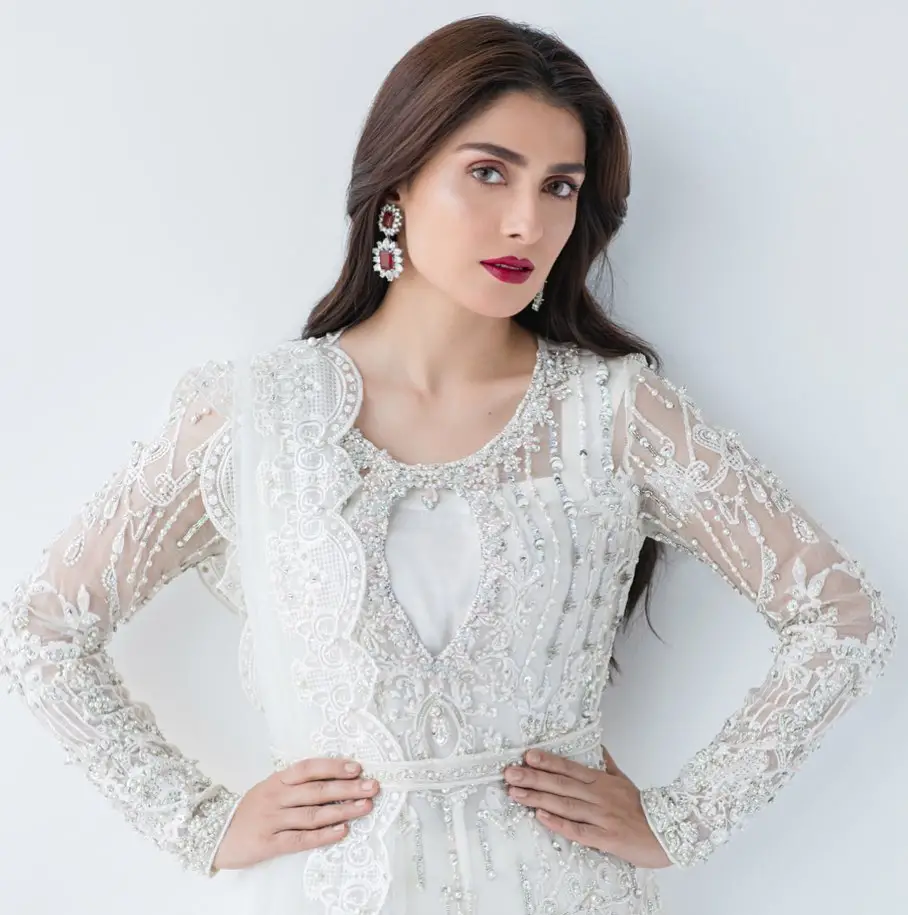 Ayeza Khan Sister
She only has one sister who is much younger than her. Her name is Hiba Khan. She always speaks really fondly about all her siblings in different interviews. Her younger sister has helped her a lot in raising her children. Ayeza even said in an interview that she thinks it is a great idea to have children with so much age gap because the younger ones really help out the older ones in times of need.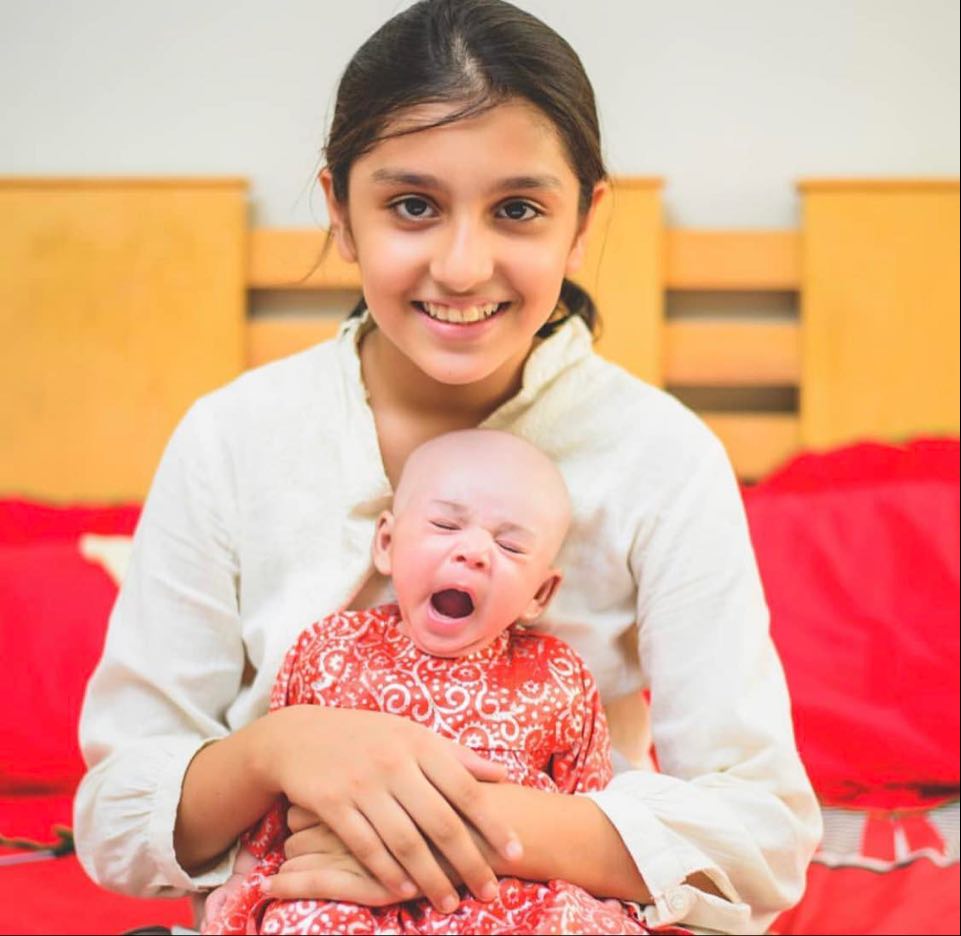 Ayeza Khan Danish Taimoor
Ayeza Khan and Danish Taimoor got married in 2014 but they knew each other long before that. Their love story is really interesting. Ayeza Khan and Danish Taimoor got married in 2014. They met each other 6 years before getting married. Both of them were really young when they met for the first time. Danish Taimoor proposed her almost instantly. At that time She had just started college. This came as a shock to Ayeza, who was too young to get married. After that, they were in a relationship for a few years. They even got engaged. Due to some reasons, they drifted apart. The engagement was also broken. According to Ayeza Khan they drifted apart for some time because they were too young.
Just when they both thought that it was over, fate had something else planned for them. Ayeza Khan and Danish Taimoor were cast together in a drama. That is when they realized that they were soul mates and there was no looking back after that. She believes that it was a blessing in disguise that they had a break-up for a few years. She even admitted that deep inside she always wanted to be with Danish but they went separate ways because she felt that she wasn't the kind of woman who Danish considered ideal for him.
She shared in an interview that after a little time, she was more willing to change herself to make Danish happy. In all this time, Danish too was more sure than ever that he wanted to be with Ayeza Khan. Ayeza says that in all that time both of them had the opportunity of meeting different people and they came to the conclusion that they will never be as perfect with anyone except each other.
Ayeza and Danish have also shared the screen together but it was only recently that they decided to do a drama together after they got married. In an interview almost a year back, they revealed that they were waiting for the perfect project to work in together. They wanted this project to be such that people will remember it forever. They also said that the drama they will be a part of was not going to be just another love story. They are not seen together in drama serial Mehrposh which is really popular with the masses.
Ayeza Khan Husband
Her husband Danish Taimoor is also a popular actor who has worked in dramas and has also done a film. Ayeza Khan husband is really supportive of her. He understands that his wife takes her work just as seriously as him. He understands her dreams and aspirations. When Ayeza got married, she did not appear on television for over a year because she was expecting her first baby. People started speculating that perhaps her husband Danish Taimoor had stopped her from working in dramas. In many interviews, Danish made sure he clarified this misunderstanding.
Danish Taimoor's support for his wife is evident from the fact that Ayeza has more work after her marriage than she did before she got married. Ayeza's husband has helped her grow. They have perfect chemistry and they learn from each other. Ayeza does not give interviews with her husband very often. They save such appearances for special occasions such as Eid.
Ayeza Khan's husband is just as family-oriented as Ayeza herself. This is a big reason why they make the perfect couple. Although both of them are equally busy in their work, they make sure that they have plenty of time for their family. They make the most of small moments and occasions. Danish Taimoor is just as honest in interviews as Ayeza is while giving interviews.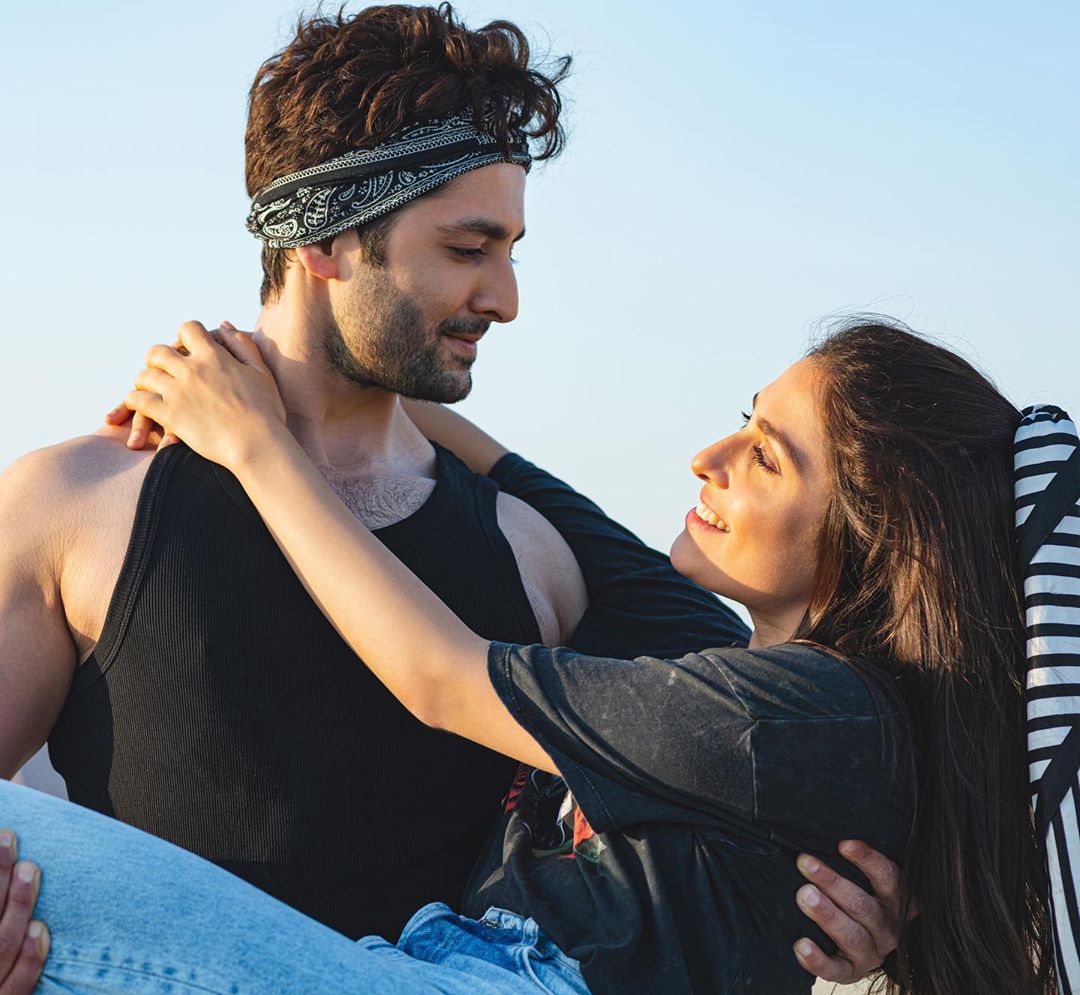 Ayeza Khan Wedding
Ayeza Khan wedding took place in 2014. She was the first popular celebrity who had the most elaborate wedding function. Each one of these functions had a certain theme. She was the one who thought everything through in detail. They were also the first celebrity couple who shared the pictures and videos of their wedding with their fans. They got a lot of love from their fans when they got married.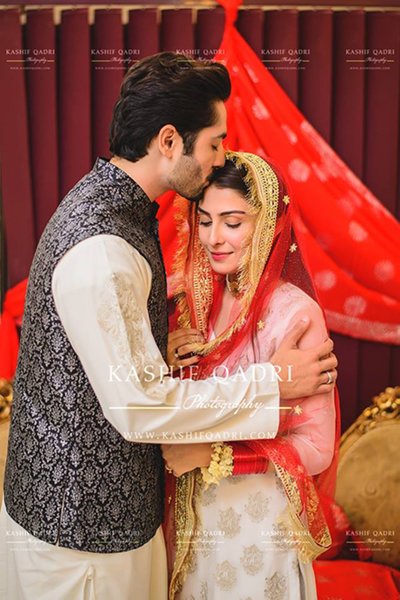 Ayeza Khan Daughter
She gave birth to her beautiful daughter soon after she got married. She named her daughter Hoorain Taimoor. Hoorain will be turning 5 years old this year. She also shared how she ended up naming her daughter Hoorain. She shared that when she found out that she was going to give birth to a daughter, she had already decided that she was going to give her daughter a different name. At that time Mera Sultan was on air and everyone around her recommended the name Hurrem, which was the name of one of the leading characters in the series Mera Sultan.
Ayeza Khan, however, wanted her daughter to have a name which would only be hers therefore she came up with the name Hoorain. The name is inspired by Hoor-ul-Ain. When She saw her daughter for the first time, she noticed she had beautiful eyes and that is when she decided instantly to name her Hoorain. Ayeza is making sure that as her daughter grows up, she learns the value of relationships.
She keeps on posting beautiful pictures with her daughter on social media. She always celebrates every single birthday of her daughter with friends and family. Even if it is a small celebration, the entire family makes sure that itis really special.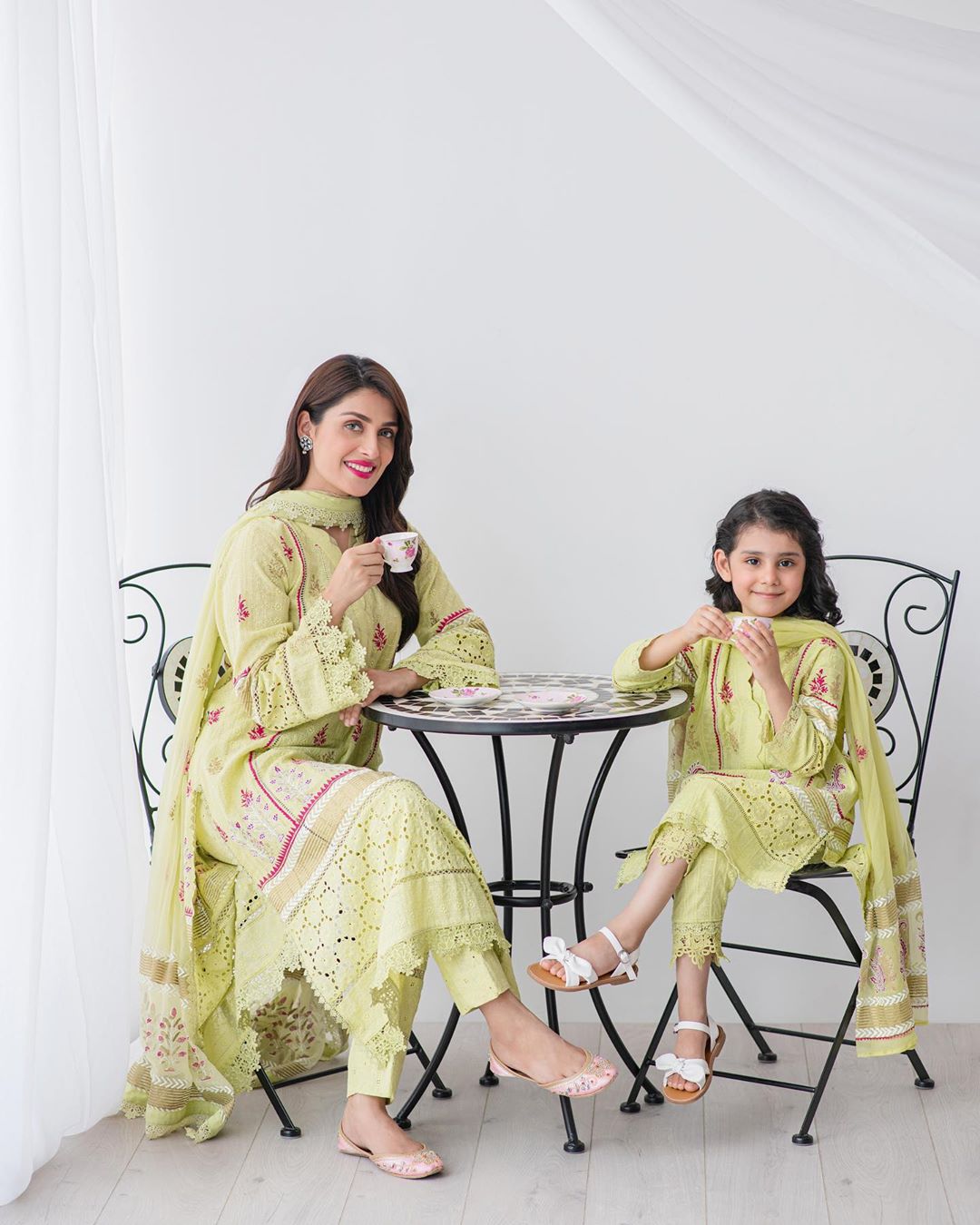 Ayeza Khan Son
Ayeza Khan son name is Rayan Taimoor. Rayan turned 2 years old last year. Ayeza shared in an interview that Rayan is a handful. He is an adventurous and active little boy. She has always made a conscious effort to ensure that her children follow certain set patterns and routines. She has never expected her helpers to look after her children. She wakes up early in the morning to prepare their breakfast and get her daughter ready for school. Even though Rayan doesn't go to school yet but he follows the same routine as his sister.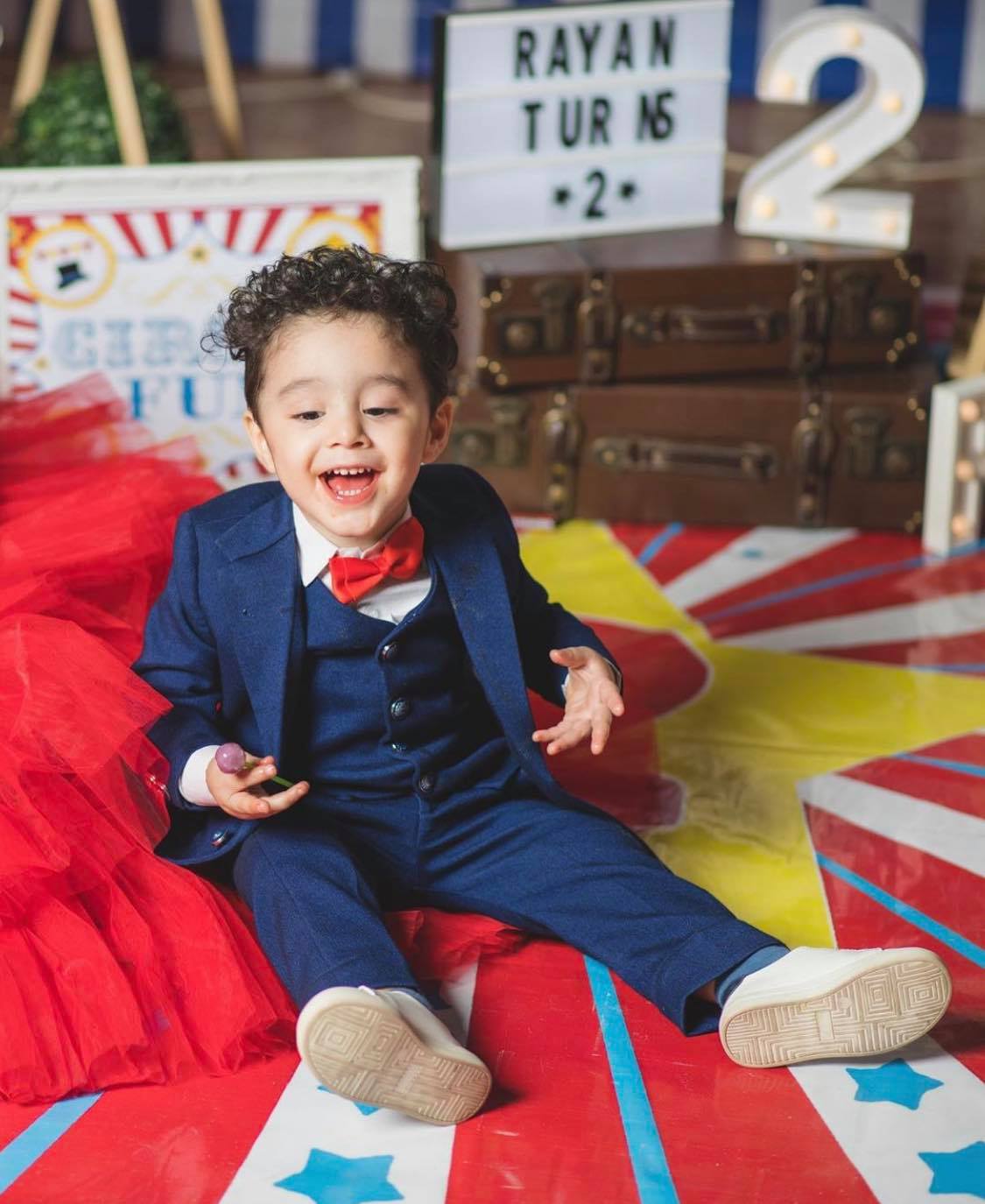 Ayeza Khan Family
She is really close to her entire family whether they are her in-laws or her own family. She has been doing a remarkable job of balancing everything. She looks after her own family and stays in close touch with her siblings and parents. Ayeza Khan shared in an interview that she always wanted to live in a joint family after getting married therefore living with her in-laws has been a wonderful experience for her.
Ayeza Khan and Danish Taimoor recently started living independently because Ayeza's mother often has to come to stay with them to take care of the kids. All of Ayeza's family is present in all the functions. Even if it is a small event, Ayeza always makes sure that all the family members are there.
Ayeza Khan With Family
She keeps on posting beautiful pictures with her family. Fans enjoy watching their favorite stars with their family. Here are some of the best pictures of Ayeza Khan with her family.
Ayeza Khan Drama List
Through the years She has played leading roles in many quality dramas. In several interviews, she has shared that she only chooses to work in dramas that have some kind of a message. She finds it really difficult to cry in dramas yet she has played many roles in which she has been seen constantly crying on screen. After Ayeza Khan got married she vowed to play stronger roles and was determined to make her heroes cry. In Mohabbat Tumse Nafrat Hei and Tau Dil Ka Kya Hua she played such character. For the most part, however, Ayeza plays characters that go through a lot of problems.
One thing is for sure that every drama She has worked in lately has been a massive hit. Ayeza is extremely hard working and out of all the Pakistani actors, she feels most comfortable working with Imran Abbas.
Here is a list of dramas Ayeza Khan has worked her till now.
Tum Jo Miley – 2009
Sandal – 2009
Pul Sirat – 2010
Larkiyan Mohallay Ki – 2010
Tootey Huwey Per –  2011
Maaye Ni – 2011
Kaala Jadoo – 2011
Kitni Girhein Baaki Hain – 2011
Shadi Mubarak  – 2012
Mi-Raqsam – 2012
Zard Mausam – 2012
Mera Saeein 2 – 2012
Maahi Aye Ga – 2012
Aks – 2012
Kahi Unkahi – 2012
Meri Zindagi Hai Tu – 2012
Adhoori Aurat – 2013
Extras: The Mango People – 2013
Kitni Girhein Baaki Hain – 2013
Sari Bhool Hamari Thi – 2013
Ghalti Se Mistake Hogai – 2013
Pyare Afzal – 2013
Do Qadam Door Thay – 2014
Mere Meherban – 2014
Jab We Wed – 2014
Bikhra Mera Naseeb – 2014
Tum Kon Piya – 2016
Shehrnaz – 2016
Mohabbat Tumse Nafrat Hai – 2017
Tau Dil Kya Hua – 2019
Yariyaan – 2019
Mere Pass Tum Ho – 2020
Thora Sa Haq – 2020
Mehr Posh – 2020
Telefilms
Mein, Kukkoo Aur Woh – (2014)
Teri Meri Love Story – (2016)
Ayeza Khan Instagram
Ayeza Khan always has time for her Instagram even with her busy schedule. She confesses that for her running her Instagram is definitely a priority. The reason for this is that she takes her fans really seriously. She feels she owes it to her fans that she should share a part of her personal life with them. Ayeza Khan has 5.6 million followers on Instagram.

Ayeza Khan Dresses
Ayeza Khan is known for her decent and stylish dresses just as much as she is known for her impressive performances. She is definitely someone who has learned how to dress up perfectly as she got more exposure. Whether she is on-screen or off-screen Ayeza Khan always looks her best. Her dressing sense never fails to impress which is why she is the first name on this list. From simple dresses to formal ones, Ayeza Khan picks everything after giving it a lot of thought.
Here are some beautiful Ayeza Khan dresses which She wore recently: