Ayeza Khan is beautiful and talented. This is the reason why she is not only an established actress but also a successful model. Right from the beginning of her modeling career, Ayeza Khan has been a favorite when it comes to bridal shoots and makeovers. The leading make-up artists started experimenting with different bridal looks when they were given the opportunity to give this diva a makeover in the start when Ayeza started modeling. She looked absolutely gorgeous in all these photoshoots. One thing that really works in Ayeza's favor is that she can pull off both Eastern and Western looks. However, everyone will agree that no one pulls off a desi-heavy bridal look the way Ayeza does.
Here is a collection of some of the best bridal looks Ayeza Khan sported recently in the past few months:
Ayeza Khan In Rizwan Beyg
Traditional bridal looks never go out of style which is why the top designers continue designing dresses that are ideal for such a look. In this particular bridal shoot, Ayeza Khan wore a stunning traditional bridal dress. Anila Murtaza is an expert when it comes to gives Ayeza Khan her best make-up looks. She is the one responsible for the make-up and styling. The nose ring and the heavy jewelry went well with this entire look and Ayeza Khan looked absolutely gorgeous.
Ayeza Khan In Ali Xeeshan
All the leading designers and the best make-up artists have always chosen Ayeza Khan as the face for their new collections. Recently Ayeza Khan was part of a bridal collection designed exclusively for all those brides who want to experiment with different colors. Ali Xeeshan is known for thinking out of the box. Shoaib Khan is another talented and creative individual who is known for his outstanding make-up skills. When both of these maestros got together along with one of the leading jewelry brands, the final look was simply stunning.
Ayeza Khan In Annus Abrar
Annus Abrar is one of the most loved designer studios for formal and bridal wear. Ayeza Khan was seen donning two of his most beautiful bridal designs this year; Mehrunissa and Nikhaar. Both these bridal dresses had been intricately designed. The designer paid attention to all the handiwork and the craftsmanship that went into these designs made them look flawless and exquisite. Ayeza Khan's traditional look is always a winner therefore this can easily pass as the best look any bride can carry on her baraat day.
This wasn't the only time when Ayeza Khan was featured as the Annus Abrar bride. She did another photoshoot for the designer which was completely different from this. This look is ideal for valima brides or those brides who do not want to wear the traditional maroon or red outfit on their big day. The details on the sleeves and duppata pallus make this dress even more appealing. We also love the ruffles which give this dress an extra oomph.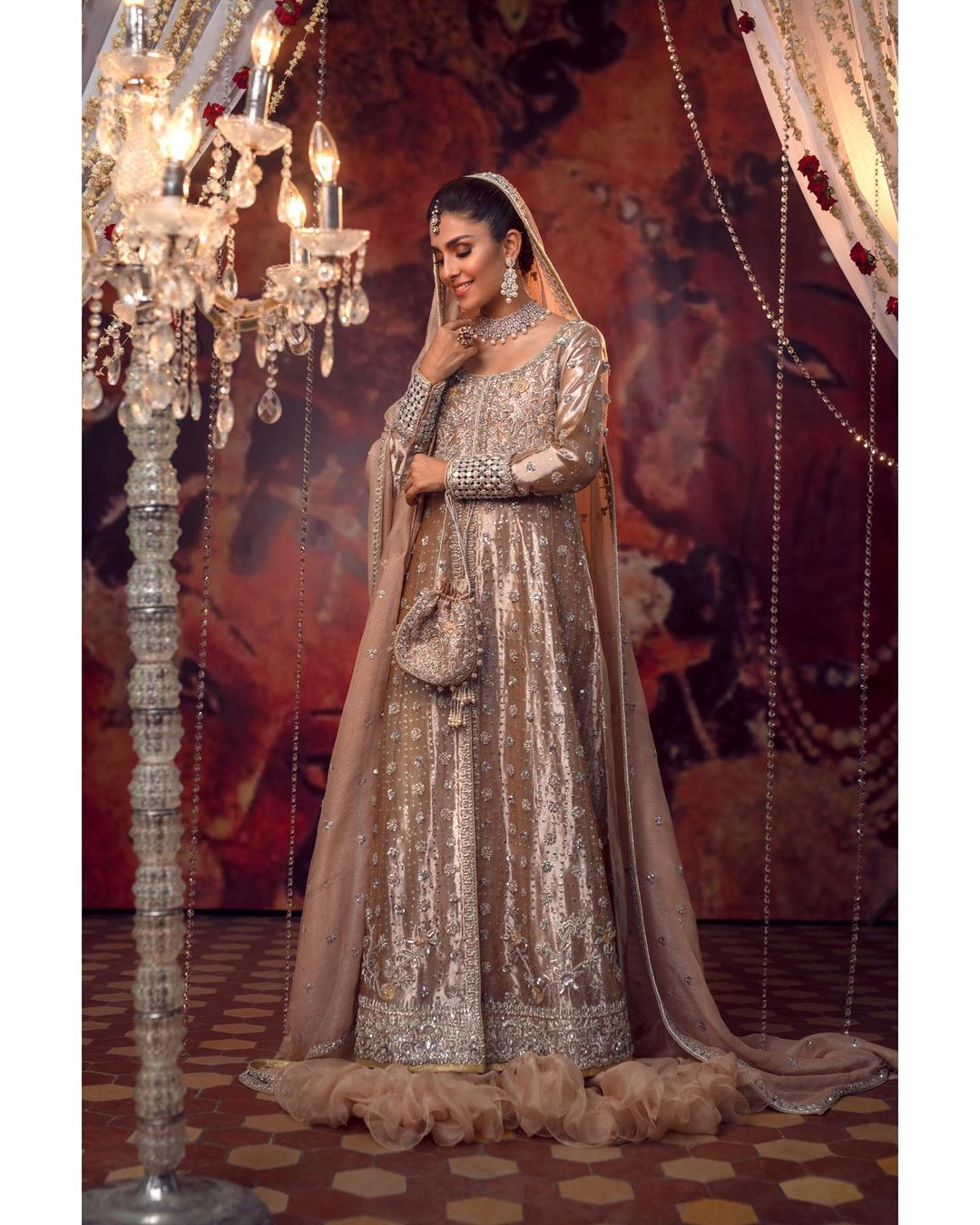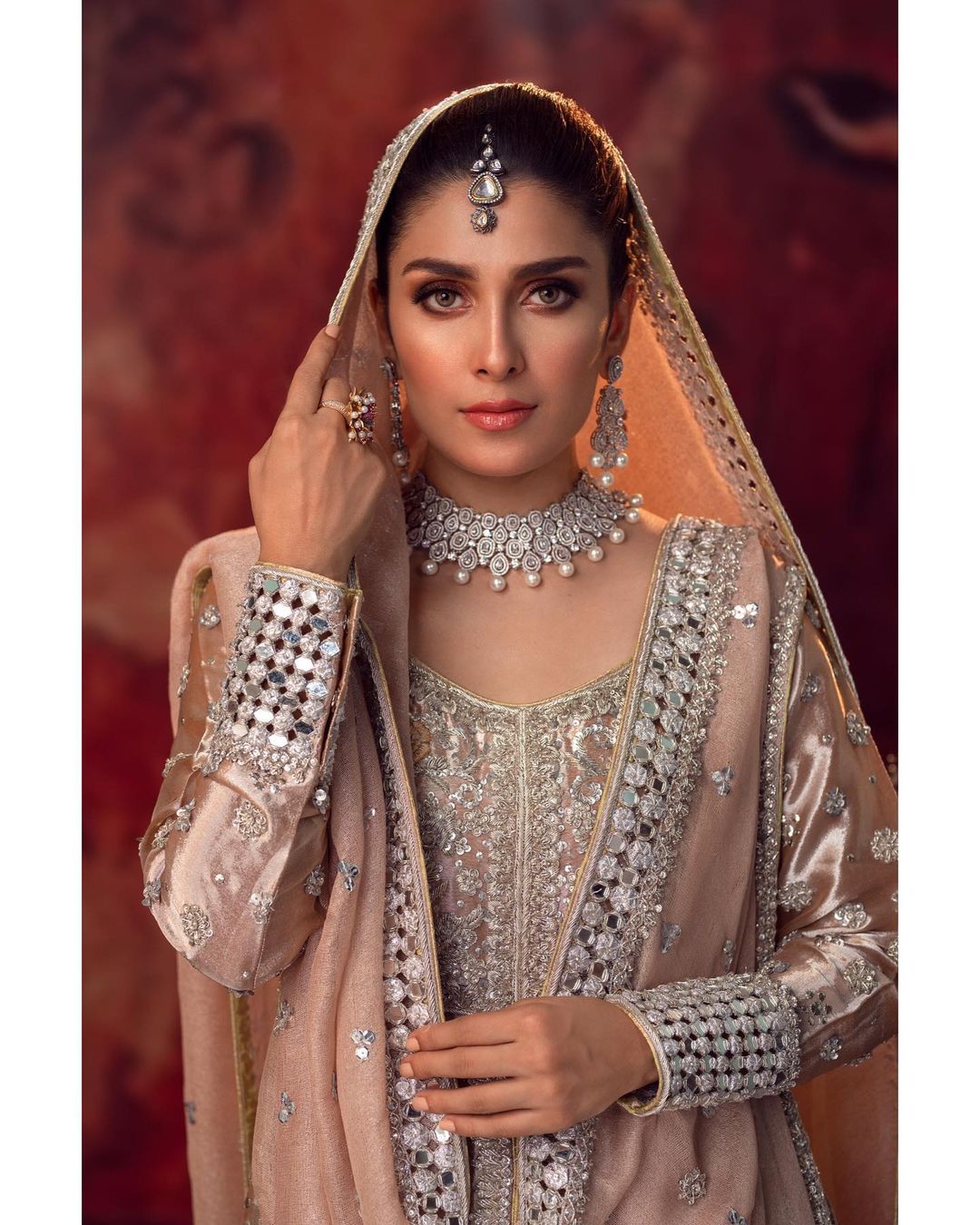 Ayeza Khan In Nomi Ansari
Nomi Ansari is another creative designer whose visually pleasing designs make him a favorite among celebrities. Ayeza Khan wore a classic gold heavily embroidered bridal dress for her on-screen bridal makeover. Anila Murtaza was her stylist and make-up artist for the look and she wore jewelry designed by Allure. Anyone who wants to go for a look that focuses more on the dress and jewelry and less on the make-up can definitely derive inspiration from this one.
Ayeza Khan In Noor By Saadia Asad 
Ayeza Khan wore this beautifully designed formal dress by Saadia Asad. Although this was from her festive collection and not a bridal dress but the way Ayeza Khan was styled and the jewelry she wore made it look like bridal wear. This is such a splendid idea for all those brides who are on a budget. Ayeza Khan shows how you can change a formal dress to fit a bridal look. Different types of fabrics have been used to put this dress together and Ayeza's make-up couldn't have been more perfect.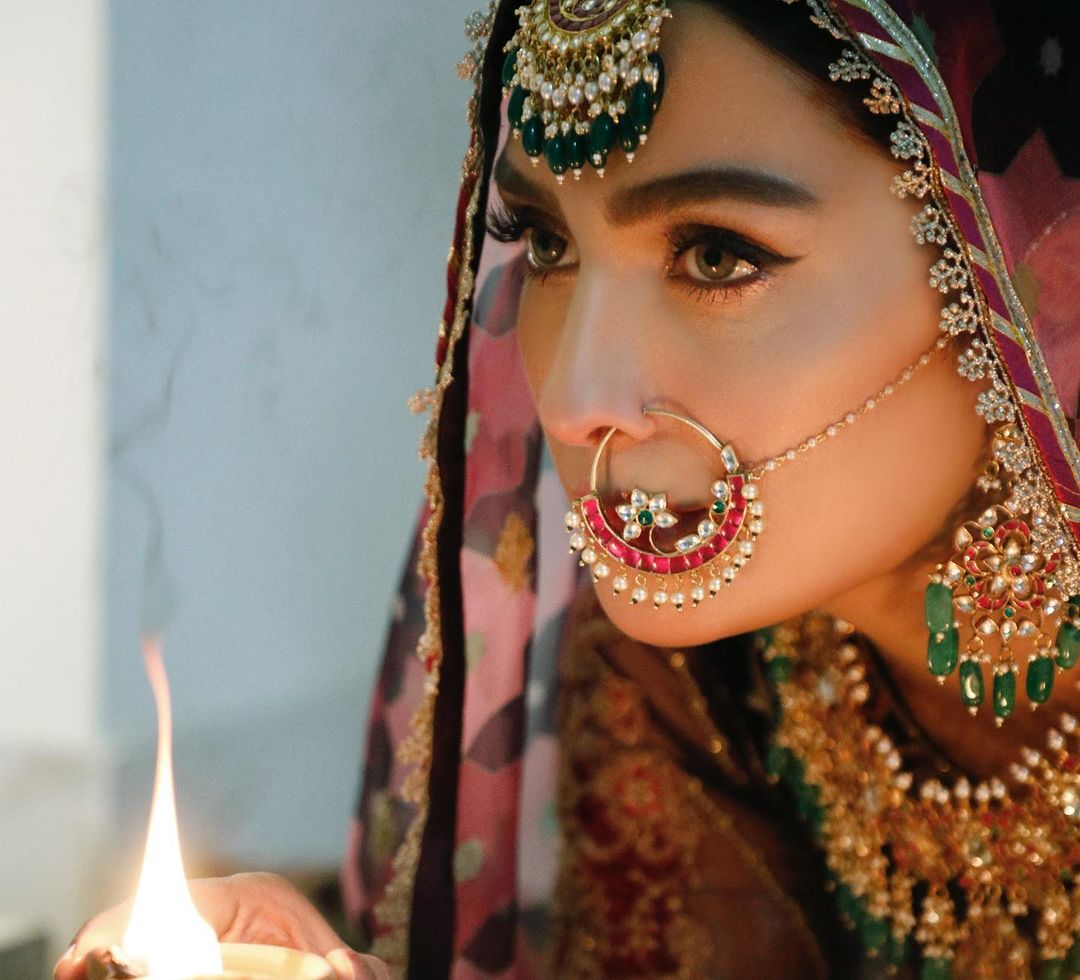 Ayeza Khan For Hifsa Khan Salon 
This enchanting bridal look was given to Ayeza Khan by the talented make-up artists and stylists at Hifsa Khan Salon.  Ayeza Khan is seen sporting a hairstyle that usually brides do not opt for yet she looks beautiful in it. This look is actually somewhat like the one Ayeza Khan sported on her actual baraat but the big difference is that the make-up techniques used in this one are much more polished. The bridal outfit is designed to perfection and Ayeza Khan carries it so well. We love the heavy and colorful and majestic jewelry as well.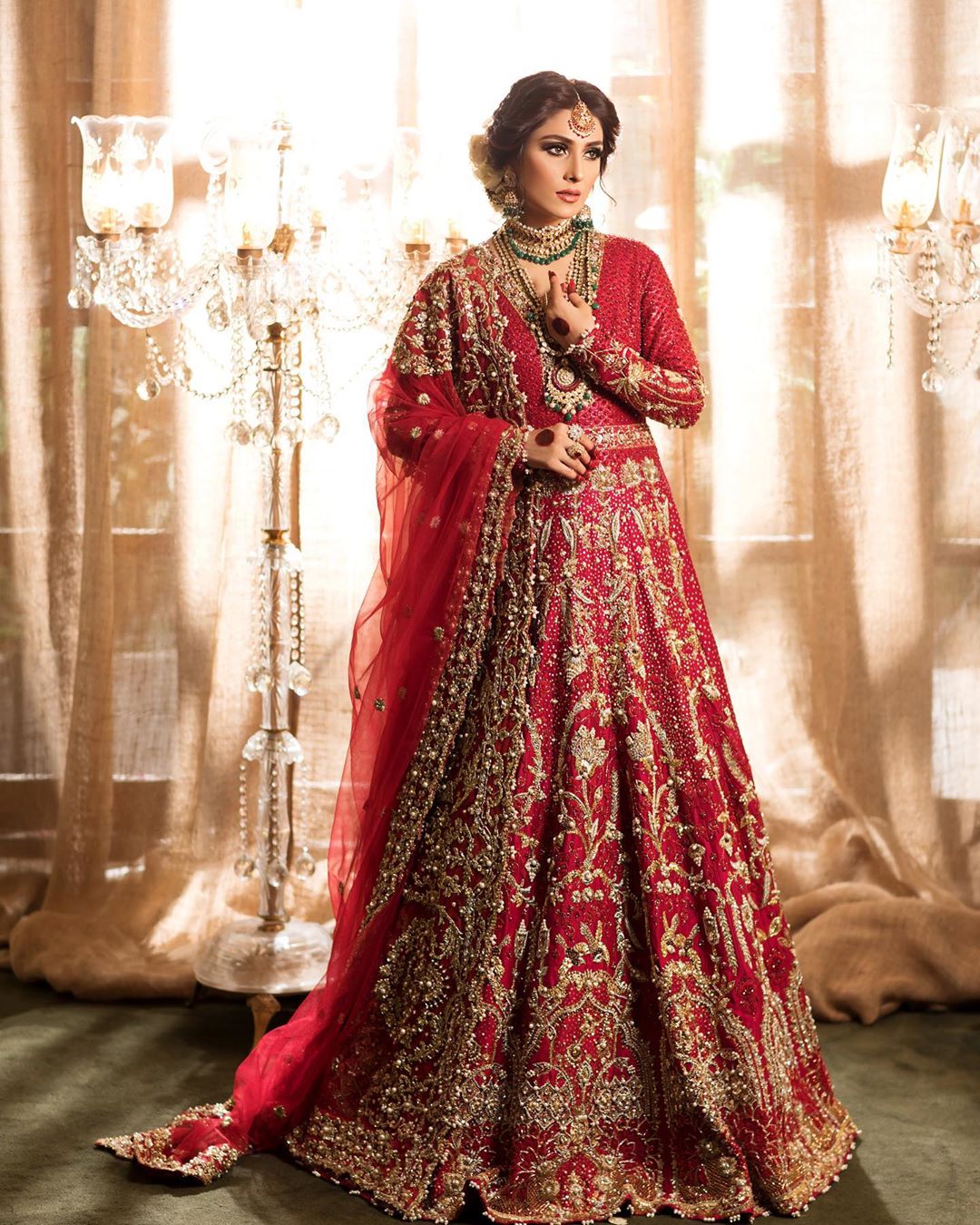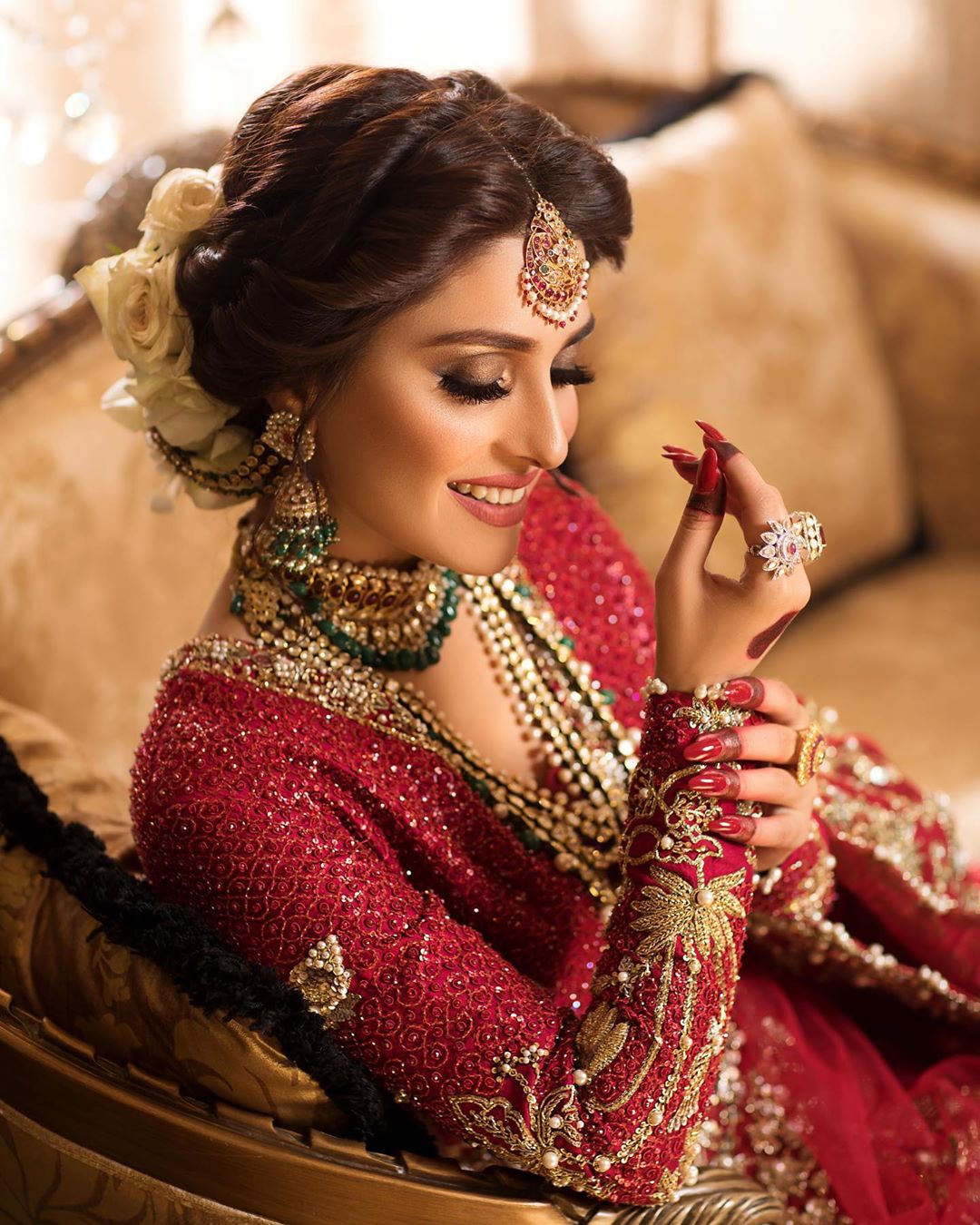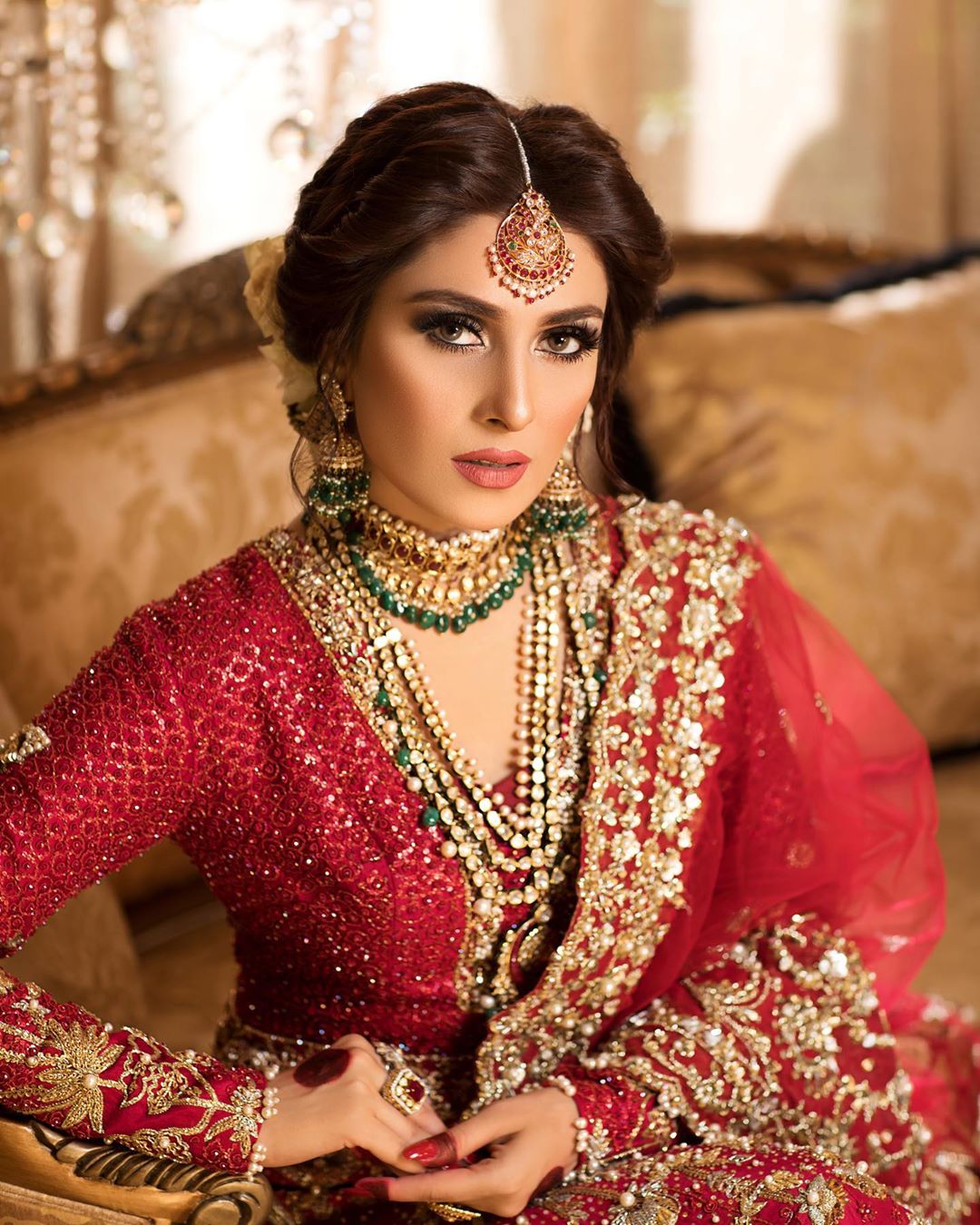 Doesn't Ayeza Khan make a stunning bride every single time? All her bridal makeovers are always so stunning. Which one is your favorite? Share your views.