The 18th edition of Bridal Couture Week was extravagantly held last week despite COVID restrictions. Bridal Couture Week is the biggest bridal event held in Pakistan which gives the designers a chance to showcase their talent on a grand scale. The top models of the country are picked to walk on the ramp and since the leading television channel of the country HUM is also one of the main sponsors and organizers, the actors are also often seen on the ramp. Just like every other year, most of the designers chose these actors to be the showstoppers. Since actors are more popular among the masses therefore they are always preferred as show stoppers even though most often they cannot carry the heavy outfits the way models who regularly walk on the ramp do. Quite interestingly, even though these actors were the show stoppers this year, the dresses they wore were some of the most ill-fitted and horrendously designed ones, which was definitely really odd. There were of course those show stoppers as well who were seen carrying some of the most beautiful Bridal Looks at Bridal Couture Week 2021. However, it can safely be stated that we expected much better from a bridal week of this magnitude.
Here are the best bridal looks from Bridal Couture Week 2021.
Mawra Hocane Royal Bridal Look For TABYA
Mawra Hocane looked stunning in a traditional handcrafted bridal outfit by the designer Tabya. This outfit was from her collection titled "Khaas Mahal" and was one of the many gorgeous pieces from this collection. This was the most beautiful traditional bridal collection at the event. Mawra's make-up and accessories made this look flawless. Unlike many other actresses who walked on the ramp, Mawra carried this look with elegance, grace, and utmost confidence. The designer did an outstanding job of using dabka work and showed that it was still as relevant today as ever.
Sunita Marshall In "Parihaan"
Sunita Marshall proved that she is the queen of the ramp by sporting a bridal look which would be perfect for all those real-life brides who want to opt for the classic heavy bridal look. Sunita Marshall walked on the ramp with utmost confidence and looked stunning in this look. Everything from the designer wear to her jewelry and make-up was perfect for this look. This was the only impressive look from Kashees collection which stood out. We are wondering why Sunita Marshall was not chosen as the showstopper by the designer. Oddly enough the designer did not even share Sunita Marshall's picture on his page!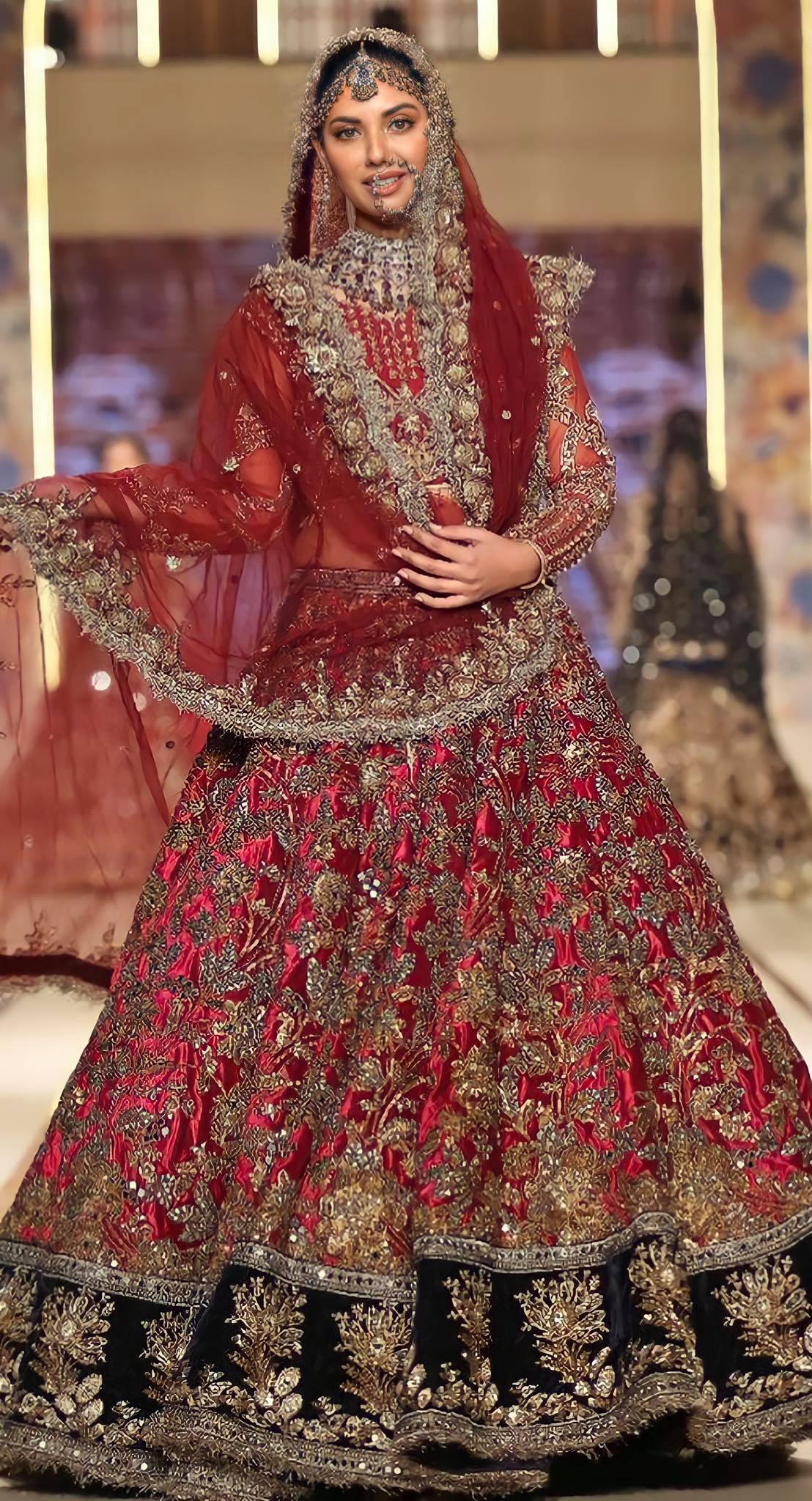 Yumna Zaidi In Elegantly Designed Bridal Wear
Yumna Zaidi is the most loved Pakistani actress who is rarely seen on a ramp yet she carried off this regal and graceful bridal outfit by Umsha's collection "Zeenat" so elegantly. This was another one of those bridal looks which were perfect in every way. This look would be ideal for valima brides or all those brides who do not want to wear a dark color on their big day but want a look fit for a bride. The detailed sequins work on this dress makes it the most well-crafted bridal outfit from this collection.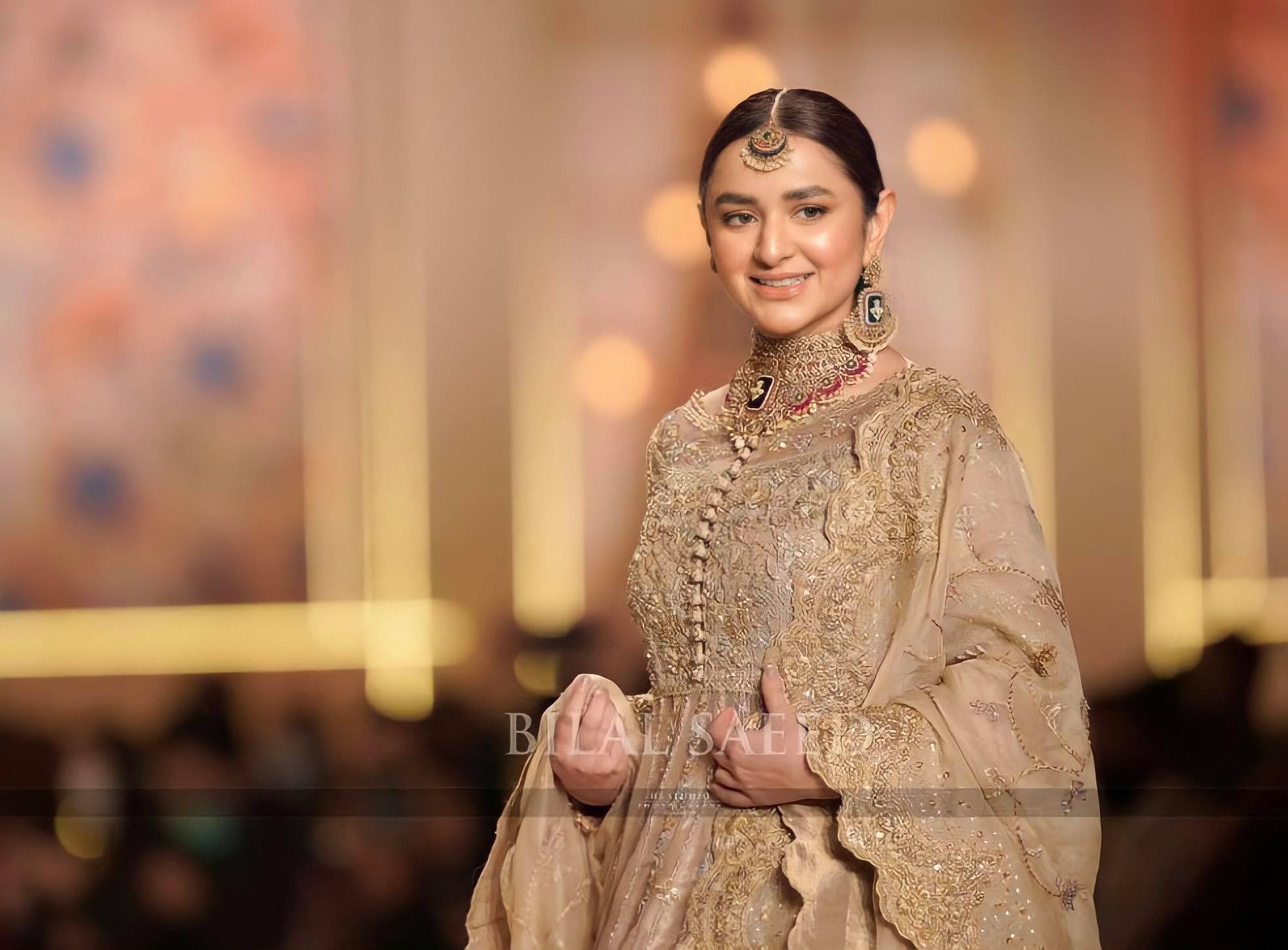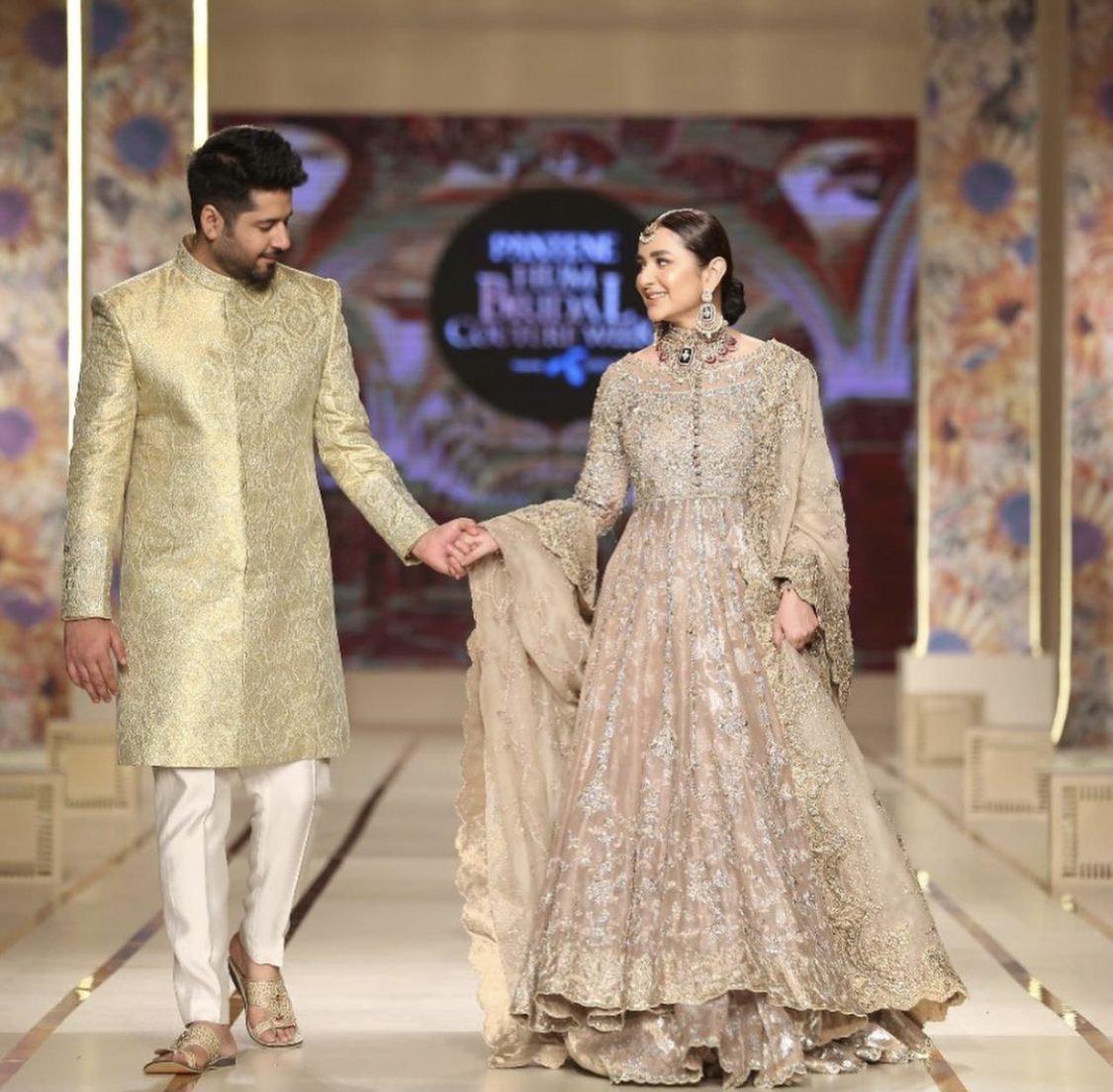 Sunita Marshall Gorgeous Coral Bridal Look
Sunita Marshal was not seen in just one but many stunning bridal looks at the couture week. This exquisite coral bridal outfit paired with the most stunning emeralds was the best one since it was a different colored piece intricately designed and the fabric was gorgeous. The designer added a modern twist by giving it cold shoulder sleeves and keeping the blouse relatively shorter. The lehnga was beautifully designed and stitched as well.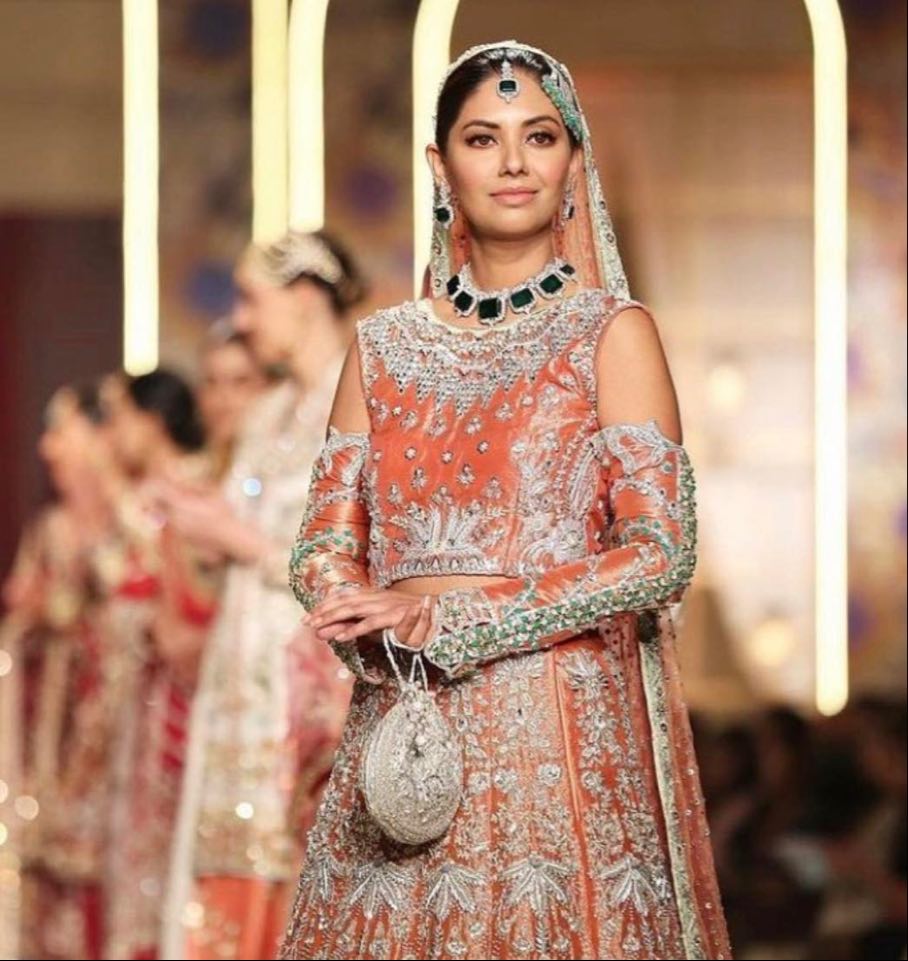 Sonya Hussyn In "Rashk-e-Qamar"
Zaha Couture is a leading designer brand owned by the Khadija Shah whose brand Elan is already considered one of the best in the country. Sonya Hussyn was another one of those few actresses at the Bridal Couture Week this year who did not only look stunning on the ramp but she also carried a heavy outfit and look elegantly. The kundun jewelry and the stunning make-up made this look complete. This was another traditional wedding outfit with detailed work and design. The bridal grandiose of this entire look makes it perfect for this list.
Creatively Designed Fahad Hussayn Bridal Dresses
There were very few designer collections on the ramp which had so many beautifully designed dresses and Fahad Hussyn's collection was surely one of them. He played and experimented with colors, succeeding at it and giving us the best bridal looks of this couture week. He gave his onlookers different looks to choose from and a color palette which was truly impressive. Here are some of the best bridal looks from the collection which set the ramp on fire. The leading models carried these dresses with confidence and style, pulling them off effortlessly.
Saboor Aly In Haris Shakeel
Saboor Aly looked stylish and beautiful as the showstopper for Haris Shakeel's collection "Ishq". This was another somewhat traditional look with a heavy lehnga. This wasn't the only well-crafted bridal dress from the collection; there were many others with a different color palette.
Here are few other beautifully designed and colorful dresses from the collection which were definitely the best.
Stylish and Unique Bridal Dresses
While most designers did not experiment with style and designing a great deal, Uzma Babar definitely set the bar high with these unique bridal dresses which are perfect for all those modern brides who do not want to sport the lehnga look on their big day. The attention to detail and the designs are stunning. We also love the choice of colors since all of them have a certain degree of shimmer to them which makes them stand out even though they are pastel colors. The overall looks of the models sporting these dresses were perfect for giving inspiration to all those women who want to keep their bridal look chic and classy.
Which bridal looks were your favorite from the Bridal Couture Week? Share your thoughts.