Eid is always a joyous occasion for everyone celebrating. This is the reason, Pakistani celebrities make a special effort in connecting with their fans on Eid. This helps their fans in seeing their favorite celebrities and become a part of their celebrations. Major part of Eid revolves around the clothing, accessories, hair, and makeup of female celebrities, this is the reason over the years it has now become a ritual that all the female actors go for special photoshoots to make a memory as well as share it on their social media handles. This way the general public also gets to see the fashion trends of the Pakistani fashion industry and helps them get inspired.
This Eid ul Azha, all the female celebrities wore beautiful colored outfits. Unlike the last few years where the main color used to be white or a lot of pastel shades, this time around, everyone went all out on their color choices and made Eid look very happening and vibrant. People got to see beautiful actresses wearing an array of colors, ranging from oranges to yellows to pastels and even all whites.
These are the beautiful dresses worn by Pakistani celebrities on Eid al Adha 2020 (in alphabetical order):
Tea Pink Dress of Aiman Khan
Just like last Eid, this time Aiman Khan and Amal Muneeb wore matching outfits. It was a beautiful chiffon tea pink dress with organza dupatta. This beautiful shade of pink looks soothing on the eyes and has a very simple design. The embroidered flowers add a design element to the shirt and the pearls bring another dimension to the outfit. This shade looks gorgeous on Aiman Khan and the way she paired it with fresh and natural-looking makeup, it was definitely a perfect decision made by her.
Mint Green Dress of Areeba Habib
Areeba Habib wore a creation of Farah Talib Aziz this Eid. It was a beautiful pastel shade of mint green and was soothing to the eyes. This shade is a perfect choice for summers when you want to bring in some color in your wardrobe but want to keep it subtle. A beautiful heavily embroidered shirt with organza panel at the front and ribbons to add design to it. The touch of silver goes perfectly well with this pastel shade. Areeba Habib paired it with tulip shalwar and stilettos. She kept her makeup simple and wore her hair in curls. A perfect and effortless Eid look.
Bright Red Dress of Arisha Razi
Arisha Razi wore a dress designed by Zahra Ahmed. It was a beautiful and vibrant shade of red. A perfect and playful choice for the young girls. Arisha Razi kept her hair and makeup to an absolute minimum because she wanted her dress to do all the talking. A beautiful short length pishwas with straight fitted trousers and organza dupatta. The golden embellishments stand out a lot more against the bright red base of the outfit. She wore golden khussas to complete the traditional and ethnic look and looked beautiful.
Peach & White Outfit of Ayeza Khan
Ayeza Khan wore her favorite designer Ansab Jahangir's creation this eid. She went for a beautiful peach outfit and carried this color gracefully as well. A very beautiful and simply designed outfit looked good on Ayeza Khan. The white embroidery and motifs stood out a lot more against the peach base of the dress. It was an angrakha with churidar and beautiful chiffon dupatta. The shirt and the dupatta had the same borders. The dangling tassels add a beautiful touch to the outfit. Ayeza Khan paired it with silver heels and wore beautiful jewelry set with it. This Eid look of Ayeza Khan was very formal and elegant.
Floral Saree of Hina Ashfaque
Model and actress Hina Ashfaque opted for a beautiful chiffon saree designed by Khaliedo.pk. It was a simple pink pastel base with floral print all over. This goes to show that even the simplest of prints can be carried gracefully on Eid. Her look was unconventional for Eid but worked perfectly well. She straightened her hair and added accessories like statement earrings and bangles to complete the look. She looked very elegant in this saree.
Tea Pink Dress of Iqra Aziz
Iqra Aziz wore a creation of Hussain Rehar this eid. It was more like she went for a fairytale theme this Eid considering the beautiful backdrop she picked to give her images a dreamy effect. Iqra Aziz looked like a vision in this beautiful dress. It was a flared long frock with heavy design on the top part of her dress which consisted of a lot of pearls and diamontes. She paired it with organza dupatta. This combination of tea pink and dull silver looked absolutely gorgeous. Iqra Aziz went for a sleek hairstyle and her signature makeup look. She wore statement earrings and looked absolutely gorgeous.
Blood Red Outfit of Kinza Hashmi
Kinza Hashmi looked absolutely gorgeous wearing this shade of red. She wore a creation of Haris Shakeel and showed how solid colored shirt paired with a beautiful traditional printed dupatta can look perfect. The main design element of her dress happens to be the beautiful silver and gold embellishment on her sleeves. Kinza wore her hair in a sleek bun and went for a warm smokey makeup look. She wore traditional jhumkas which went perfectly well with this dress.
Ivory & Gold Gharara of Kiran Haq
Kiran Haq wore an outfit designed by Mahid Khawar. It was a classic combination of ivory, beige, and dull gold which is bound to look good no matter what the occasion is. This dress had a vintage vibe to it and reminded of the bridal dresses worn by Pakistani women in the '70s. The shirt had a beautiful dull gold embellishment and the gharara was made out of textured self-printed fabric. Kiran Haq wore red bangles to bring in some color to her overall muted look. She wore a traditional jewelry set and kept her hair and makeup very simple.
All White Outfit of Kubra Khan
Kubra Khan wore a creation of Ansab Jahangir this Eid. It was an all-white long shirt and trousers with different fabrics added up to bring in design elements to it. It was a layered shirt with plain white fabric underneath and netted fabrics on top of it. This was a simple outfit that looked absolutely beautiful on Kubra Khan. This goes to show that a solid colored white dress can also look beautiful if carried the way Kubra Khan did.
Black & Pink Gharara of Madiha Imam
Madiha Imam wore a beautiful creation of Zainab Chottani. Although this combination is not unique but because it isn't so common, it immediately caught the attention and looked absolutely gorgeous. Madiha Imam wore a sleeveless black shirt with a heavy pink, white, and gold border. The gharara was the main flattering article of this entire outfit. It was a beautiful layered gharara with chiffon fabric on top that had floral motifs in pinks and whites. Madiha Imam carried a beautiful chiffon pink dupatta with it and picked jhumkis as her accessories. She looked like a doll in this outfit.
Yellow and White Outfit of Mansha Pasha
Mansha Pasha wore an outfit designed by Farah Talib Aziz. It was a beautiful combination of yellow and white. A flared long shirt made out of plain solid colored fabric and beautiful netted fabric which made it look like Mansha just came out of a fairytale. The sleeves and dupatta also had that white netted fabric which was the main design element of this dress. Mansha wore her hair straight and carried her signature makeup look. She wore traditional jhumkas and paired it with yellow heels. She looked beautiful this Eid in this gorgeous shade of yellow.
Silver Grey Outfit of Maya Ali
Maya Ali wore a creation by Faiza Saqlain. It was a gorgeous solid colored monotone outfit in a beautiful silver-grey shade. She wore a cute short shirt made of silk and carried organza dupatta. The border of the dupatta was an eye-catching aspect of this outfit. The textured culottes were another main design element of this dress. Maya Ali wore silver jhumkas and bangles, she went for silver khussas. Maya went for wavy hair and simple makeup. It was a beautiful look that Maya Ali opted for this eid.
Pink & Silver Dress of Neelam Munir
Neelam Munir wore a dress designed by Annus Abrar this Eid. It was a beautiful pink based chikankari dress with silver and grey embellishments all over the dress. The dupatta too had a beautiful self-print that went perfectly well with the rest of the dress. it was a flared long drock with a perfect fit at the top. Neelam Munir kept her overall look simple and fresh with her hair in a natural state and a no makeup makeup look. She wore traditional jhumkas and finished the look with stoned heels.
Long Gown of Saba Qamar Zaman
Saba Qamar Zaman picked up an unconventional outfit this Eid and her pictures made it look like it was specially designed for a photo shoot. A creation of Mohsin Naveed Ranjha was carried confidently by Saba Qamar Zaman. Although this dress had a modern and western silhouette, the design elements had an ethnic touch to it. A flared gown of a beautiful pastel shade of pistachio green and green gold border with a beautiful print all over the gown. It was a halter neck with the bustier sitting beautifully on Saba Qamar's petite frame. She wore her hair in curls and kept her makeup glamorous. She picked dangling earrings as her accessory.
Mint Green Outfit of Saboor Aly
Saboor Aly wore a creation of Amna Arshad. She picked up a very trendy and modern silhouette for this Eid outfit. It was a beautiful fitted shirt with organza layering on top which had puffy and fitted sleeves. It was a batwing inspired outfit. This shade of green looked gorgeous on Saboor Aly and she wore her hair in its naturally beautiful form. She kept her makeup simple too. The dress had colorful floral embroidery as well as white embroidery at the border of the shirt. She paired it with tulip shalwar and black heels.
Sky Blue Solid Colored Outfit of Sadia Ghaffar
Sadia Ghaffar picked up a beautiful solid colored outfit this Eid. This shade of sky blue looked perfect on her and was summer Eid appropriate. This entire shirt was heavily embellished with heavy sky blue threaded embroidery. Sadia picked up silver jhumkis and silver bangles as her accessories. She kept her hair and makeup very simple and looked effortlessly Eid ready.
All White Dress of Sadia Khan
Sadia Khan wore a beautiful creation of Zainab Salman. It was a heavily embroidered paneled shirt, almost similar to a pishwas. She wore a netted dupatta and a flared palazzo with it. She wore heavy statement earrings and also a big bulky ring. The cutwork design of the shirt and dupatta was the main eye-catching design element of this dress.
Black & Gold Outfit of Sana Javed
Sana Javed wore a beautiful creation of Ansab Jahangir. She went for a classic combination of black and gold and after seeing her in pastel-colored dresses, this was a good change. The dress was made out of self-print fabric. The sleeves and dupatta had an embellished border. Sana Javed went for a simple makeup look but wore kajal this time. She also picked up beautiful earrings and looked strikingly beautiful.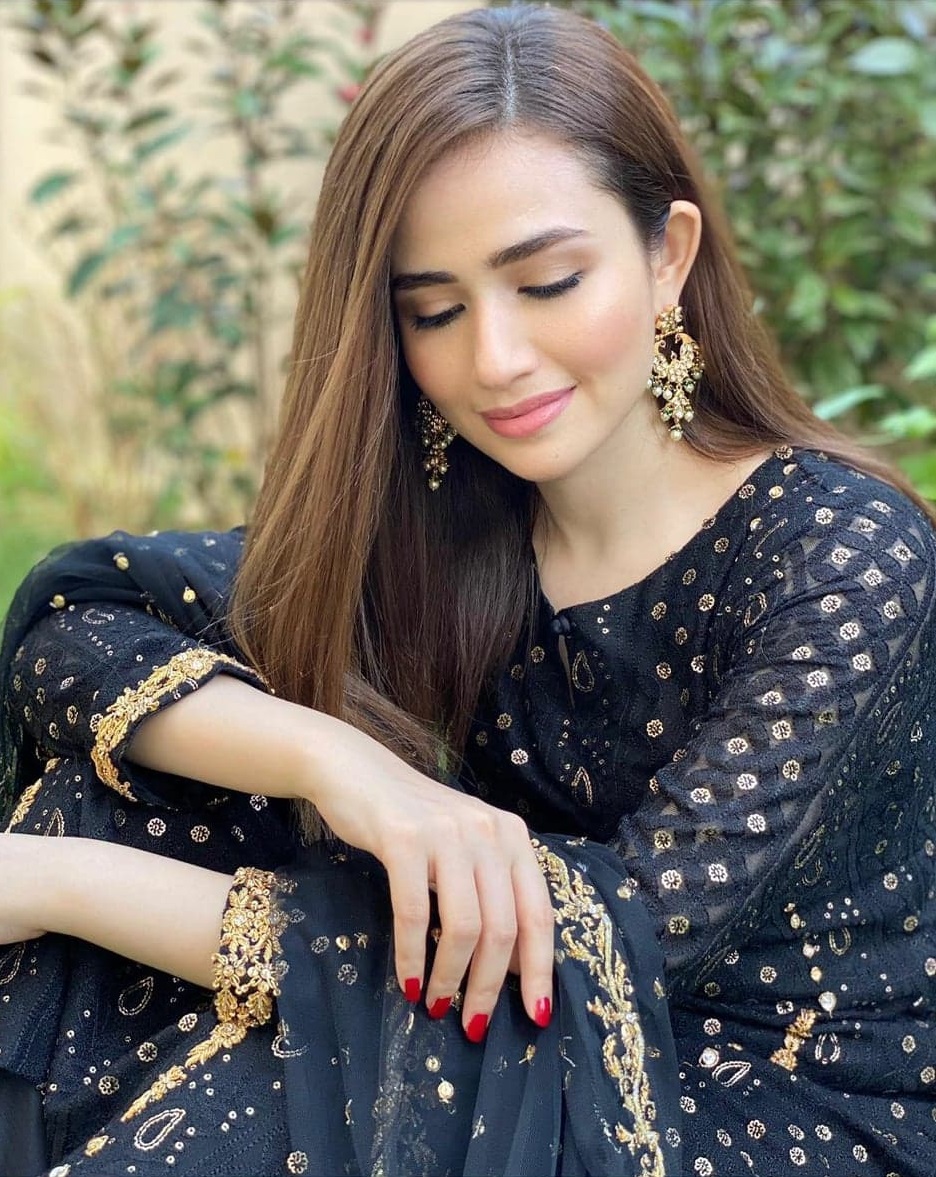 Black Lawn Suit of Sanam Jung
Sanam Jung wore a luxury lawn by Sana Safinaz. Sanam Jung definitely opted for comfort and carried it gracefully. There's nothing more comfortable than a good lawn suit during the hot days of Eid. The outfit was a typical fashion of Sana Safinaz which looked gorgeous. A heavily embroidered black and white shirt with a touch of pink on sleeves and dupatta.
All White Dress of Sarah Khan
Sarah Khan wore a creation of Zainab Salman. It was a heavily flared white dress with a lot of netted details to it. A beautiful white thick lace made the border of the shirt. One would assume that as a newly wedded bride, Sarah Khan would go for more color but she went for a more subtle look and carried it gracefully. She wore her hair in beautiful curls and went for traditional earrings with pearled strings. She wore her signature full coverage makeup look and looked gorgeous.
Heavy Formal Black & Red Outfit of Sumbul Iqbal
Sumbul Iqbal wore a beautiful creation of Saira Rizwan. Sumbul Iqbal went all out and wore a heavy lehenga on Eid. It had a lot of heavy embellishments and different motif all over the dress. The black and red looked absolutely gorgeous on her. There was a touch of green at the border of the dupatta too. Sumbul Iqbal wore heavy earrings and a single thick bangle as her accessory.
Orange Outfit of Yashma Gill
Yashma Gill wore a creation of fashion label On-Fleek. It was a color that is rarely picked up by actresses but Yashma Gill not only wore it beautifully but carried it confidently as well. It was an orange chiffon shirt and trousers with silver embellishment at the front of the shirt as well as sleeves. Yashma Gill paired it with silver heels and contemporary design earrings. She wore her hair in curls and went for a glamorous makeup look. She looked super pretty.
Sea Green Dress of Yumna Zaidi
Yumna Zaidi wore a beautiful traditional formal outfit this eid. This shade of sea green looked gorgeous on her. The shirt as well as the dupatta had a duo-chrome look to it with golden thread work all over. The pink tassels at the borders of the dupatta added a touch of color to the outfit and that gave Yumna an inspiration to add in pink bangles. She picked beautiful traditional hoops as her earrings and wore her signature natural makeup look for Eid.