Pakistani dramas continued to evolve and at the same time deteriorated in some ways this year. There are certain new trends such as stretching dramas especially when they get the ratings and unnecessary focus on visuals which definitely make it difficult to add dramas to this list without ignoring those 'few episodes' or glitches which made us question these dramas at some point. Therefore, it would be safe to say that our definition of the "best dramas" includes those dramas which were for the most part engaging and entertaining as well as meaningful, well-written, and acted out superbly. More than the stories of some of the dramas, the characters, and the performances caught our attention. With the passage of time, Pakistani dramas have been more character-driven therefore some of the characters in these dramas proved to be novel or they gave an interesting spin to many of the done-to-death characters. There was unfortunately not a single drama serial this year that was picture perfect but then when a drama airs for so many weeks, that should be a given. However, there were plenty of dramas that had beautifully penned-down characters and performances that left us in awe of the actors who played these roles.
Here is the list of the best Pakistani dramas of 2022. Dramas that have been on air for more than 10 weeks have been included in the list. We will update it once again in December.
The list is in Alphabetical order.
Aye Musht e Khaak
Writer: Maha Malik
Director: Ahsun Talish
Producer: 7th Sky Entertainment
Channel: Har Pal Geo
Cast: Sana Javed, Feroze Khan, Nimra Khan, Shabbir Jaan, Iffat Omar, Asad Siddique, Shahood Alvi, and others.
Aye Musht e Khaak was definitely the kind of drama that touched upon a very sensitive subject with a lot of sensitivity. These kinds of subjects are shied away from in Pakistani dramas but the team of Aye Musht e Khaak not only decided to bring it to the table but dealt with it with a lot of maturity. The protagonists were complete polar opposites when it came to faith & practicing religion. For Dua, everything revolved around her faith, her religion & her belief in her Creator, whereas Mustajab never had that kind of guidance since the beginning & ended up living life on his own terms. Mustajab's love for Dua was selfish in the beginning because he didn't understand the true meaning of it. For Mustajab, getting Dua was almost like owning a possession that he liked. Dua changed Mustajab's life for good when she decided to walk out of his life & then the journey of self-discovery & most importantly, discovering the Creator began for Mustajab, which was the crux of the drama.
Aye Musht e Khaak was another drama of 2022 which showed a female protagonist living life on her own terms. Although her family did have very basic & certain plans for her life when she decided to walk out of this marriage, her father's support was another refreshing aspect of the drama. Mustajab's journey to religion & faith was also shown organically & the things he detested the most ended up being an integral part of his life. The overall story of Aye Musht e Khaak was told convincingly & once again, despite a limited number of characters, it had so much to offer that it kept the audience hooked right till the end despite a lot of episodes. Sana Javed & Feroze Khan gave memorable performances such as Dua & Mustajab, adding more to the popularity of the drama.
Bakhtawar
Writer: Nadia Akhtar
Director: Shahid Shafaat
Producer: Momina Duraid Productions
Channel: Hum TV
Cast: Yumna Zaidi, Zaviyar Nauman Ejaz, Saqib Sameer, Mizna Waqas, Naureen Gulbani, Sunil Shankar, Huma Nawab, Adnan Shah (Tipu), and others.
Bakhtawar is currently on air and one of those few dramas on this list that has only 10 episodes to its credit. The main appeal of the drama lies in its protagonist. Bakhtawar's story is refreshing and Yumna Zaidi's performance has made all the difference. Bakhtawar is essentially the story of a young girl who is determined to make it through life on her own. In order to do so, she takes a decision that changes the direction of her story and complicates things for her as her journey moves forward.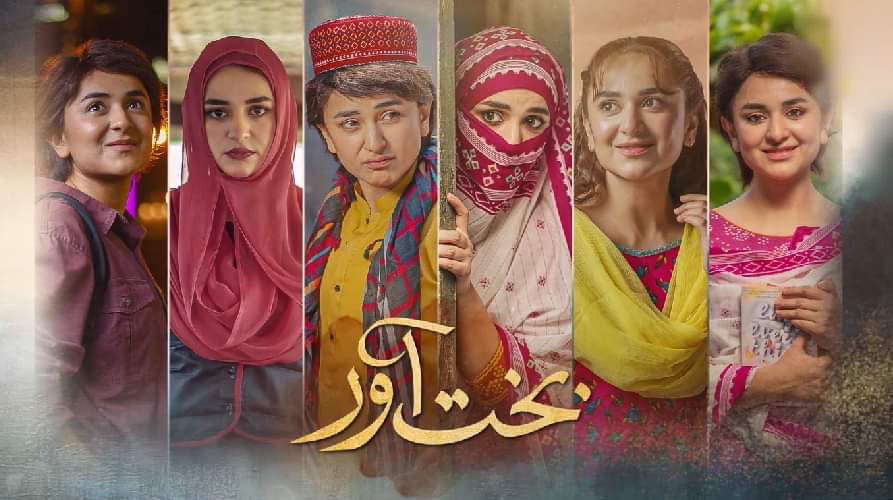 Bakhtawar was perhaps Hum TV's attempt to put together a different/female version of Parizaad, although it does not even come close to Parizaad, it does keep you engaged and the writer has ensured that the story continues to be meaningful. There are no glaring loopholes in the story, the dialogues are well written and the majority of the cast is giving the characters they are playing their best. This is another one of those dramas that highlight the issues faced by women on different levels and it has been doing so intelligently. Some of the real-life incidents have been woven together in the story to make room for different perspectives. Nadia Akhtar's script fits the bill but there are times when the production values are not too impressive. Also, some of the visuals do not go well with the situations. Zaviyar Nauman also fails to impress as the main lead. Bakhtawar is Bakhtawar's (Yumna Zaidi) show; the character and the actor both never fail to impress.
Chaudhry & Sons
Writer: Saima Akram Chauhdry
Director: Syed Wajahat Hussain
Producer: 7th Sky Entertainment
Channel: Har Pal Geo
Cast: Imran Abbas, Ayeza Khan, Noor ul Hassan, Sohail Ahmed, Shagufta Ejaz, Asma Abbas, Yasir Nawaz, Irsa Ghazal, Madiha Rizvi, Zoya Nasir and others.
Chaudhry & Sons was this year's Ramzan special 30-episode drama that aired on Har Pal Geo. Written by Saima Akram Chaudhry, it had all the flavors one could easily expect from her. Although the underlying theme that makes Ramzan dramas special is the comedy but it can not be denied that Saima Akram Chaudhry's scripts run high on emotions. Chaudhry & Sons was no different because it showed how in the end, family ties & relationships matter the most & end up shaping your life for the better. Chaudhry & Sons' had an ensemble cast & each character had a uniqueness to it. The most endearing part of this drama was the relationships both Billu & Pari shared with their grandparents.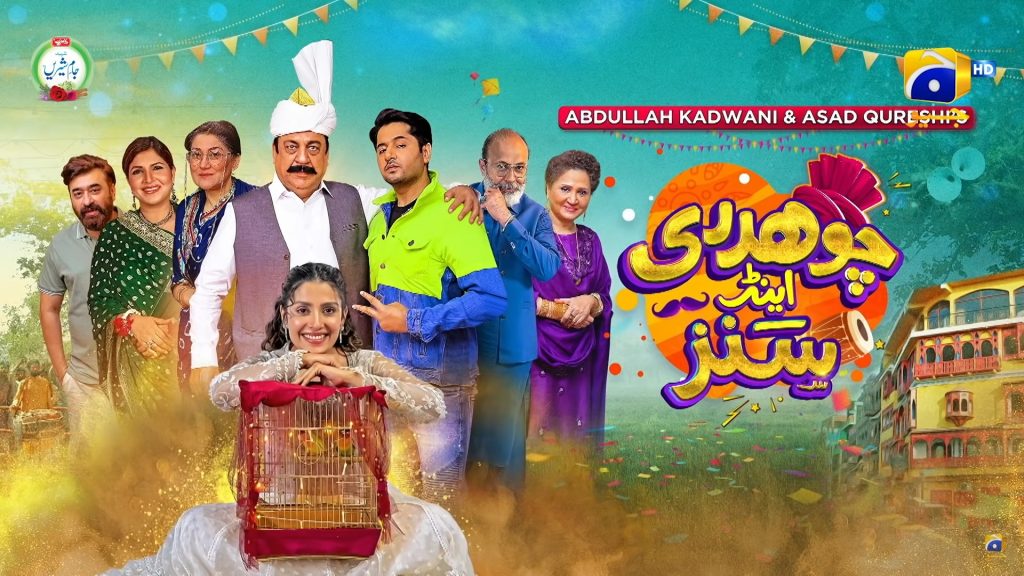 Chaudhry & Sons was definitely a treat for those viewers who enjoy Punjabi humor & understand the underlying meaning behind such conversations. The actors also deserve full credit because in so many instances, it was obvious that they themselves added certain dialogues & emotions, making it easier for the audience to relate to them. Although there were some aspects of the show that weren't too convincing but on the whole, it was definitely an enjoyable drama that served its purpose of light-hearted Ramzan family entertainment. All the actors made Chaudhry & Sons worthwhile due to their brilliant performances & immaculate comic timings.
Dobara
Writer: Sarwat Nazir
Director: Danish Nawaz
Producer: Momina Duraid Productions
Channel: Hum TV
Cast: Bilal Abbas Khan, Hadiq Kiani, Sakina Samo, Shabbir Jan, Fareeda Shabbir, Usama Khan, Sabeena Syed, Nabeel Zuberi, Maheen Siddiqui, Zoya Nasir, Angeline Malik, Sheryar Zaidi, Aslam Sheikh, Sarah Nadeem, Javed Sheikh, and Nauman Ijaz.
Dobara had unusual and interesting characters; the premise of the story was also novel especially in the first few weeks. The story revolved around a young widow Mehrunnisa who did not get to enjoy her teenage years because of early marriage. Her husband was not just much older than her but he was also like a father figure who constantly disciplined a young girl who had a fun and adventurous nature. The drama opened with Mehru deciding to live her life to the fullest after her husband's death and that is when she met a young man Mahir who could easily pass as the younger version of Mehru. This drama highlighted the way society expects women to sacrifice their happiness for their families and judges them when they choose to be happy.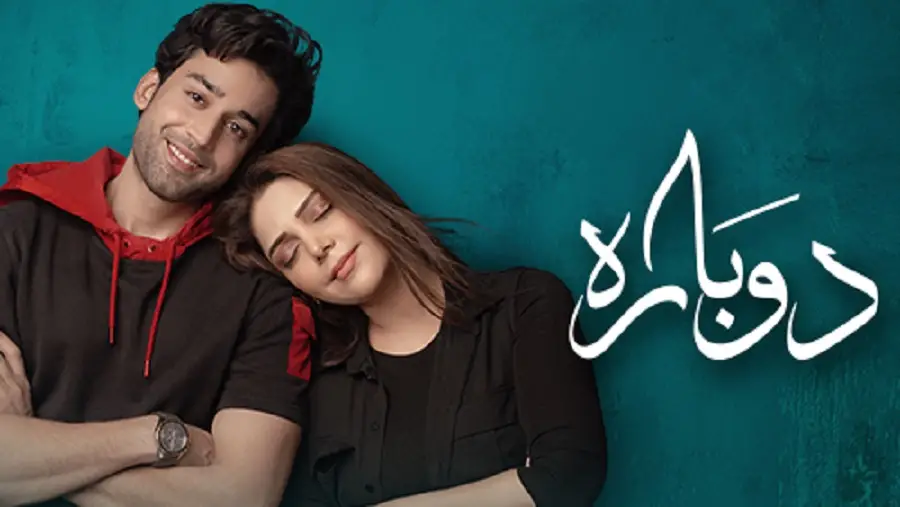 Mahir and Mehru's union was one of the most interesting elements of the drama. Mehru's character lost its spark soon after her marriage to Mahir but Hadiqa Kiyani made sure that she kept the viewers glued with her brilliant performance. She brought out the best in her character even when Mehru's character did not make a lot of sense. Mahir continued to be 'mystery' right till the end which added an element of intrigue. Mahir was the center of attention because there were so many different shades to his personality and he was flawed yet likable in some ways. It was a superbly etched-out character which became even more appealing because Bilal Abbas Khan breathed tangible life into it almost effortlessly. The director Danish Nawaz also made sure that every important scene left an impact. Sarwat Nazir's writing for the most part was impressive as well. Dobara is definitely a must-watch, if you haven't watched it yet then go watch.
Fraud
Writer: Zanjabeel Asim
Director: Saqib Khan
Producer: iDream Entertainment
Channel: ARY Digital
Cast: Saba Qamar, Ahsan Khan, Mikaal Zulfiqar, Rabia Kulsoom, Adnan Samad Khan, Mehmood Aslam, Nida Mumtaz, Nazli Soomro, Asma Abbas, Annie Zaidi and others.
Fraud is another one of those dramas that are currently on air. It has been on air for more than 20 weeks but it is still entertaining enough to keep the viewers looking forward to the upcoming episodes. The story revolves around three different households; all 3 of them belong to a different class of society. It also shows how differently these characters choose to solve the issues and problems in their lives. The drama is much more than just about the "fraud" which changes the course of the main protagonist Maya's life forever. It has a 'commercial' track to it as well involving conspiracies and it has certain refreshing elements such as the mother-in-law who wants the best for her daughter-in-law even though her son passed away.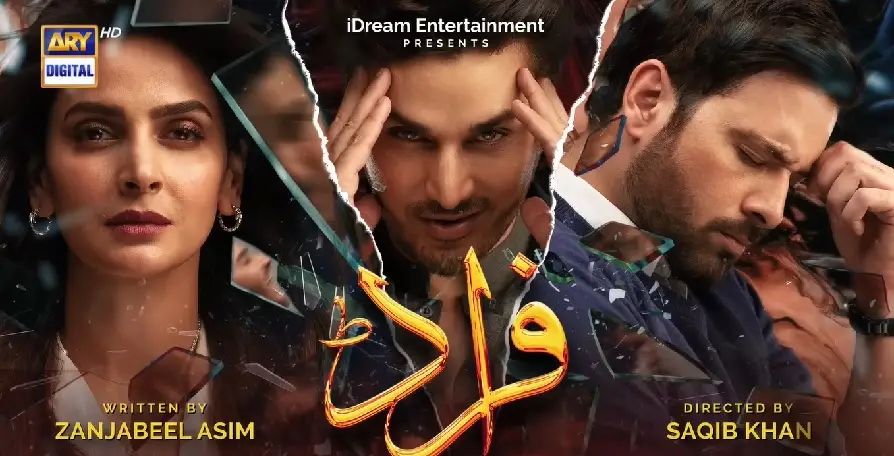 Fraud is an all-out entertainer, which makes it one of the best dramas right now. At the same time, it has some great messages which have been integrated well into the story. It also has quite a few interesting characters. The top-notch performances, great production values, and visuals that go well with the story add to the entertainment value. Zanjabeel Asim Shah knows how to entertain her viewers without coming across as frivolous. Saqib Khan's direction is on point and some of the actors entertain and engage throughout. Ahsan Khan has yet again managed to play a negative role in such a manner that you look forward to watching his scenes. Saba Qamar is brilliant as usual, Naeema Butt outshines in a role unlike any other she has performed before and Rabia Kulsoom makes her presence felt in every scene. Fraud will keep you hooked throughout, if you have not watched it already, do give it a go.
Habs
Writer: Aliya Makhdoom
Director: Musaddiq Malik
Producer: Six Sigma Plus
Channel: ARY Digital
Cast: Ushna Shah, Feroze Khan, Dania Enwer, Ayesha Omar, Sadia Faisal, Irsa Ghazal, Janice Tessa, Musaddiq Malik, and others.
Drama serial Habs is still on-air but it has easily become one such drama that the viewers enjoy watching. The main aspect that made Habs stand out, in the beginning, was the kind of treatment it got in terms of execution. It reminded us of old PTV dramas with no loud background music & subtlely in how the situations unfolded. Habs' story revolves around Basit & the writer has beautifully highlighted how his childhood traumas have shaped him to be who he is today. The parallel has also been drawn with Ayesha's character who has a completely different mindset & puts her family ahead of her. The way both Basit & Ayesha despite their differences find themselves drawn to each other was nothing short of a treat to witness in Habs.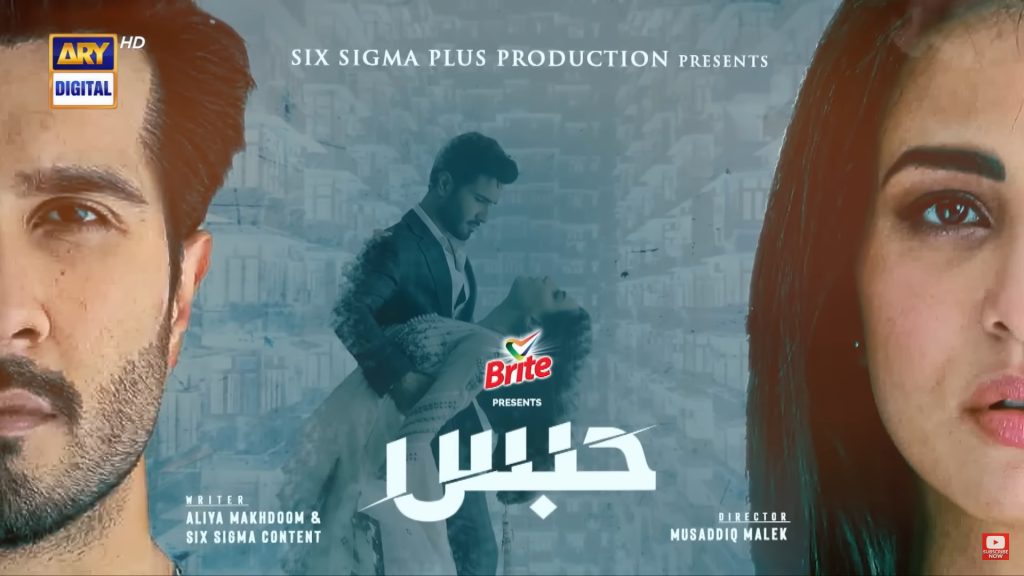 Although the number of characters in Habs is limited, but the writer Aliya Makhdoom has made each one of them so dynamic that you actually feel invested & want to learn more about them. Each & every character is playing their part beautifully in contributing to the overall story & its development. Habs is also refreshing in a way that usually in Pakistani dramas, it is a man who is the savior of a woman but here, it is Ayesha who is helping Basit face his demons, unlearn the hatred & look at life & his relationships with a new perspective. It is also interesting to note that Basit found it easy to bring his guards down in front of Ayesha because she made sense & presented everything logically to him. Ayesha & her mother-in-law's relationship was another endearing track in Habs. Bano's character is dignified & the way she picks up the pieces after her heartbreak makes her a strong character too. Ayesha & Basit both have had their fair share of miseries thrown by life at them, however, Basit became bitter whereas Ayesha steered through it with a brave face. Musaddiq Malik has made his debut as a director with the drama serial Habs & he has definitely shown his prowess as well as his uniqueness with the way he has executed Habs. These days where dramas are filled with loud OSTs & background scores, as well as exaggerated expressions & dramatics, the slow & calming feel of Habs makes it a treat to watch.
Hum Tum
Writer: Saima Akram Chaudhry
Director: Danish Nawaz
Producer: Momina Duraid Productions
Channel: Hum TV
Cast: Ahad Raza Mir, Ramsha Khan, Sarah Khan, Anoosheh Rania Khan, Aina Asif, Junaid Khan, Ayesha Sohail, Danish Ali, Uzma Beig, Arjumand Rahim, Adnan Jaffar, Munnaza Arif, Farhan Ali Agha, Saife Hassan, Muhammad Ahmed.
Hum Tum was one of those few comedy dramas this year that was a complete package. It was not mindless entertainment since the writer made a conscious effort to add meaning to the script. The cast couldn't have been more perfect; all the actors clearly enjoyed playing their respective roles. There were times when Ahad Raza Mir's Urdu pronunciation was not ideal but other than that he gave a solid performance. The director Danish Nawaz gave the script the right treatment. Apart from the casting, the dynamics of at least one of these couples, Neha and Sarmad, were such that their scenes were thoroughly enjoyable. Sarah Khan and Junaid Khan made a great on-screen couple. They also played their respective characters brilliantly. Adam and Neha were a lot like many other on-screen couples we have seen in previous Ramazan specials but the casting made a big difference. There were times when Adam in particular took it too far but the fact that he had underlying respect for Neha because of her intelligence made him a likable character.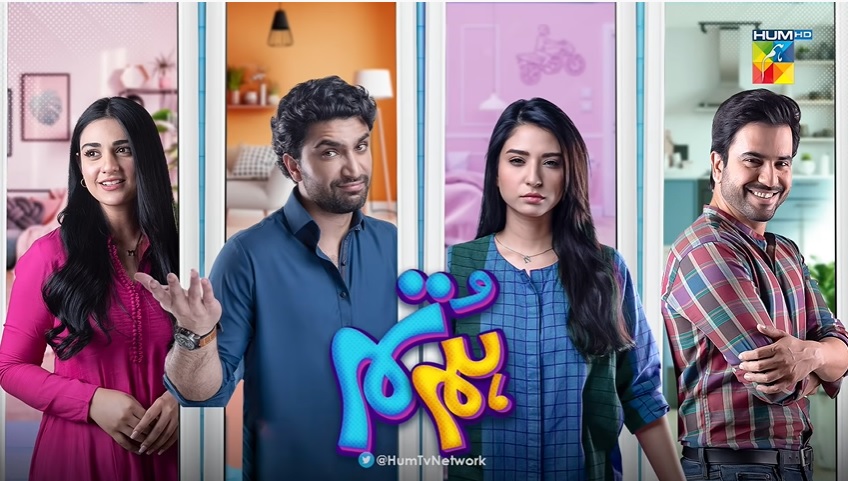 Hum Tum had a variety of characters and there was something new and likable about all of them. Whether they were the independent females such as Maha, Neha, Milli, or Sasha or the male leads, all these characters brought something new to the table. The most important element of this play that stood out was the older characters such as Daddu and Tamana Nani. They were not just the older parents in the story but they were also characters with a life and objective of their own. Both of them had their own careers and aspirations in life. They were full of life and questioned the idea that a person should stop living their lives to the fullest at a certain age. These characters were just as strong as most of the leading characters. Hum Tum grows on you and once it does, you can't help but fall in love with it. It was the best for sure.
Jo Bichar Gaye
Writer: Ali Moeen/Col Z. I. Farrukh
Screenplay: Haissam Hussain and Mehreen Alam
Director: Haissam Hussain
Producer: H2 Films
Channel: Har Pal Geo
Cast: Wahaj Ali, Maya Ali, Talha Chahour, Nadia Jameel, Adnan Jaffar, Sajid Shah, Fazal Hussain, Rana Majid, Aurangzaib Mirza, Omar Darr, Ahmed Abbas, Shireen Zahid, Usman Zia, Omar Cheema, Zaheer Taj, Fahad Hashmi.
Jo Bichar Gaye was hands down the best drama which took the viewers completely by surprise not only because of its content but also because of its powerful execution. This drama dared to show in detail the incidents that led to the East Pakistan tragedy. Jo Bichar Gaye had so much going for it yet it was somehow not promoted as aggressively as some of the other commercial projects that air on Geo. The drama was based on a book written by Col. Z. I. Farrukh, who was also one of the main protagonists in the story. He was one of the army men taken in as prisoners of war when Dhaka fell. This drama also marked the comeback of the iconic director Haissam Hussain to television and Nadia Jamil also made her acting comeback with Jo Bichar Gaye. The production house H2 Films definitely deserves credit for taking this initiative and putting together such a masterpiece. Jo Bichar Gaye's writer intelligently and neutrally managed to shed light on all those factors which led to the fall of Dhaka. The fact that the novel this drama was based on is written by someone with vast military experience who was stationed in Dhaka and was in the middle of the conflict reflected in the details which had been the focus of attention throughout.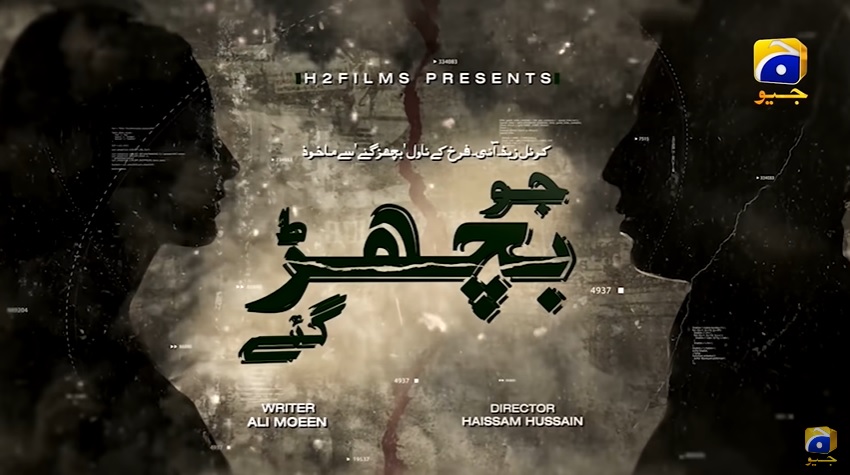 The script of the drama with the utmost clarity showed all the different dimensions of the issue in the fairest manner. It focused on the lack of foresight, conspiracies, and also the way young people such as Rumi were misled and used for ulterior motives. The writers and the director did exceptionally well while striking a balance between what was going on, on the political and military front, and everything happening in the personal lives of the characters. The viewers found themselves invested in the personal relationships of the characters as much as they were in the events on the political front. Starting from the leading cast such as Wahaj Ali as Rumi, Maya Ali as Sonia, or Taha Chahour as Captain Farrukh to the supporting actors such Nadia Jamil in a candid and interesting role and all those new faces in the most powerful roles, everyone literally managed to transport you to another world. Jo Bichar Gaye is an underrated gem that is a must-watch.
Mere Humnasheen
Writer: Misbah Ali Syed
Director: Ali Faizan
Producer: 7th Sky Entertainment
Channel: Har Pal Geo
Cast: Hiba Bukhari, Shehzad Sheikh, Ahsan Khan, Syed Jibran, Momina Iqbal, Moomal Khalid, Haris Waheed, Farhan Ali Agha, Salma Hassan, Meherbano, Munazzah Arif and others.
Mere Humnasheen ended recently & throughout its airtime, it kept on getting hyped up for all the right reasons. After a very long time, Pakistani drama viewers got to see a female protagonist who had certain goals in her life that she wanted to achieve apart from getting married. Mere Humnasheen can easily be classified as one of the mega serials of 2022 because it struck the chord & had all the elements that worked in its favor. Although initially, the viewers weren't too happy with the way the Pukhtoon community was being portrayed but through the course of Khajista's journey, the changes in the thought process of her tribe became the strength of the drama.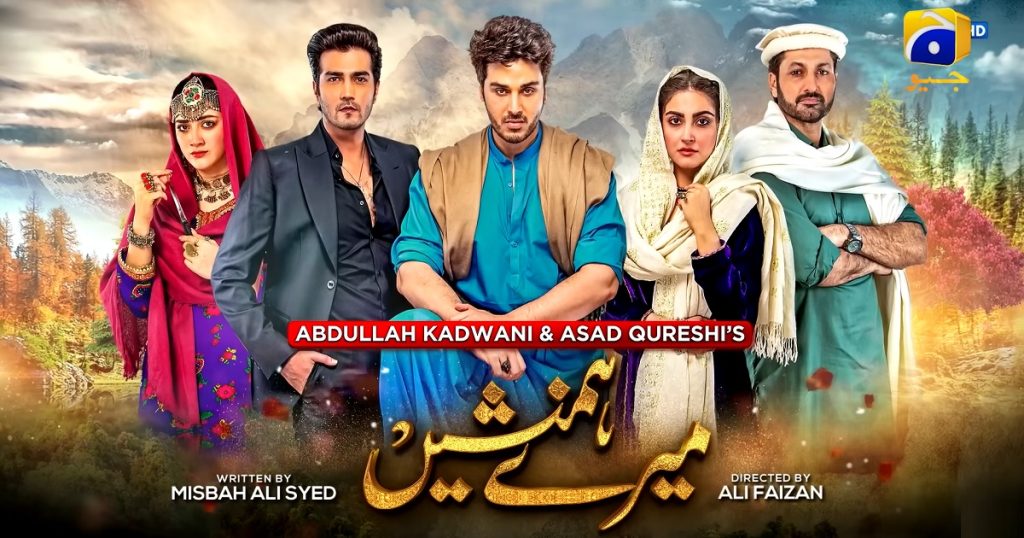 Mere Humnasheen had all the flavors a viewer asks for, it had drama, family politics, family rivalry, love story, revenge, and everything in between. However, the writer should take a bow for coming up with a character like Khajista who was dignified & knew that she had fought so hard to be where she was, therefore she could never take anything for granted. Darakhzai, despite all his shortcomings also ended up winning the hearts of the people because of how he evolved himself & wanted to assist Khajista in chasing her dreams. Dr. Hadi brought a lot of relief with him because every time Khajista landed in hot waters, he did everything he could to help her & eventually ended up falling in love with her. Mere Humnasheen's story had everything that the drama viewers have seen before but the way it was treated & executed made it refreshing & outstanding. This drama also gets the credit for starting a conversation about the lack of attention tribal areas get in terms of education. The writer Maha Malik consciously highlighted the difficulties faced by women living in such areas but their resilience was also put forth, making it another appreciable aspect of Mere Humnasheen.
Sang e Mah
Writer: Mustafa Afridi
Director: Saife Hassan
Producer: MD Productions
Channel: Hum TV
Cast: Atif Aslam, Nauman Ejaz, Samiya Mumtaz, Sania Saeed, Hassan Noman, Omair Rana, Hania Amir, Zaviyar Noman, Kubra Khan and others.
Sang e Mah was definitely the drama that got all the hype way before it started airing. It was due to the fact that the viewers thought it was a sequel of Sang e Marmar, a mega sit serial of 2016. However, it didn't take much for Sang e Mah to impress the audience & show that it also had a lot more to offer in terms of story, direction & most importantly unique & dynamic characters. Sang e Mah also had the credit of introducing Atif Aslam in Pakistani dramas as an actor & it didn't take long for him to establish why he chose Hilmand & why Hilmand came to him. An ensemble cast with such established & seasoned actors was a part of Sang e Mah & told the story like it has not been told before.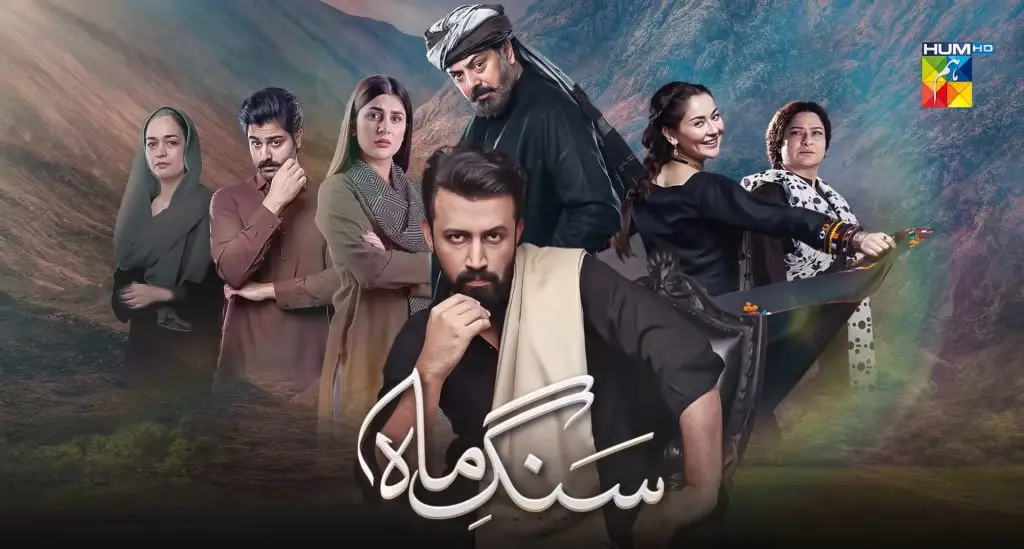 Sang e Mah was also one such drama that focused a lot on diversity & inclusivity. Therefore the characters from the Sikh community, as well as a Christian character, were made a part of the story in a beautiful manner. Sang e Mah started off as a revenge story but had so many layers to it that made it hard to guess that the underlying theme was based on the emotion of love that Haji Marjan & Zarsanga had for each other. Sang e Mah was more like a journey that the viewers took alongside all these characters & props to the writer Mustafa Afridi for adding so much depth & layers to these characters that the audience formed a connection with them immediately. The women in Sang e Mah were dynamic & strong, they lived life on their own terms against all odds & it was an interesting journey to witness. The dialogues, story, depth in the characters, some comedy, and unique situations make Sang e Mah a memorable & one of the best dramas of 2022. However, Sang e Mah has given Pakistani drama viewers a gifted actor in the form of Atif Aslam & we are definitely looking forward to his projects.
Wehem
Writer: Imran Nazir
Director: Adnan Wai Qureshi
Producer: Moomal Entertainment
Channel: Hum TV
Cast: Savera Nadeem, Shamim Hilali, Kinza Hashmi, Zaviyar Nauman Ijaz, Babar Ali, Tara Mehmood, Adnan Gulzar, Hurriya Mansoor & Others.
Every now and then Moomal Entertainment impresses and pleasantly surprises the viewers with its novel ideas and well-written scripts. Imran Nazir's Wehem is not just another story about a woman wanting to take control; it also has a well-thought-out plotline. The characterizations, their backstories, and the element of intrigue keep the viewers on the edge. Wehem's biggest strength is its unpredictable script and powerful performances by experienced actors. Although the channel has written Kinza Hashmi and Zaviyar Nauman's names as leading actors, anyone who is watching this drama will agree that neither their characters nor their performances take the lead. It is one of those few dramas where the senior actors take the lead and keep you hooked on their beautifully nuanced performances. Wehem is the story of a mother, a wife, and a strong but insecure woman whose actual reality remains a mystery even now. Her character is flawed yet you feel for her and even find yourself rooting for her. Savera Nadeem is impressive as Rukhsana, her relationship with her mother-in-law is the highlight of the drama.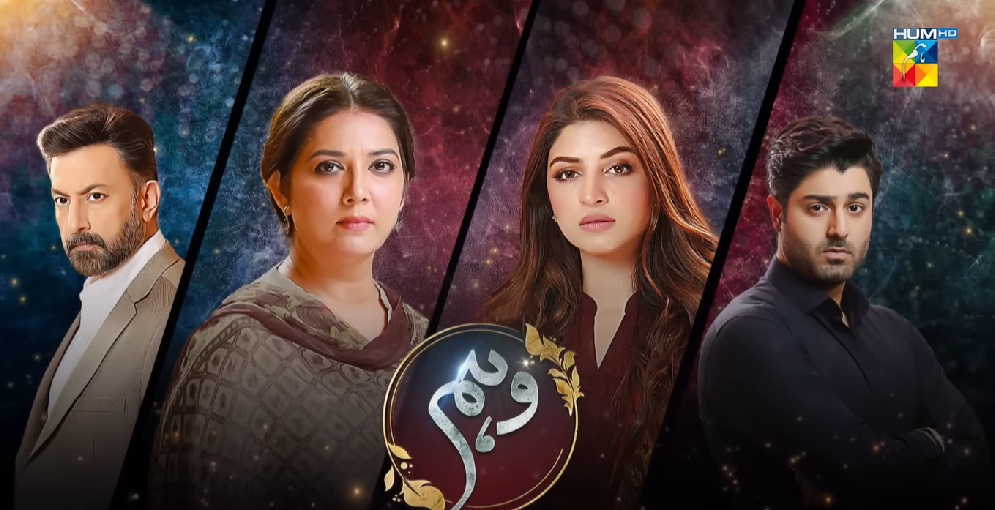 Savera Nadeem's fans should definitely tune into this one. Shamim Hilali, Babar Ali, and Tara Mehmood's performances also stand out. Zaviyar Nauman fits the character but does not bring much to the table. Kinza Hashmi's performance has been convincing throughout but her character Eshal is definitely not leading the story. Adnan Wai Qureshi's direction fits the bill because he has made sure that Imran Nazir's intelligently written script gets the right treatment. Wehem is a thriller that should not be missed.
Which Pakistani drama kept you hooked this year? Share your thoughts.