Bin Roye starring Mahira Khan is due to release on Eidul Fitr in Pakistan and on 17th July in India, UAE, UK and USA. It is the first Pakistani film simultaneously releasing in so many countries.
However before its release as per film distributor Nadeem Mandviwala, it is banned in the Indian state of Maharashtra including the cities of Mumbai and Pune. The film is banned not because of its content but solely for being a "Pakistani" film. Nadeem is the head of Mandviwalla Entertainment (ME), which distributes Indian (Bollywood) films in Pakistan apart from local films.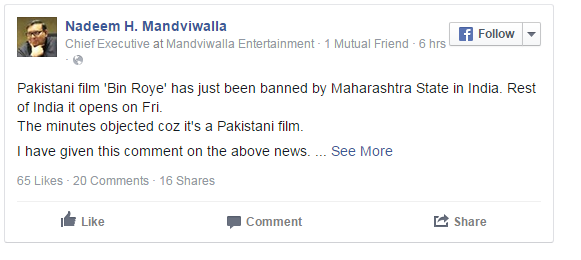 "Pakistani film 'Bin Roye' has just been banned by Maharashtra State in India. Rest of India it opens on Friday. The minutes objected cause it's a Pakistani film,"he announced on his FB account.
"I feel that the process which we have fought for allowing Indian Films in Pakistan legitimately is now being jeopardized by Indian States themselves. The repercussions of such acts can become detrimental for both film Industries. It's a sad day today as Maharashtra State has given reason to start the debate once again which lasted for more than 40 years. (1965 to 2006) ", he further added.
In 1965, Indian films screening in cinemas was banned in Pakistan following a war with India. The ban was lifted in 2006 and since then Indian films are doing roaring business at Pakistani cinema houses. On the contrary, Pakistani films are never banned in India, but not much Pakistani films are released in India either. As compared to the craze and demand of Indian movies and stars in Pakistan, Pakistani stars and productions are relatively unknown in India apart from few exceptions.
Rashid Nazir Ali