Shahid Afridi usually stays in the lime light. Lately a controversy has surfaced between Shahid Afridi and Pakistani cricket, Javed Miandad.
The series of argument started when Javed Miandad made a comment regarding Afridi's desire for a farewell match. Miandad said "Afridi is always after money'. While answering Miandad's comment Afridi said, "Money has always been an issue with Miandad. That is the difference between him and Imran Khan".
Watch the video
https://www.youtube.com/watch?v=QCYeTDPxAF0&feature=youtu.be
The entire scene was created when Afridi asked for a farewell match and Miandad said, "Afridi is no longer in demand, which is why he his making such remarks. As far as the difference between me and Imran Khan is concerned, fans know more about it and they are the better judge."
In reaction to that Afridi said, "Honestly, I am not desperate to get my farewell match. The love I have gotten from fans over the years are the biggest earnings in my entire career".
Soon Shahid regretted what he said, and started sharing his feelings on Twitter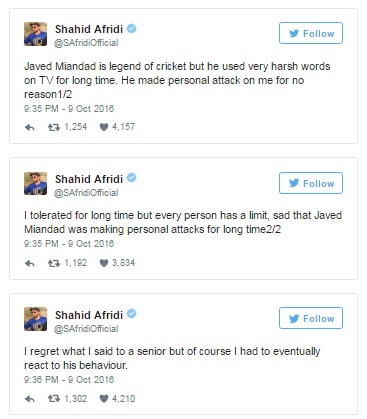 Both the cricketers were just not ready to ignore each other comments. Miandad said "I challenge Afridi to swear upon his daughter and say that he didn't sell Pakistan's matches". Further he added, "Afridi and his lawyers, have agreed to send a legal notice to Miandad". According to sources, the notice will be sent on Thursday as offices will remain closed until Wednesday on account of 9th and 10th Muharram."