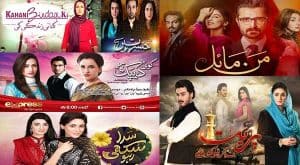 The Pakistani drama industry has long been producing quality dramas but the content was limited to the depiction of some of the problems prevalent in the society only. With the passage of time, as the drama industry evolved, a great number of problems which needed to be highlighted were brought before the audience. Despite the fact that questions were raised against such dramas, they were eventually not only accepted but also praised by the society, for awareness remains the utmost concern and need of today.
People tend to follow what they witness and entertainment they prefer has a great deal of impact upon them, therefore it is important to ensure quality content.
Inkaar, a drama with the motto "say no to drugs" revolved around drugs, won the hearts of many for it dared to bring the topic to light in times when our drama industry was still struggling. PTV at that time was given the credit because it remained the first channel ever that aired such a drama.
In 2010, the drama Bol Meri Machli which revolved around the premarital sexual relationship between a girl from middle class and a poet who for personal pleasures, trapped the innocent girls, the aftereffects of abortion, the life of a girl aspirant to become a model but instead, becomes a victim of molestation and sexual assault, and a girl getting married to a gay.
The drama raised a lot of questions but was, later admired for the fact that it unveiled the problems considered taboos in our society.
Another drama, Meri Zaat Zara –e- benishan , portrayed  the misuses of religion for personal interests. Portrayed how a woman so religious, swore to God for false allegations she put on her daughter in law and suffered afterwards. Roag, remains one of most emotional dramas that showed child abuse and how rape affects a girl's life and how a kidnapped child is raised as a criminal who sells drugs and suffers from sexual assault which makes him an HIV positive. It, furthermore depicts how a girl who adopts kids before marriage is ridiculed and blamed for having premarital relations.
Khuda Mera Bhi Hai, another thought-provoking drama deals with the life of a woman who gives birth to the third gender and is looked down upon throughout her life.
Udaari , the latest drama revolved around child abuse and how the victim is threatened to keep her mouth shut. It gave a fair representation of the monstrous culprits. Ahsan Khan, the antagonist displayed a sheer amount of brilliance when it comes to his acting skills.
Tanveer Fatima BA, a drama not so popular but was definitely a thought-provoking one for it depicted the lives of feudal lords who brutally murdered and blackmailed people. The drama was aired in 2010.
Besharam highlighted the life of a model who strives to attain respect from the society but is disappointed , for all she gets is disrespect and people looking down upon her . Her dialogue from the drama " Sab miljata hai , dolat , shuhrat , bas izzat hi nahin milti" says it all . The models and actresses of today can all relate to her life for they face the same in our typical society.
Nazar – e – bad, a drama which deals with another crucial problem, is another hit. Revolving around black magic , it provokes the thoughts of many . We live in a society where people greatly rely on black magic to get things done. This drama shows how it is unwise to rely on such things for it destroys those on whom it is done, along with those who do it.
Pakistani drama industry has undergone a lot of positive changes and the dramas now being produced have a lot to offer apart from just entertainment.