Tabdeeli nahi aye gi! Kabhi nahi ayegi! (Relax I'm talking about TV shows) :P
While a tabdeeli is on the verge of happening in the politics of Pakistan, the drama makers are doing their level best that no tabdeeli reaches us through dramas. Same old ghisse pite topics are being repeated again and again.
The only watchable dramas recently are Shanakht, Firaaq and Jackson Heights. 
After the success of Pakistani dramas in India, I feel proud and nervous at the same time. Proud because I love to see my country shine and nervous because ,I know, being a regular viewer of Pakistani dramas, that India has only seen our best.
I know we have written articles calling for diversity, but the call was unheard and being a drama lover, I don't want the quality of Pakistani dramas to drop further. So, scroll down, read these ideas and tell me what you think about them
1.  There are issues other than women issues and ghareloo-ism :
Trust me, there are! It's not like women are the only oppressed makhlooq in this country. Men also face problems and we have all seen how amazing dramas  like Pyaray Afzal and Laa were. Their male characters were men and we were spared a lot of rona dhona and other crap because of this. An important thing, in these dramas, women were shown strong. (Laila, Farah, Lubna, Yasmeen, Arfa, Ruqayya)
Ghareloo maslon se aage bhi soch lia karo!
2. Difference won't hurt!
It won't! trust me! Crime shows would be unparalleled hits if executed properly. Mystery dramas would rock and horror shows (if executed properly) would introduce new dimensions in drama making. Even university based dramas, if they deal with issues like bullying and aren't just love stories, will be loved by many people.
3. After a blockbuster drama, get working on another one quick!
After Pyaray Afzal, no other drama made by ARY even qualifies to be called "good". This shows Pyaray Afzal ghalti se ban gaya! Ab kabhi koi acha drama nahi bane ga!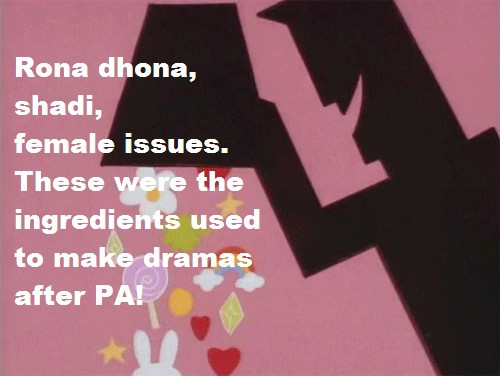 4. Don't make people beg for good dramas!
Don't torture your viewers! Give them something to look forward to. Avoid those "filler dramas" which give us the creeps.
So readers, what did you think of this article?  Before leaving, fill out my questionnaire please:
1. Which type of shows would you like to see?
2. Are you also a wisher of these different dramas?
Areeba Mohsen