Karachi is the largest city of our country and commercial center while the second largest city Lahore is known for its historical places and once termed as cultural capital due to extensive cultural activities including film industry and theater.
But after decline in film industry the newly established drama industry is now centered in Karachi where many upcoming films are also being produced. Nearly all major media houses and production houses are located in Karachi, making it center of cultural activities from past few years. However due to uncertain law and order situation in Karachi, major production houses has also started productions in Lahore as an alternative. Due to situation of Karachi the leading artists avoid outdoor shooting in suburban areas of Karachi and prefer indoor shooting.
As per one media report nearly 20-30% upcoming dramas by Momina Duraid Production, Asif Raza Mir, Humayun Saeed, Abdullah Kadwani and others are starting new productions in Lahore. Production work in Lahore is also cheaper as compared to Karachi, due to lower wages of staff and labour. In near future, media houses in Karachi may also relocate film making projects to Lahore as well. Recently started dramas of Hum TV; Janam Jali, Laa and Izteraab are shot in Lahore. A Lahore based channel A-Plus is also gaining prominent place in the drama world.
However artists based in Karachi have reservations over this saying it has raised complications for them as permenantly settling in Lahore for them is not an easy thing.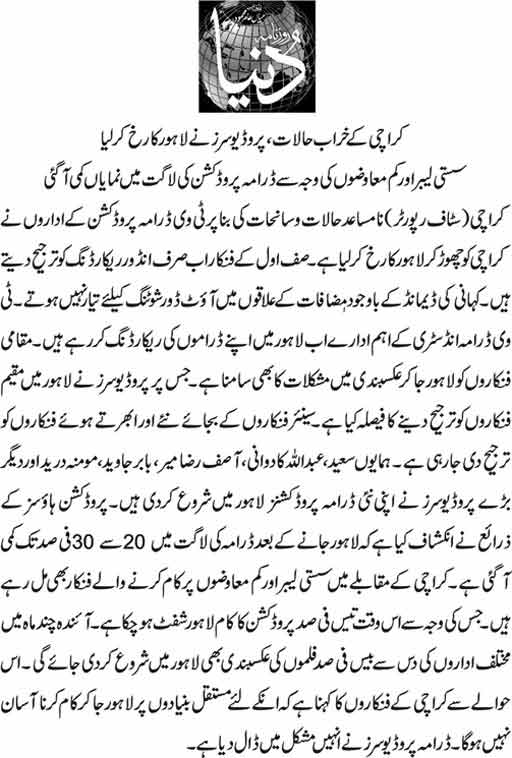 Rashid Nazir Ali