Like majority of Pakistani public, most of our rulers and leaders also passionately follows indian artists. Former dictator, Ziaul Haq, Parvez Musharaf and prime ministers Shaukat Aziz and now Nawaz Sharif are one who have admired indian artists on their visits to India. Even former dictator ziaul Haq has family terms with an Indian artist. Similarly on his visit to India, Parvez Musharraf specially expressed the wish to invite an indian artist on offical lunch.
Current prime minister Nawaz Sharif has visited India last month where he also met indian artist Shabana Azmi in a gathering. Nawaz Sharif also wanted to visit famous artist of sub-continent Dilip Kumar but unable to do so though he sent a bouquet  for Dilip Kumar. Nawaz Sharif had awarded the Sitara-e-Imtiaz (the highest civil award of Pakistan) to Dilip Kumar in 1999 when he was the Prime minister.
Now Dilip Kumar has released his auto biography and sent a special copy to our Prime minister Nawaz Sharif, which is a sign of strong bonding and warm relations between these two.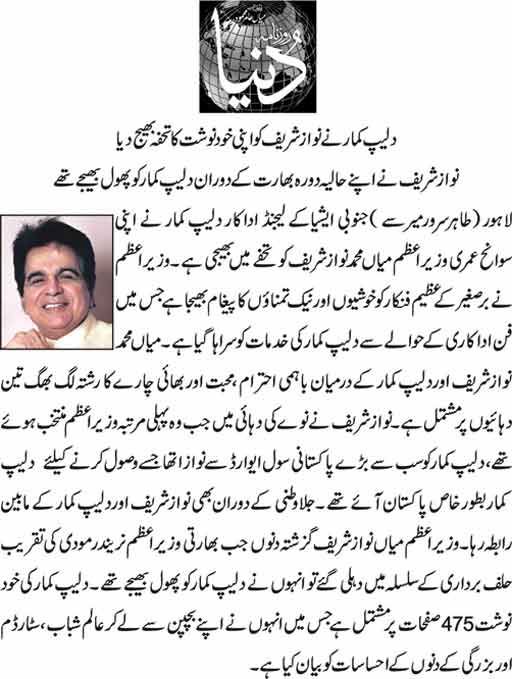 Rashid Nazir Ali