Khaas; written by Sarwat Nazeer & directed by Danish Nawaz ended last night. It can be easily stated that Khaas became one of the most popular dramas of this season because after it ended, the fans made sure to trend it on twitter. Khaas tackled with the subject of toxic relationship in a manner that was not seen before. Sarwat Nazeer highlighted important aspects of marriage and added some great & thought-provoking messages throughout the drama.

The ending of the drama has met some mixed reactions. Sarwat Nazeer kept the ending quite realistic & wanted to show that all a woman needs is strength & courage. If we go by the reality-based message that the writer wanted to convey, we can totally accept the ending that the drama has met. However, the unanimous reaction that the viewers have given after watching the last episode is not in the favor of what was shown.
Saba (Sanam Baloch) had her fair share of miseries when she was married to narcissistic Ammar (Ali Rehman). She was mentally tortured & emotionally abused every step of the way. She even suffered a miscarriage but still tried everything to give Ammar a chance & make this marriage work. Ammar had painted the kind of picture in front of everyone where they all, including Saba's family held her responsible for not trying enough. Fakhir (Haroon Shahid) comes in Saba's life & guides her through. He restores her faith in herself, gives her the love & support that she was in need of to mend her crushed self-esteem after facing divorce. It can be easily said that Fakhir became a favorite character of all those people who loved Khaas.
In the last episode, Fakhir met a tragic accident & lost his life & the viewers took their disappointment to the internet. It turns out that fans were unanimously unhappy with the way drama ended with Fakhir's death, leaving Saba behind as a single mother. The viewers definitely feel that the could've shown Saba & Fakhir living happily ever after because it was a drama by the end of the day. Also when Saba had already had her fair share of miseries, there was no need to send out a message that she could live happily without Fakhir, relying on his memories & the strength he had given her during the short-lived marital bliss that they had.
Check out the reactions of the fans:
Those who are unhappy with the ending:
Fans who agree with the ending:
There are some who see the message that Sarwat Nazeer wanted to give:
A few with the funny take on it:

Haroon Shahid shared a public service message: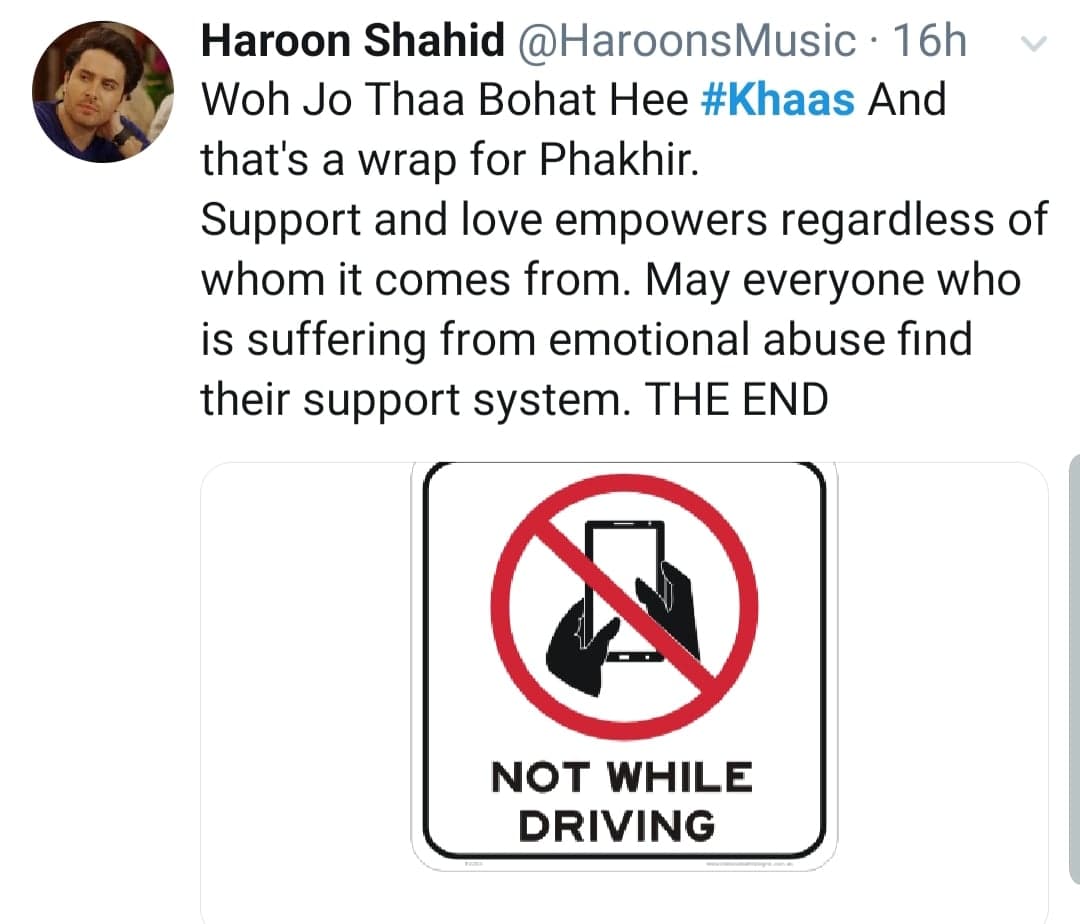 What are your thoughts about the last episode of Khaas? Do you agree with Fakhir's death or do you think that Saba deserved a happy ending? Share your say.