Anti Pakistan sentiments are on quite high side in India these days. Following the government policy of alienating Pakistan in every possible way, different private and political entities are announcing limited or permanent bans on Pakistanis nationals wherever possible. Pakistani sports persons were informally banned from 2008, so the other major area left now is arts.
Indian Motion Pictures Producers Association (IMPPA) announced a formal ban on casting any Pakistani artists in any future project.  However it relieved the projects which are already completed. Two major films Ae Dil Hai Mushkil starring Fawad Khan in a cameo and Raees starring Mahira Khan in the lead role are the two mostly discussed projects in this regard.
Ae Dil Hai Mushkil is releasing on Diwali weekend on 28th October 2016, the producer cannot replace the Fawad Khan role with another artist due to limited time. Still the producer Karan Johar is perhaps thinking on some alternate strategy to minimize the impacts of Fawad Khan's tiny presence in the film.
Here is the recent update from an Indian website dnaindia on this matter
Fawad's face to come off? Speculations are rife that Karan might replace Fawad Khan with Saif Ali Khan and change his lead female characters' country of origin (Pakistan) in 'Ae Dil Hai Mushkil'.
Karan Johar's facing the heat for his next release Ae Dil Hai Mushkil, and it isn't just because the film features Pakistani actor Fawad Khan. The other big issue that the filmmaker faces is that his leading ladies' characters, played by Aishwarya Rai Bachchan and Anushka Sharma, are Pakistani residents.
In the film, ARB plays poetess Saba Taliyar Khan and Anushka plays Alizeh, a girl who loses her love (Fawad) and finds herself in love again with another (Ranbir Kapoor).
Says a source, "Karan's film releases on Diwali, but because of the anti-Pakistani wave that is sweeping through India right now, he is facing a dual dilemma — it is too late to replace Fawad, but his female leads play Pakistani women. So what he is planning to do is tweak the script a bit and work it in such a way that they are no longer Pakistani citizens, but belong to another country."
The source adds that Karan and his creative team toyed with the idea of face replacement technology to replace Fawad Khan with Saif Ali Khan, but that would have taken a long time and the film is too close to release.
But why Saif Ali Khan? Initially, Karan had wanted Saif Ali Khan to play Fawad's role and had even discussed it with the senior actor, but KJo changed his mind later and replaced him with Fawad instead. Later, he was selected to play the role of Aishwarya Rai Bachchan's ex-husband in the film, but that too didn't work out and eventually SRK did that role.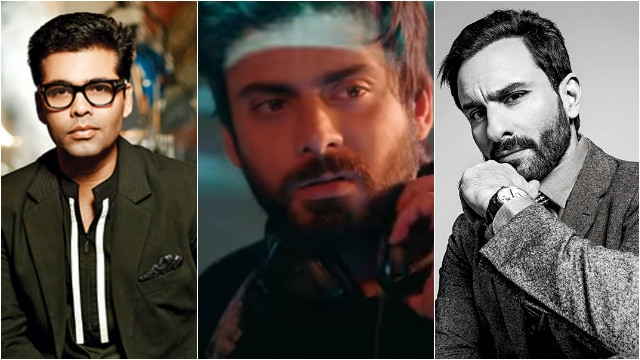 Acknowledgement: Whole content and the image is borrowed from the website dnaindia
Source: http://www.dnaindia.com/entertainment/report-karan-johar-to-replace-fawad-khan-s-face-with-that-of-saif-ali-khan-in-ae-dil-hai-mushkil-2262776
Rashid Nazir Ali
Fawad Khan – Biography, Family, Wedding, Wife, Son, Daughter, Movie, Dramas