Eidul Fitr is a festive occasion in our country. Apart from religious significance it is an event of family gathering and other festivities as well. Traditionally our film makers reserve their premier productions for Eid for which cinema bookings are done months ago. From past two decades local cinema has declined considerably and since 2006 this space is filled by Bollywood movies.
This Eid, a mix of Bollywood (Hindi), Urdu (Karawood, Lollywood), Punjabi and Pashto films are releasing. These films will be released on multiplexes and single screen cinemas across the country.
Bollywood – Bajrangi Bhaijaan  
Bollywood films are extremely popular among film viewers and has always been a preferred choice of Pakistani cine goers. Last year on Eidul Fitr, Bollywood movie Kick starring Salman Khan kicked off all the rival films on box office, earning huge revenues as well. Bollywood films do great business on multiplexes as well as traditional single screen cinemas, definitely the first choice of all the classes and sections of our society. The major market of Bollywood films is Punjab, Sindh and Federal Capital Islamabad.
This year another Salman Khan starer film Bajrangi Bhaijaan is releasing. Advertised as the "Biggest Film of The Eidul Fitr" it is expected to make new records of revenue collection during the Eid holidays like Bollywood films had made in previous years.
Pakistan's leading English papers like Dawn, Express Tribune, The News as well as Urdu papers Jang, Express, Dunya have already published enough insights of Bajrangi Bhaijan, like the music, the cast, story, trailer, on-set events, controversies etc. which reflects the excitement that persists in our media and public regarding this film.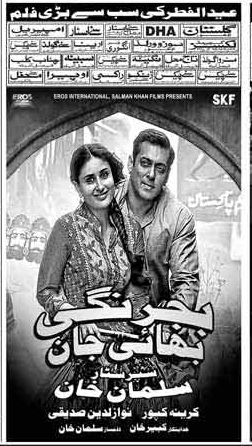 Karawood – Urdu
Karachi is emerging as a new hub of Urdu film making. Last year on Eidul Azha, Namaloom Afraad produced in Karachi became a mega hit. This Eid two Karawood films are being released.
Bin Roye (بن روۓ)
A romantic film, Bin Roye stars Mahira Khan, Humayun Saeed, Armeena Rana Khan in the lead roles. Produced by Hum Tv it is being released simultaneously in Pakistani, UAE, UK, USA and India (Except the state of Maharashtra)
Wrong Number (رانگ نمبر)

A comedy formula film Wrong Number stars Danish Taimoor, Sohai Ali Aabroo and Janita Asima in leading roles. It is the first film directed by the Yasir Nawaz. Danish Taimoor appearing in double role in this role.
Lollywood – Urdu/Punjabi
Lahore has been the traditional centre of film making in Pakistan. However in recent years film making is almost halted in Lahore. This year few low budget Urdu and Punjabi films produced in Lahore are releasing. All these films are only releasing in Punjab.
Bazaar (بازار)
A low budget Urdu film, Bazaar comprises relatively unknown names in the lead cast. Ahmed Butt is playing the male lead.
Razia Ghundon Mein Phans Gayee (رضیہ غنڈوں میں پھنس گئی)
A Punjabi film releasing in few cinemas of Lahore, and other cities in Punjab. The film features stage artists from different cities of Punjab.
Pollywood – Pashto Films
Pashto films are popular in areas having large concentration of Pashto speakers. Pashto films are released in the cities of Peshawar, Mardan, Bannu, Swat, Quetta and Karachi only in single screen cinemas. As compared to Urdu/Punjabi films Pashto films are regularly released outside Pakistan in Dubai (UAE) and Kabul (Afghanistan).
This Eid seven Pashto films are releasing in Pakistan, Afghanistan and UAE. The name of these Pashto films are Ma Cherra Ghareeb Sara, Daagh, I love you too, Pakhtun Pah Dubai Ke, Khanadaani Badmaah, Maien Kho Lewanai Vee and Sar Tair Badmaash. Pashto films have low budgets and even if flop, a Pashto film easily recovers its cost.
Rashid Nazir Ali