Artist Sataesh Khan, who left showbiz in 2012 and joined a religious group 'Al-huda' is now seeking divorce from her husband Malik Noraid Awaan. Sataesh khan married Malik Naveed Awaan, in a grandeur party in 2013 the same man who earlier married famous singer Annie Khaalid. However after few months of marriage Annie Khaalid later took divorce and claimed she was brutally tortured by Malik Noraid Awaan. Noraid Awaan denied all claims, and he married Satesh Khan few days after divorcing Ainnie Khaalid.
However time has proved that Ainnie Khaalid was right, when Sataesh Khan has now also claimed divorce from Noraid Awaan. Sataesh Khan also revealed that she was constantly tortured and threatened by family of Noraid Awaan. She further added she is the 15th wife of Malik Awaan and he has destroyed life of many other girls too.
Here are snapshots from official facebook page of Sataesh Khan.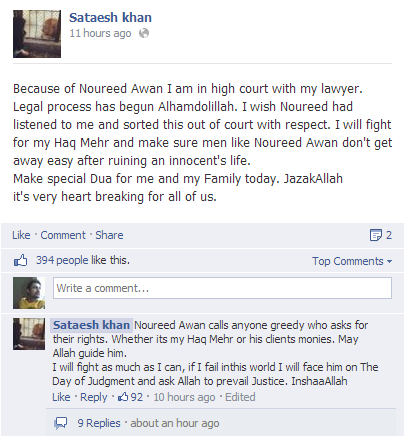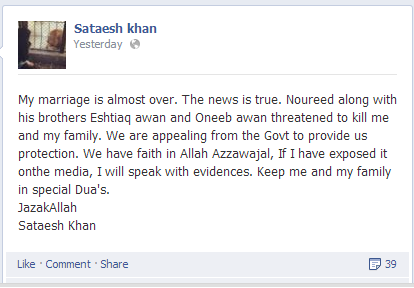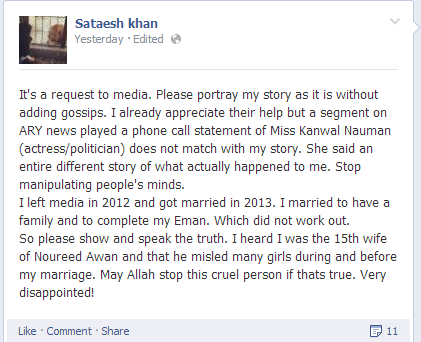 Here is a link to video report from ARY News on the same issue
http://videos.urduwire.com/news-videos/sataesh-khan-interview-on-her-divorce-with-malik-noureed-awan/
Rashid Nazir Ali