The most commonly heard phrase of this decade is that "Don't judge others" along with "Live and let live" and still; this is the era of extreme terrorism, racism, intolerance and judgment.  Society has double standards and this becomes visible every now and then. Anything which is not right for others will become right if they themselves are doing it.
The internet was shaken and the whole world was seen talking about only one topic last week and yes you guessed it right: Its Mahira Khan! For those who were living under some rock, some pictures of Mahira Khan surfaced last week on the internet where she was wearing a backless dress and was smoking somewhere in NYC with Bollywood actor Ranbir Kapoor. Many schools of thoughts emerged and millions of opinions surfaced within few minutes of the publication of those pictures. Mahira Khan is the reigning queen of Pakistan entertainment industry and has a huge fan following so naturally people came to her rescue and start shutting out the trolls and all the others who had different opinions than theirs.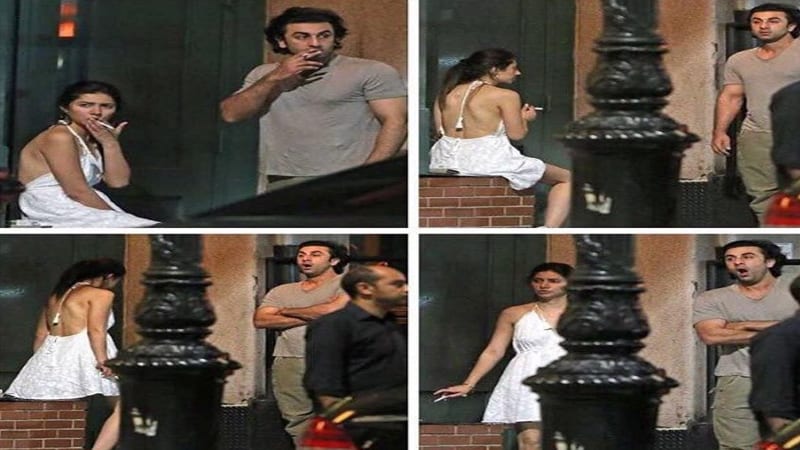 I can never understand people calling actresses inappropriate names and sticking taglines like "ye dekhein Saba Qamar ne sabb haddein paar karr dein" with their pictures. No one has the right to abuse a woman just because she is working in the media industry. But it is not possible that they will not be judged. When you work on a public platform and people praise you and love you, be prepared for the criticism too since you have placed yourself for public judgment. Mahira's case is not the first one in the industry. Actresses have faced a lot of criticism from time to time about their choices. Veena Malik and Mathira are criticized for their roles and the way they present themselves; Veena is still under fire for her past choices. Meera has been a part of too many scandals including about three marriages (not sure about the exact number). Qandeel Baloch was bashed left and right not only by the society but by stars too. Many people criticize Humaima Malick and Mehwish Hayat mostly due to their bold dressing. Actresses have been criticized for doing item numbers too.
In the controversy surrounding Mahira Khan, many points were raised. People had issues with her smoking which was addressed by the fact that since her lungs will be affected in the long run and it does not harm others; let her do what she wants to. According to me, this argument is legit since this is completely a health-related issue but if any actress who is criticized by the audience had been seen smoking like that, would people still consider it as a health-related issue? If it was Mawra in place of Mahira, I can bet people would have crushed her by calling names like cocaine and bullying her to the end of this world. People had issues with her dressing too. She is an actress and they do wear revealing clothes, she is not the only one to do it. Yes true enough! But what people were doing on social media while supporting her? "Abb kya who hijab karr ke ghoomay" Is hijab something to look down upon? What about your earlier speech of ITS HER CHOICE, Doesn't other girls have the choice to wear hijab? Who are you to passively criticize modest dressing just to prove your favourite celebrity is right! Humaima Malick is criticized nearly every other day for wearing short dresses. So since people don't think of her as their household Khirad, she has no freedom of choice and her wearing skimpy dresses will affect Islam. Coming to her presence with Ranbir Kapoor, people need to understand it was less about Mahira's character and more about Ranbir's since everyone knows he is a playboy. And even after all the fiasco, he didn't say that they are just friends and not dating. His words were that 'he came to know Mahira in a personal capacity and she is a wonderful person'. How people forgot that this is the same society who still bullies Imran Khan on marrying Jemima even after she converted to Islam and criticized the hell out of Veena Malik on her relationship with Ashmit Patel. Ranbir is also a Non-Muslim like Ashmit and if dating him was wrong for Veena, the same goes for Mahira too.
Mahira Khan is an adult, a woman who has made a name for herself and she has made us proud at countless occasions too but if Saba Qamar's ghagra choli was bad for Hamza Ali Abbasi than Mahira's dress should fall in the same category. I know he only clarified about the mark on her back but if it was someone who is a not a friend of his; he would definitely have criticized her. If Qandeel's clothes were not modest for Momina Mustehsan, Mahira's dress should have concerned her too but as we saw all celebrities stand with someone who has a massive fan following and look down on the less popular ones if they are doing the same stuff.
For anyone who thinks I hate Mahira or something; No! I like her a lot but the fact remains if it would have been someone else in place of Mahira, people would have other thoughts and names which should never ever be used for anyone. And like Humaima tweeted "Selective kindness is not kindness at all." And it is high time people understand that if something is wrong when a person you don't like do it, it will be wrong if someone you like or you yourself do it!