Geo Kahani is the secondary entertainment channel of Geo Network, where the primary entertainment channel is Geo Entertainment. Geo Kahani mostly aired the foreign content comprising of Indian and Turkish dramas. But from October 2016 the PEMRA has enforced its guidelines which limits the airing of foreign content. Since then Geo Kahani is mostly airing reruns of dramas already telecast on Geo Entertainment.
From mid April Geo Kahani is starting few new dramas and Naagin is one of them. The drama is based on Hindu Mythology of Sheesh Naag and Naagin, which is a snake who can convert as a human too.
The promos of Ge Kahani's Naagin are released last month and have been widely discussed on social media. An Indian drama Naagin was also telecast by another channel Filmazia Entertainment till October 2016 and Geo Kahani's Naagin is criticized for copying the concept from the same drama.
While Geo Kahani's Nagin has been discussed in Pakistan, the trailer of this drama has also caught the attention of our neighboring country India.
Here is a clipping from an Indian channel about Geo Kahani's Naagin. So even before its airing, Geo Kahani Naagin's hiss is being heard in Indian media.
The director of this drama Iftikhar Iffi has also posted this on his FB page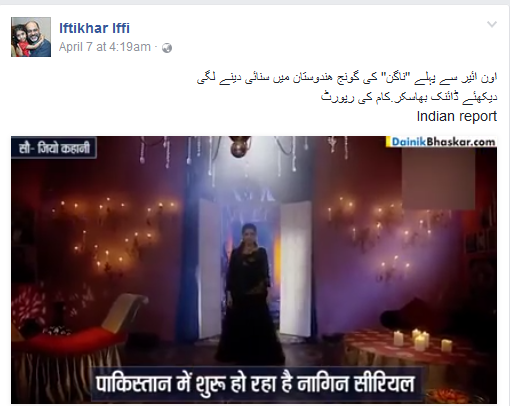 Rashid Nazir Ali