Previews are becoming quite the topic of discussion. Last week's preview hinted at Omar backing out at the eleventh hour so the episode was a complete shocker. Omar's everything, his fairy godmother- Mrs. Imtiyaat succumbed to the grim reaper aka Sr. Hashmi. Omar knew love only through the kind-hearted Mrs. Imtiyaaz. Not only was she faithful to the Hashmi's, she genuinely loved Omar like her own and was trusted by his late mother with her bahu ki amanat. Having lost the woman he loved so dearly, Omar was guilt-ridden and felt unsure about going through with the wedding. After the dhamakedaar dholki, the shaadi was free of any shenanigans.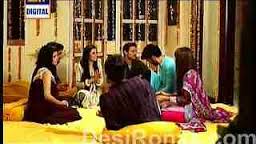 The kawwey ki tarhan ganey wala Adnan was the life of the party and interestingly enough, the ease with with he switched gears between the singing/ dancing and the flirting was sublime. I've never seen Gohar Rasheed except in a brief cameo and I thought he was brilliant. Ali continues to guide Omar through his uncertainties but it appears that Adnan is the one who is really looking out for him; he is very keen to have Omar and gang continue living with him for ever and ever. I would love to know more about why he is the way he is and if the story of his father having multiple wives is actually true.
Omar seems content moving in with Asma and Mohini after marriage as if it were perfectly natural to have a ghar-damaad. Omar has a long way to go and Nomi said out loud what most of us may be thinking- I don't trust him! Seeing Asma and Mohini's sensibilities, I can't help but wonder why the mother-daughter duo took a nosedive into consolidating the chatt mangni patt biyaah. Jald bazi ke faislay aksar pashtawey ka baiss bantey hein…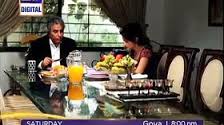 Mrs. Imtiyaaz's sudden death and Rahat's cold reaction disturbed Haniya more than I had expected. This incident made her question the man she married all those years ago. She even went as far as going against her husband's demand and informing Omar of his loss. Rahat is so full of himself he considers himself a visionary. He finds nothing wrong with the way he conducts his affairs and has now taken it as a challenge to bring his son to his knees. He has spent considerable time and money on his biggest investment and expects huge returns. What remains to be seen is how far he will go to reclaim what he believes belongs to him!
What did you make of this episode? Any guesses about what happens next?
Yours in watching,
Kanwal Murtaza