Hamayun Saeed was severely injured in a car accident while he was in Bangkok shooting for one of his upcoming films. His car collided with a double decker bus and everyone in the car was injured. The good news is that Hamayun Saeed is fine now, he gave a brief interview to Express Tribune in which he said that it was due to the prayers of his fans that he was alive today. "It (the accident) was so bad that I couldn't have even imagined coming out [of it] alive. It's probably because of all my fans and their prayers that I was able to survive", said Hamyun Saeed while talking to Express Tribune.
While talking about how he felt when the accident took place he said, "I don't remember what happened right after the bus hit our car, but the picture that my friends drew of how my legs were jammed and body twisted was quite horrible."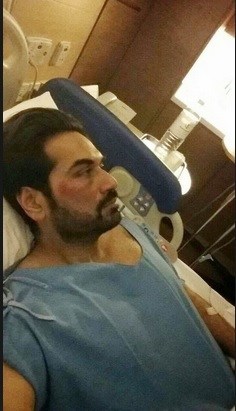 Talking about his upcoming film Hamayun Saeed said, "It will be an out-and-out comedy and the audience won't have to think a lot to get entertained." He said that the shooting of the film had started and it will release on Eid next year. The cast of the film consists of Humayun Saeed, Hamza Ali Abbasi, Ahmed Ali Butt, Vasay Chaudhry, Javed Sheikh, Bushra Ansari, Mehwish Hayat and Ayesha Khan.
We wish Hamayun Saeed all the success for his future endeavours.