Hamza Ali Abbasi has given his open opinions about many controversial topics in the past. He is always blunt and straightforward in expressing his likes and dislikes and it has cost him some meaty roles as well as some media friends. However, this does not deter the handsome man from being about vocal about all things he feels need to be brought to public notice.
In the wake of many item songs recently released by Pakistani movies, similar to their Indian counterparts who almost always have an item song in their films, Hamza has expressed his disdain for them in a Facebook post. Have a look at what he has to say ;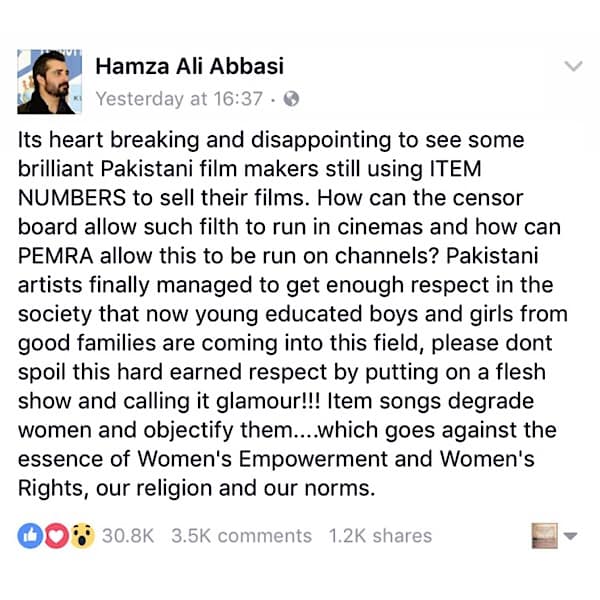 His post has received close to 31000 likes and around three hundred dislikes. The comments are also mostly appreciative of his guts to call a spade a spade, even though he is in the industry himself. Some people, however, found it offensive and reacted in negative to his post. Most derogatory comments meant to remind him of Jawani Phir Nahi Ani and that this is hypocrisy on his part to denounce item songs now. Some called it disloyalty to the industry that feeds him. Most people however agreed with him and his take that we should consider our religious and moral values before objectifying women by making them dance seductively on item numbers while an on screen and off screen crowd ogle these skimpily dressed dancers. This is neither our culture, nor does it sync with the modern trend of women empowerment.
What is your opinion of Hamza's point of view?
Do share in comments please.