Ho Mann Jahan (ہو من جہاں) music is released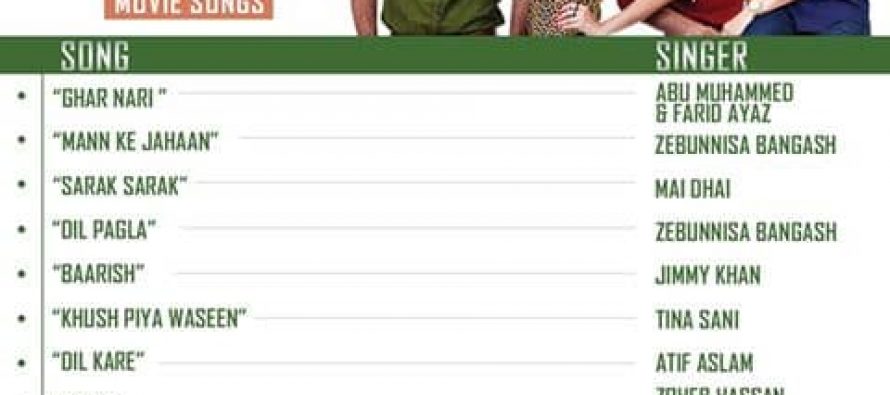 Ho Mann Jahan (ہو من جہاں) is an upcoming film releasing on 1st January 2016.
The music of the film is released today having nine songs in a variety of voices. Asrar, Atif Aslam, Tina Saani, Jimmy Khan, Zoheb Hassan, Zebunnisa Bangash have provided the vocals.
"Shakar Wandaan" song Ho Mann Jahaan
Music arranged and produced by Faakhir @ ET studio
Composition: Asrar
Lyrics : Afzal Saahir
Performed by: Asrar
Keyboards played by Faakhir.
Harmonium & percussions by Rabbi Ashraf.
Guitars: Imran Akhund.
Tabla Dholak: Shahid Riaz.
Mixed by Joseph George at Wah Wah studio Mumbai.
Mastered by: Tanay Gajjar at Wow&flutteR. Mumbai
Assisted by Rupak Thakur
"Sarak Sarak" Song- Ho Mann Jahaan
Written and composed by Mai Dhai, Zain Ali and Danish Khawaja
Performed by: Mai Dhai
Guitars: Zain Ali and Danish Khawaja
Bass: Sameer Ahmad
Drums and percussion: Kami Paul
Mastered by: Tanay Gajjar at Wow&flutteR. Mumbai
Assisted by Rupak Thakur
"Mann Ke Jahaan" Song- Ho Mann Jahaan
Music Director: Zebunnisa Bangash
Arranger: Ankur Mukherjee
Composition: Zebunnisa Bangash, Jimmy Khan
Lyrics: Asim Raza
Performed By: Zebunnisa Bangash
Backup Vocals: Jimmy Khan
Drums: Kami Paul
Guitars and Ukelele: Danish Khawaja
Bass: Karl Peters
Blues Harp: Kalyan Baruah
Violin: Suresh Lalwani
Music Programming: Chris Masand
Recorded @ Kailasa Studio and Audio Garage Studio
Recording engineers: Niraj, Ameya Londhe, Amrut Mahajan
Mixed by Amrut Mahajan
Mastered by: Tanay Gajjar at Wow&flutteR. Mumbai
Assisted by Rupak Thakur
"Ghar Nari " Song- Ho Mann Jahaan
Composition: Hazrat Amir Khusrau
Lyrics: Hazrat Amir Khusrau
Performed by Abu Muhammed & Farid Ayaz
Keyboards: Rabi Ashraf
Guitars: Azhar Hussain
Produced, Arranged and Mixed By Ehtasham Mallick @ ET Studios
Mastered by: Tanay Gajjar at Wow&flutteR. Mumbai
Assisted by Rupak Thakur
"Khush Piya Waseen" Song- Ho Mann Jahaan
music arranged and produced by Faakhir at Blue notes studio.
Performed By: Tina Sani
Keyboards: Faakhir.
Harmonium: Rabbi
Guitars: Azhar Hussain.
Tabla Dholak & Programming: Naqvi.
Recorded at Blue notes studio.
Mixed by Joseph George at Wah Wah studios Mumbai.
Mastered by: Tanay Gajjar at Wow&flutteR. Mumbai
Assisted by Rupak Thakur
"Dosti" Song – Ho Mann Jahaan
Music Director: Zebunnisa Bangash
Composition: Zoheb Hassan
Lyrics: Zoheb Hassan
Performed by: Zoheb Hassan, Zebunnisa Bangash
Backup Vocals: Jimmy Khan, Omar Farooq
Music Programming: Abhijit Nalani
Guitars: Ankur Mukherjee
Additional Keyboards: Daniel B. George
Recorded @ Studioskull and Studio 'O'
Recording engineers: Amit Minj, Omar Farooq
Mixed: Amrut Mahajan
Mastered by: Tanay Gajjar at Wow&flutteR. Mumbai
Assisted by Rupak Thakur
Composition and Lyrics: Jimmy Khan
Performed By: Jimmy Khan
Producer: Zain Ahsan
Recorded and mixed at: Digital Fidelity Studios, Lahore by Mekaal Hasan
Mastered by: Tanay Gajjar at Wow&flutteR. Mumbai
Assisted by Rupak Thakur
"Dil Pagla" Song – Ho Mann Jahaan
Music Director: Zebunnisa Bangash
Arranger: Ankur Mukherjee
Composition: Zebunnisa Bangash
Lyrics: Asim Raza
Performed By: Zebunnisa Bangash
Dobro and Guitars: Ankur Mukherjee
Drums: Kami Paul
Percussion: Anupam Ghatak
Bass: Karl Peters
Blues Harp: Sridhar
Music Programming: Ankur Mukherjee
Recorded @ Kailasa Studio and Audio Garage Studio
Recording Engineers: Niraj, Ameya Londhe and Amrut Mahajan
Mixed by: Amrut Mahajan
Mastered by: Tanay Gajjar at Wow&flutteR. Mumbai
Assisted by Rupak Thakur
"Dil Kare" Song – Ho Mann Jahaan
Composition by Atif Aslam / Sarmad Ghafoor / Asad ul hafeez / Sameer Ahmed / Gumby
Lyrics by Asim Raza
Performed by: Atif Aslam
Drums: Gumby
Bass: Sameer Ahmed
Guitars: Sarmad Ghafoor & Asad ul hafeez
Recorded at LJP Studios
Mixed by: Damon Whittmore @ Valve Tone Studios NY
Mastered by: Tanay Gajjar at Wow&flutteR. Mumbai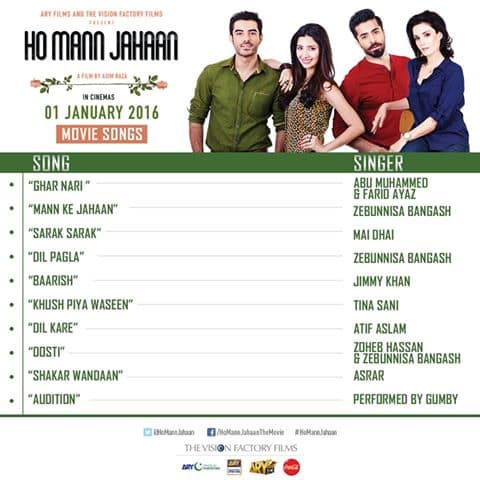 Rashid Nazir Ali
---