This Eid wasn't like any other Pakistanis or even Muslims the world over have celebrated before. Because of the pandemic COVID 19 and the PIA flight crash, Pakistan was especially in mourning. In such a situation there was no way of being sure if Pakistan celebrities will be celebrating Eid or not. Most of the Pakistani celebrities opted to celebrate Eid because it is a religious festival but they did so with a heavy heart. The majority of these celebrities celebrated Eid with their families.
Here is how top Pakistani celebrities celebrated Eid this year.
Ayeza Khan and Danish Taimoor
Ayeza Khan is one of those celebrities who believe in celebrating every single event. Every year, the fans actually look forward to Ayeza Khan and Danish Taimoor's family pictures. Their Eid looks and pictures are always the best.
This year, Ayeza Khan did share beautiful pictures with her family but at the same time she shared that she could never have imagined that they would ever celebrate Eid in such a manner. In an Eid show last year, Danish Taimoor and Ayeza Khan had shared just how happening their Eid has been ever since they got married. This time around, they were limited to their house and meeting close family because of COVID 19 restrictions.
Ayeza Khan also mentioned in her Instagram post that children expect normalcy therefore they probably had to go ahead with some degree of Eid celebrations to keep their children's spirits high.
Aiman Khan and Muneeb Butt
This was Aiman Khan and Muneeb Butt's daughter Amal Muneeb's first Eid therefore this was a special one for them in this regard as well. Aiman Khan was also deeply saddened by the loss of her model friend Zara Abid, she shared her feelings on her Instagram page. Muneeb Butt too shared his shock on sadness.
Aiman Khan and Muneeb Butt also spent Eid with their families like most celebrities. While Aiman Khan posted only one picture with Muneeb and Aimal. Muneeb Butt Posted a few pictures individually with his brother and father as well. Muneeb Butt also mentioned that this was their daughter's first Eid. Muneeb Butt posted a casual picture in a T-shirt with Aiman Khan on Eid day 2.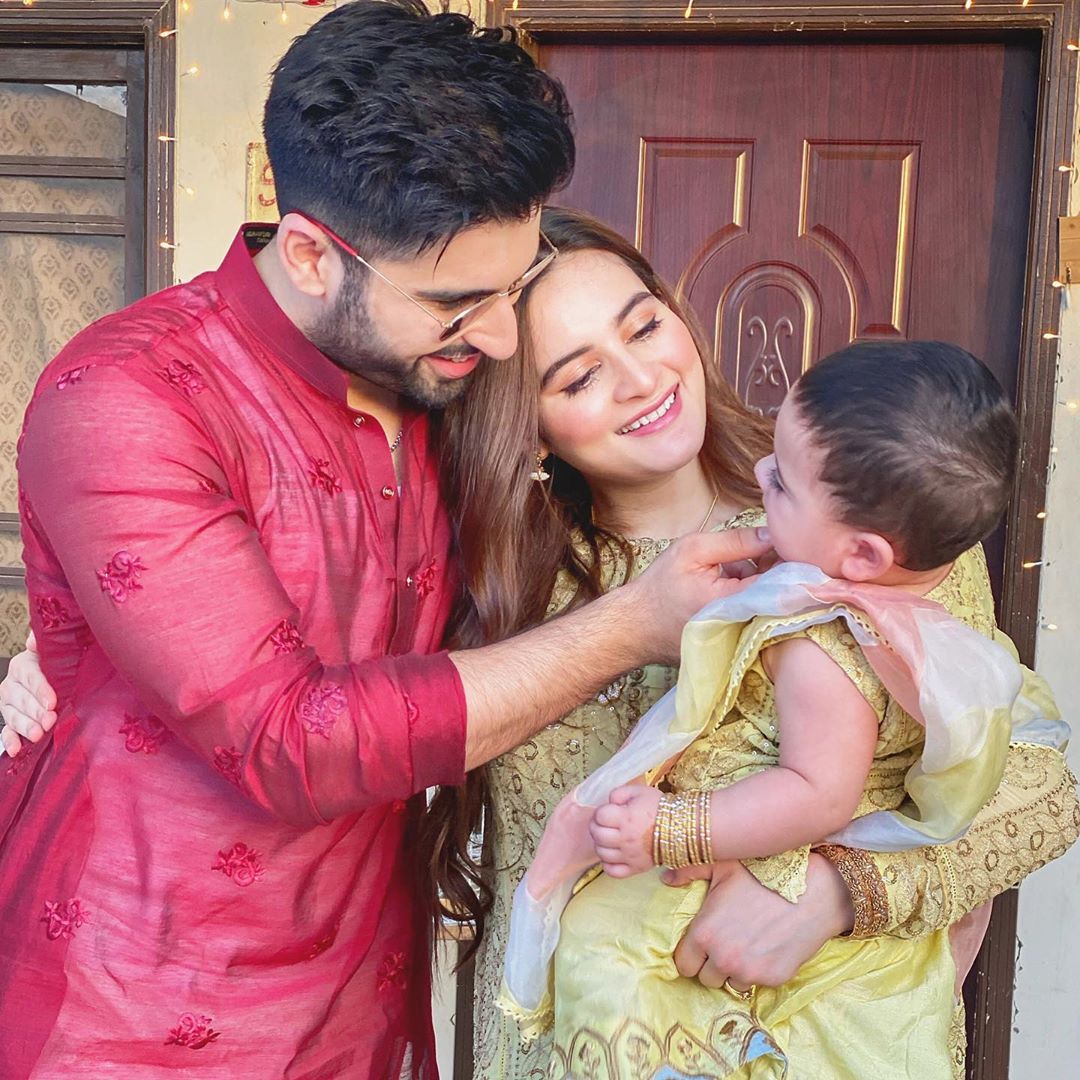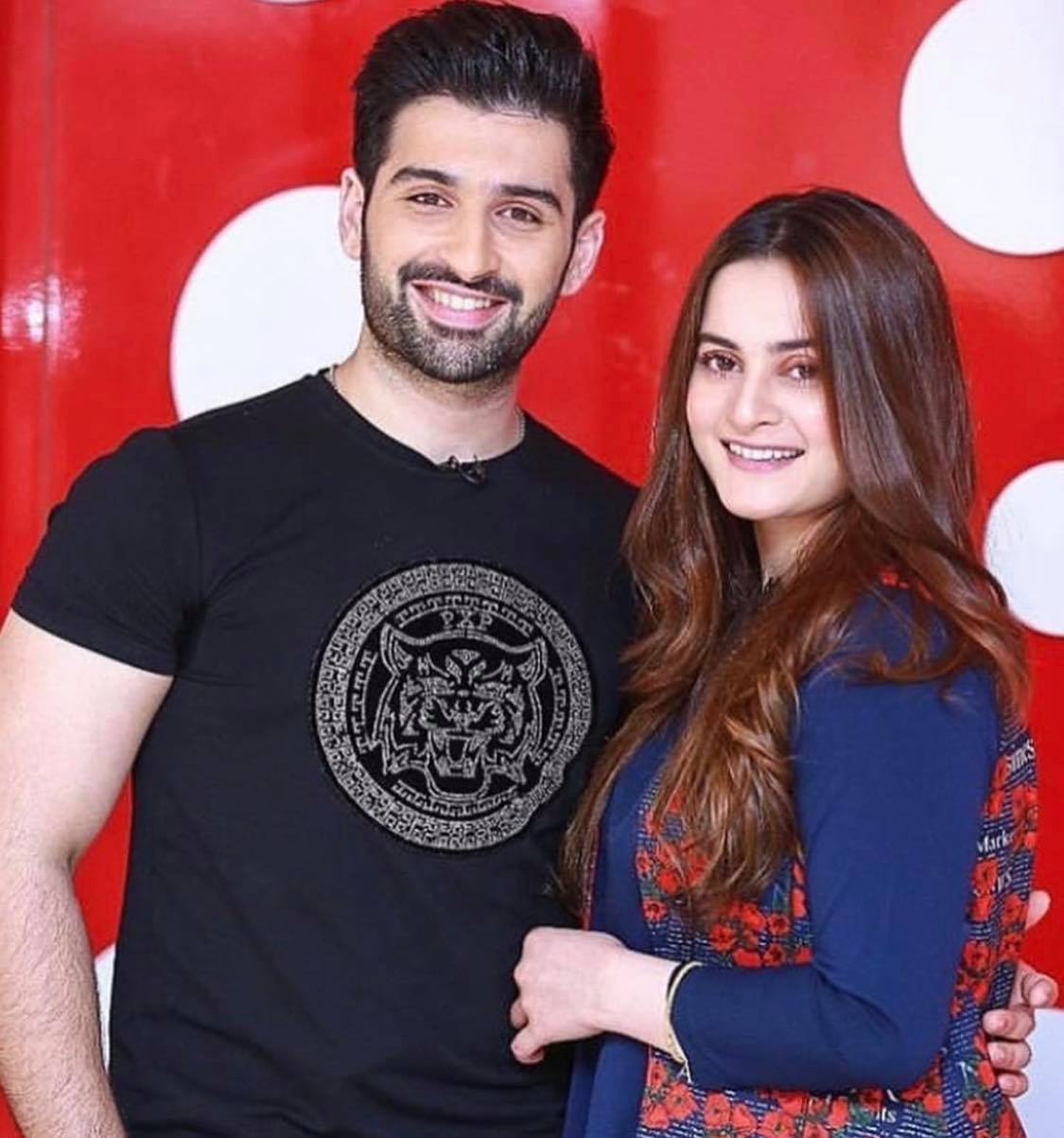 Minal Khan
Minal Khan was also really saddened by the demise of Zara Abid and the unfortunate plane crash in which so many precious lives were lost. When she posted a picture with Aiman and Amal on Eid day 1, she shared how blessed she felt knowing that she had people who she loved around her.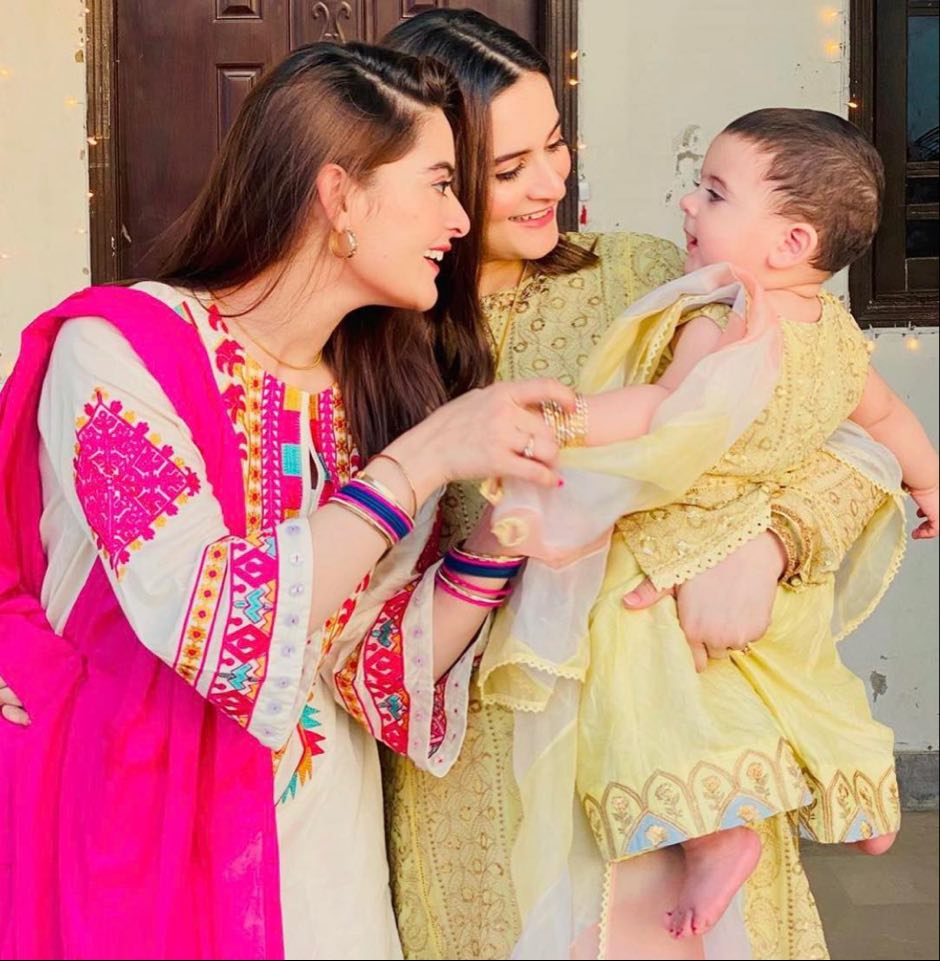 Minal Khan also posted pictures with her close friends from showbiz on the second day of Eid, she had a fun time with her friends.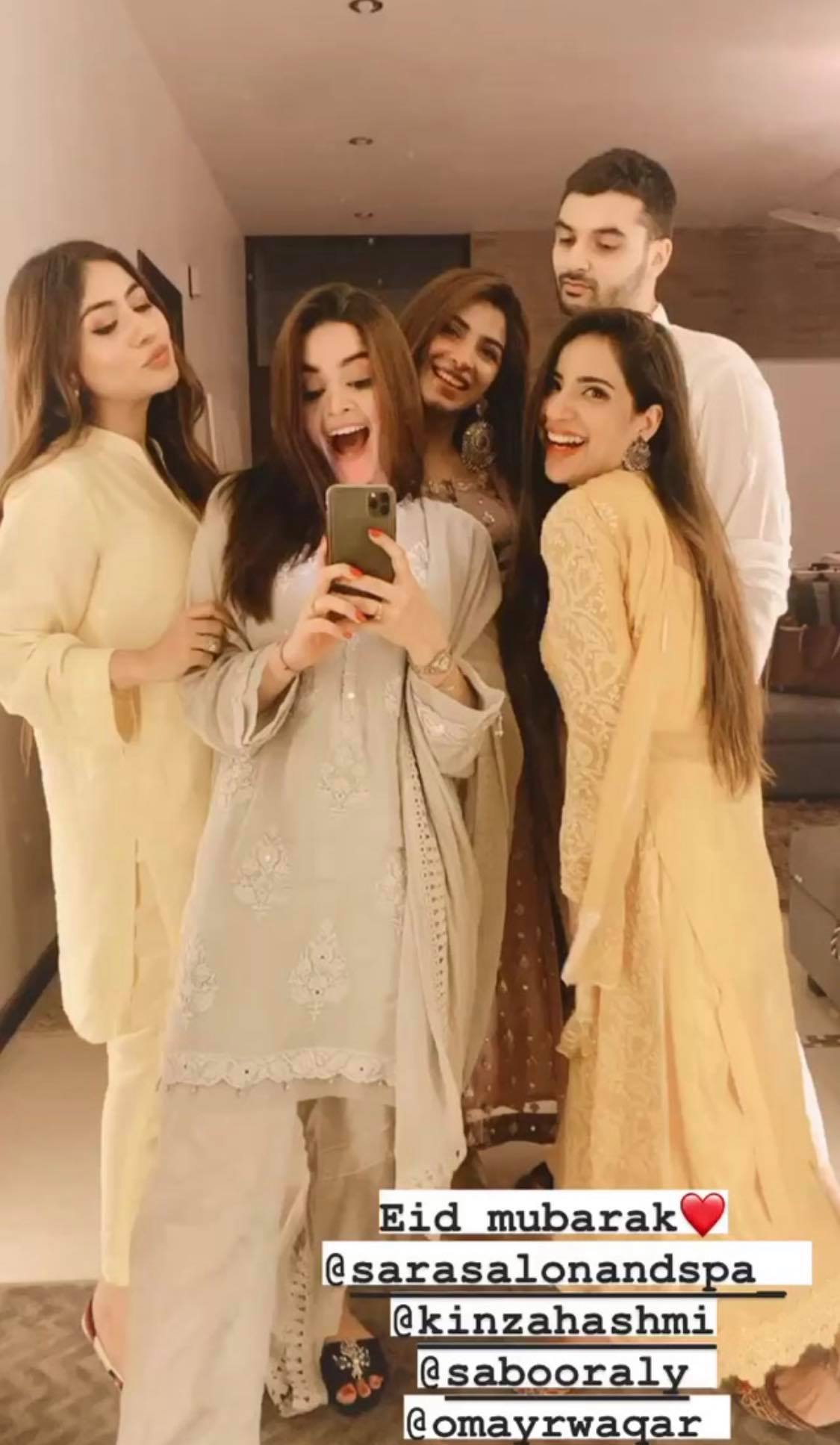 Maya Ali
Maya Ali was also devastated by the plane crash but she decided to go ahead with minimal celebrations. Maya Ali posted her picture on Eid day with the caption that this Eid was different. It is easy to guess why she would say something like that.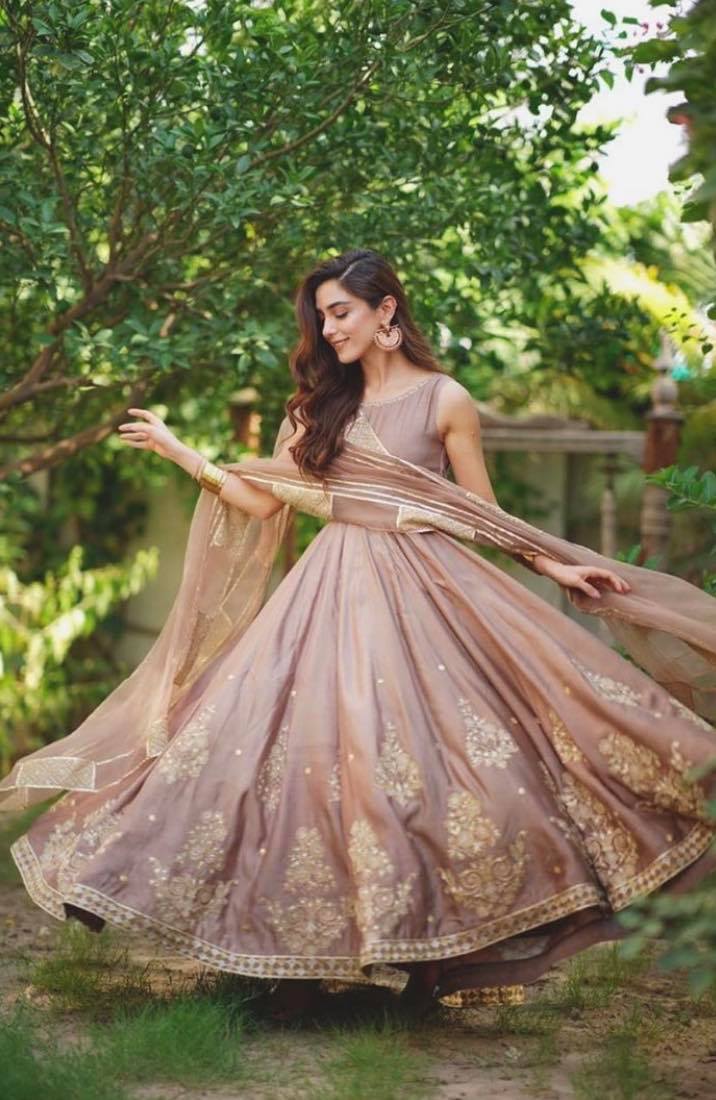 Hira Mani
Hira Mani is one of those few celebrities this year who did not post any Eid picture and did not even wish her fans Eid Mubarak. She posted an awareness message on her Instagram page. Hira Mani usually keeps her Eid festivities simple otherwise too but this time around it seems she decided not to celebrate Eid because of the present circumstances.
Hira Mani and her husband shared that they had traveled on the same flight only a day before which crashed the next day. Surely, this would have been a big reason for the kind of effect this entire tragedy had on them.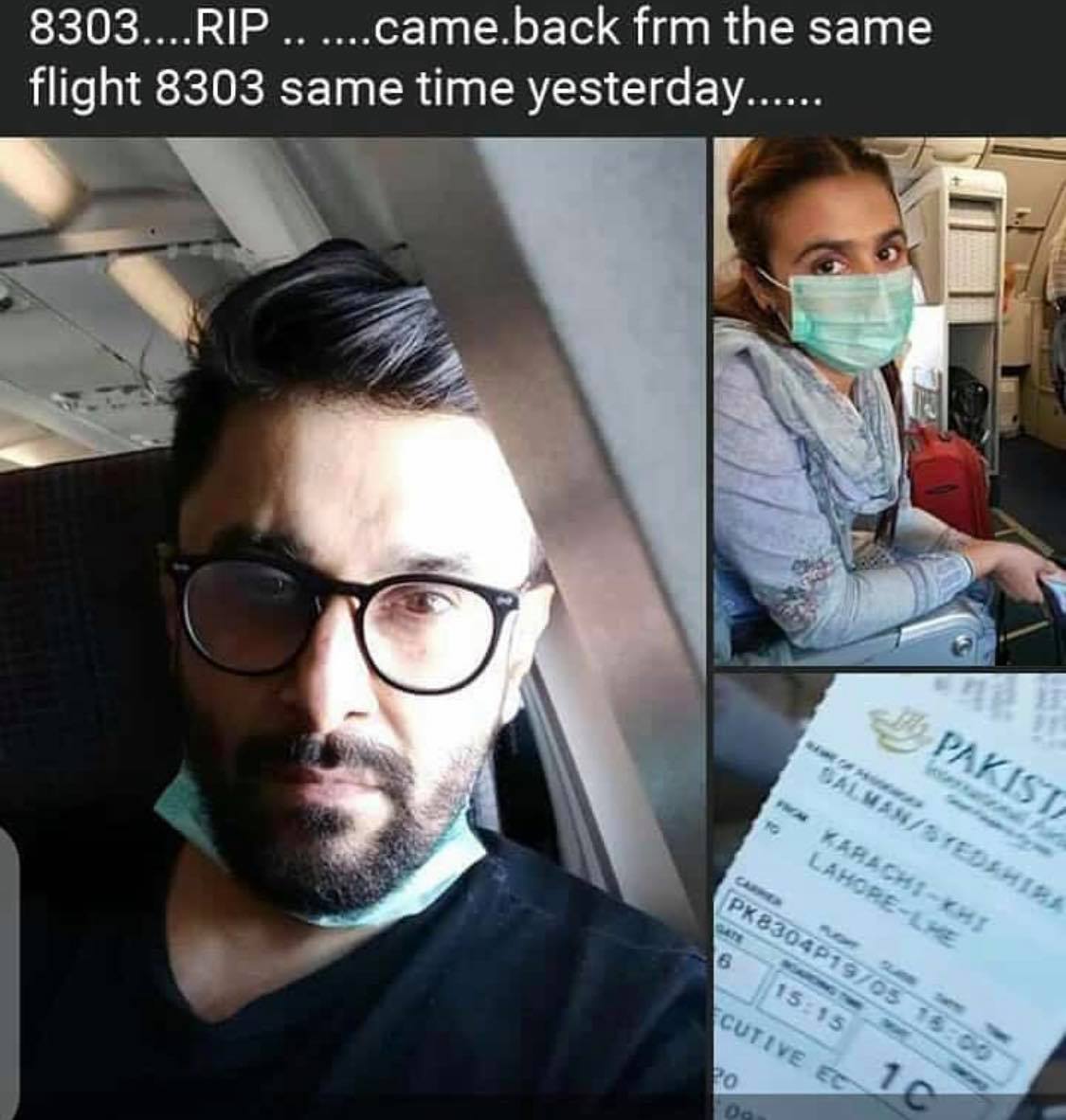 Sana Javed
Sana Javed actively participated in Ramazan special shows on ARY but after the tragic crash, she only posted condolence messages. On Eid day as well, she shared a special message in which she hoped that things would get better for everyone after Eid along with simple Eid greetings. Sana Javed clearly decided not to celebrate Eid because of the present situation.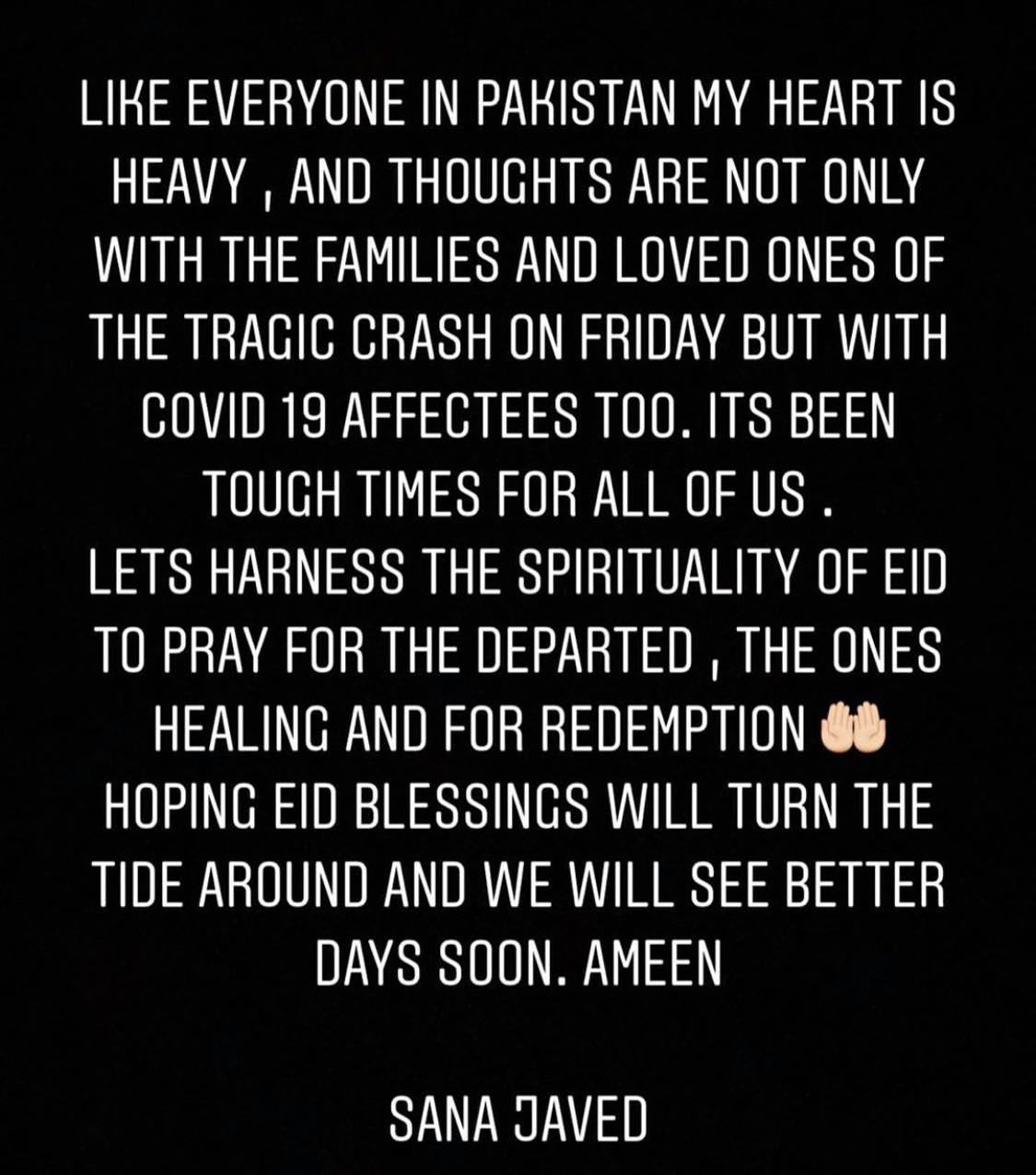 Faysal Qureshi
Faysal Qureshi celebrated Eid with his family. This was his son's first Eid therefore for this family Eid had special significance. Faysal Qureshi did not post any Eid pictures himself, his wife posted the pictures on her Instagram page.
Fahad Mustafa
For Fahad Mustafa Eid was all about spending time with his children. He enjoyed spending quality time with his family after a hectic Ramazan schedule.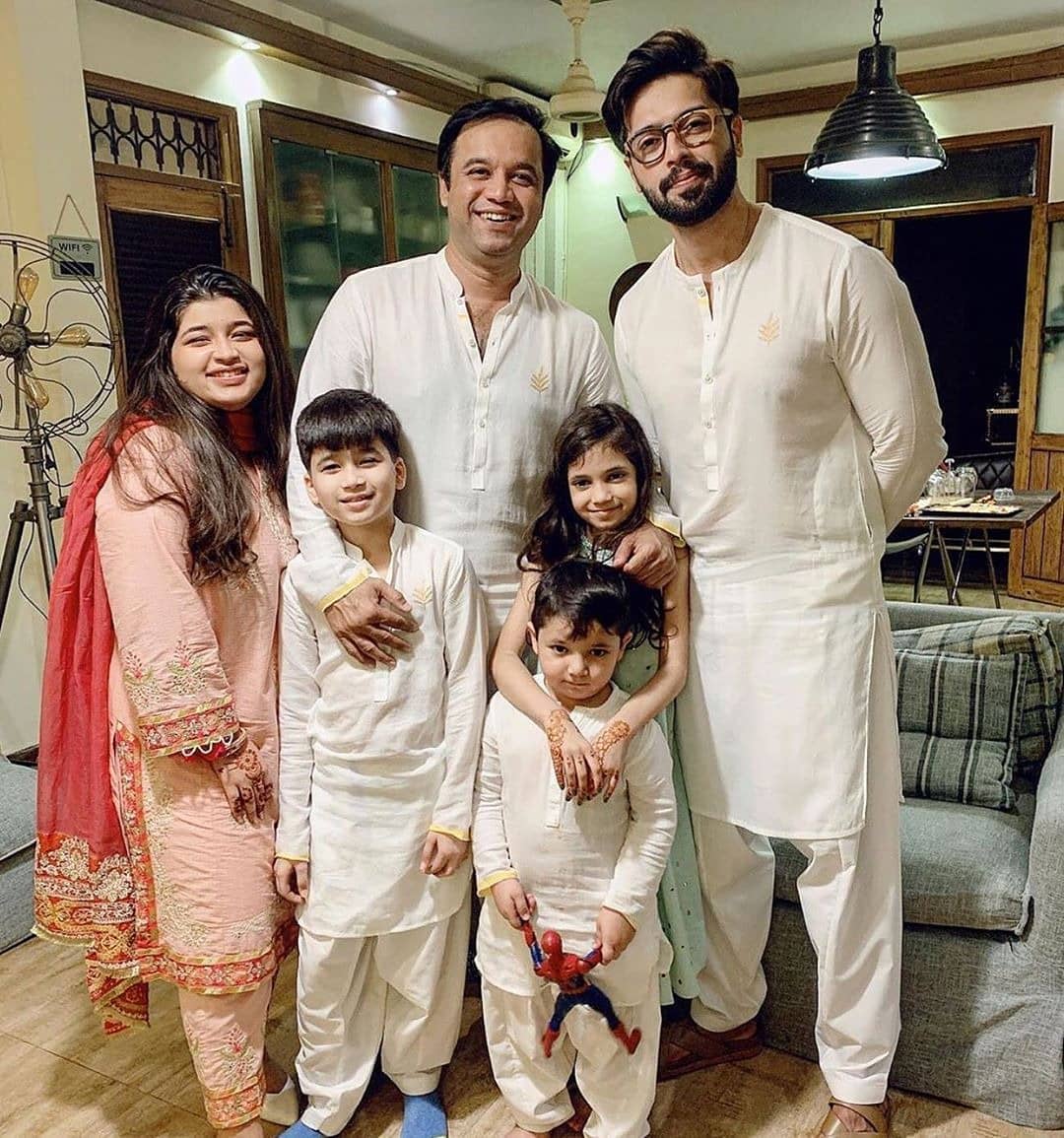 Saba Qamar
Saba Qamar like all the other celebrities was deeply saddened by the plane crash. She shared her feelings on social media. On Eid day it seems she spent her day lazing around! Probably the kind of day, most people can relate to!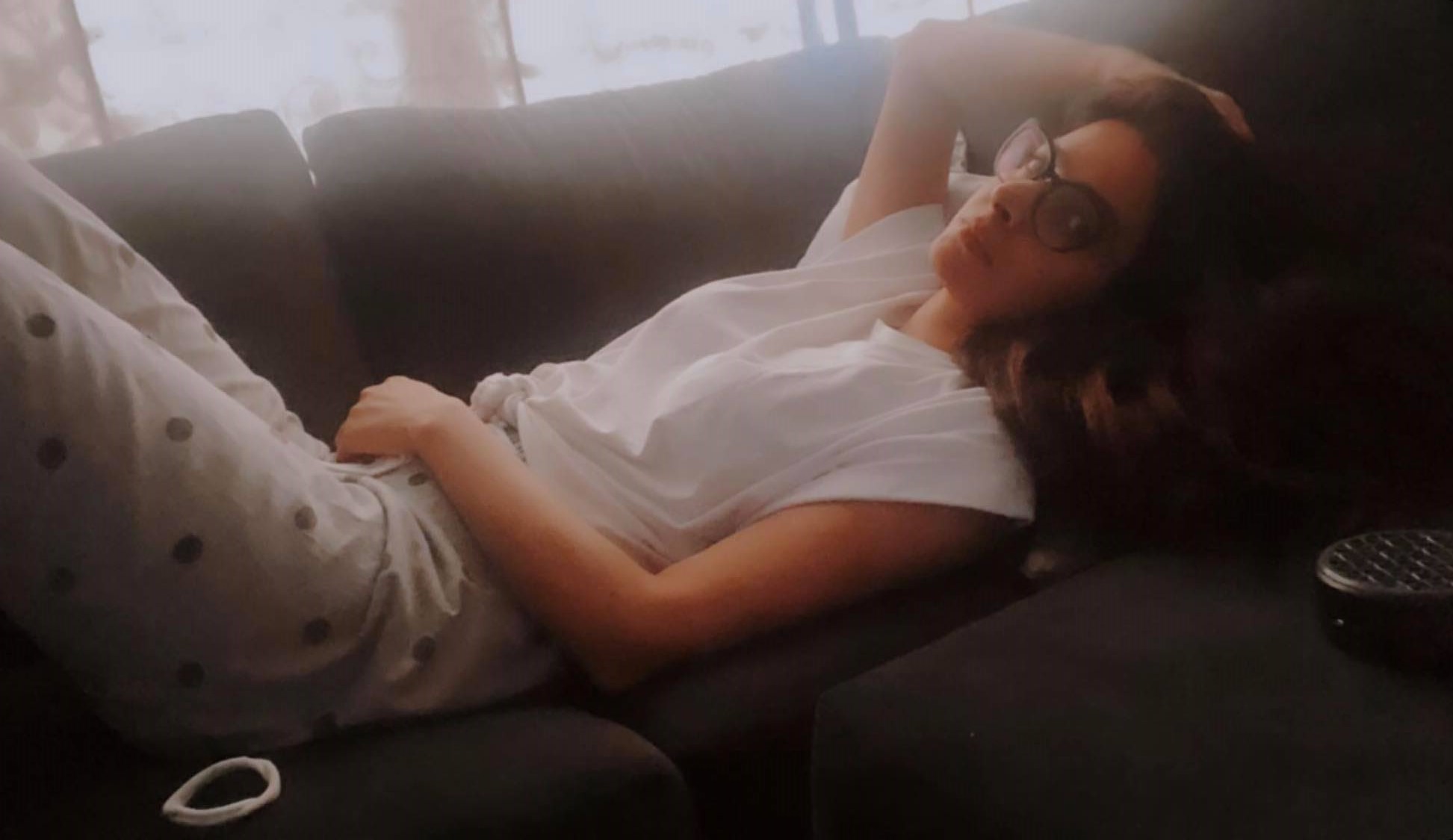 Mahira Khan
Mahira Khan did something special for her fans this Eid. She decided to reuse an old outfit for wearing on Eid day. She also had a special give away for her fans.
Sajal Ali and Ahad Raza Mir
Sajal Ali and Ahad Raza Mir are the most popular Pakistani celebrity couple. This was their first Eid soon after they got married. Unlike the other celebrity couples whose Eids were special for some reason or the other therefore they celebrated it. Sajal Aly and Ahad Raza Mir did not even wish their fans and followers. It seems like they are of the opinion that there is no reason to celebrate right now or perhaps they do not want to share the pictures.
Kinza Hashmi and Saboor Ali
Kinza Hashmi did not post any Eid pictures on her page but the pictures Minal Khan shared showed that these friends decided to get together on the second day of Eid. This looked like a fun get together in which all of them had a great time.

Nida Yasir and Yasir Nawaz
Nida Yasir and Yasir Nawaz spent Eid in quarantine since they were tested positive for Corona along with their daughter Sila. While they were all quarantined together, they decided to get dressed up and post some pictures. There was also one picture which showed their sons sitting outside while rest of them posed on the balcony. Even though the family has been tested positive, they are still in high spirits.
Farhan Saeed and Urwa Hocane
Urwa Hocane shared a beautiful picture with her husband Farhan Saeed with a meaningful caption. She shared her feelings about this year has not been the most favorable. She also urged people to remember all those people on this special day who had lost their lives in the pandemic and also in the tragic plane crash. She also showed her gratitude for health and for her family.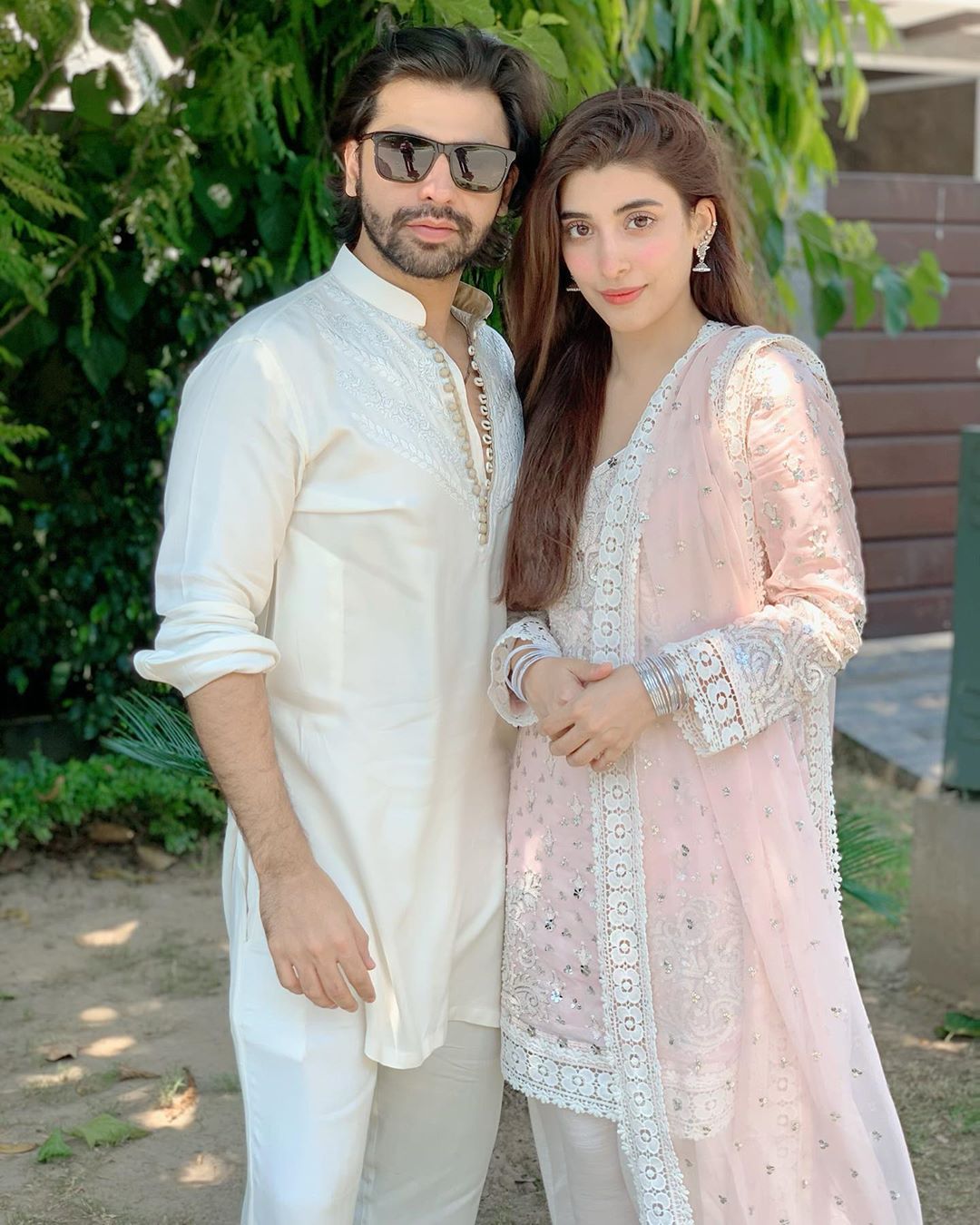 Agha Ali and Hina Altaf
Agha Ali and Hina Altaf got married a few days back, they kept their marriage ceremonies simple due to the present situation. Agha Ali and Hina Altaf also kept their relationship secret. Even though this was their first Eid after marriage, they decided not to post pictures on social media. Agha Ali and Hina Altaf did not even wish their fans on social media perhaps because of the present situation. There was however a picture on social media showing their looks on Eid day.
Fahad Mirza and Sarwat Gillani
Like many other celebrities in this list, Fahad Mirza and Sarwat Gillani also kept their Eid day simple. They spent the day with close family members. Fahad Mirza also shared a special day talking about the reality of death and also the fact that sometimes tragic times let us give thanks for all the blessings in our lives.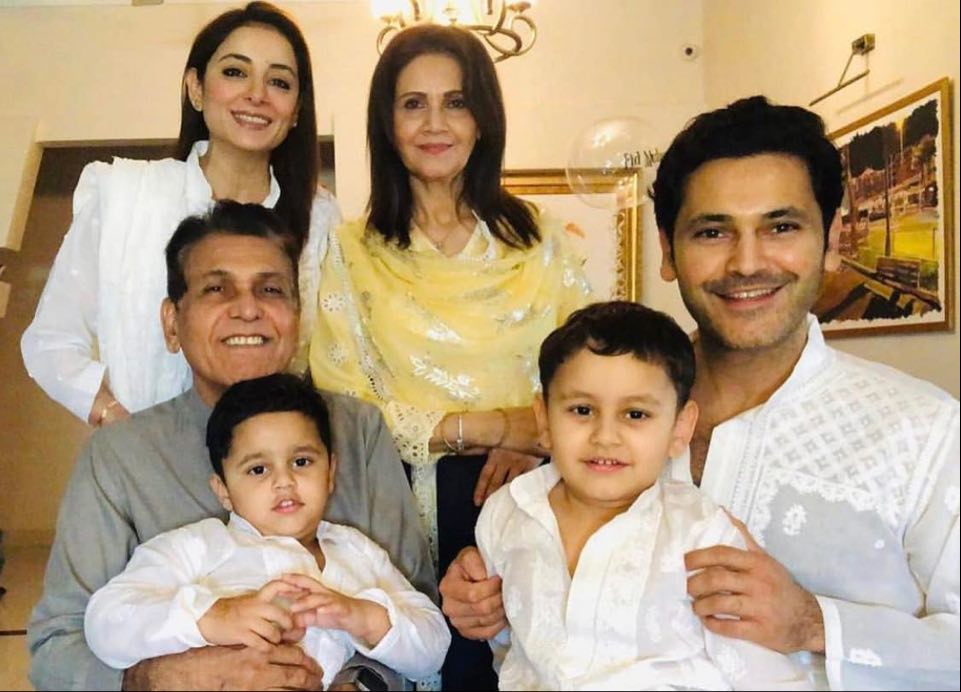 There are a lot of Pakistani celebrities who chose not to post pictures on Eid and only shared their thoughts on Eid along with an Eid greeting for their fans.