HUM TV has started a new channel exclusively for the audience in Eurpoe. A sizable Pakistani community exists in Eurpoe, especially UK and Norway, and the new channel is launched to provide them quality entertainment.
The name of this channel is HUM Europe, with started its transmission on 10th March 2014. HUM Europe can be viewed through British Sky Broadcasting i.e. B Sky B.
Speaking on the occasion, Sultana Siddiqi,president of HUM Network said "Purpose of new channel is to provide premier and quality entertainment to the sizable number of South Asian viewership in European countries", adding further she told "HUM is a popular name in international viewers like in pakistan, considering this point we are confident about success of Hum Europe". She is hopeful that soon Hum will be mostly viewed Urdu channel in the world.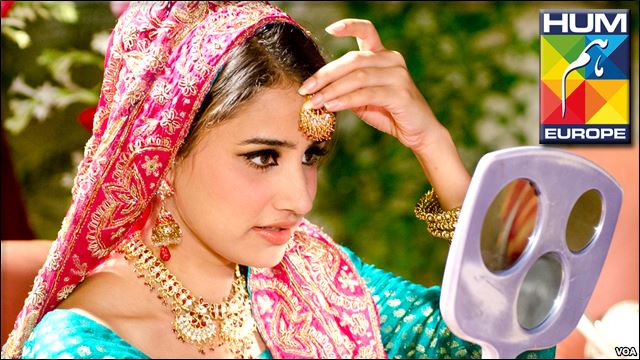 Full content from Voice of America Urdu
کراچی ۔۔۔ پاکستانی ڈراموں کے حوالے سے مشہور نجی ٹی وی نیٹ ورک'ہم' کی فیملی میں ایک اور نئے 'ممبر' کا اضافہ ہوگیا ہے۔ اس ممبر کا نام ہے 'ہم یورپ'۔ یہ چینل تین روز پہلے ہی برطانیہ سے شروع ہوا ہے۔
نیٹ ورک کی صدر سلطانہ صدیقی کا کہنا ہے کہ 'نئے چینل کا مقصد یورپ میں مقیم جنوبی ایشیائی عوام کو اعلیٰ اور معیاری تفریح فراہم کرنا ہے۔ یورپ میں جنوبی ایشیائی چینلز کے ناظرین کی بہت بڑی تعداد موجود ہے۔'
ان کا یہ بھی کہنا تھا کہ 'ہم' بین الاقوامی ناظرین میں بھی اتنا ہی مقبول ہے جتنا پاکستان میں۔ اس نکتے کو مدنظر رکھتے ہوئے، ہمیں 'ہم یورپ' کی کامیابی کا پورا یقین ہے۔'
انہوں نے اس اْمید کا بھی اظہار کیا کہ بہت جلد 'ہم' دنیا بھر میں موجود تمام اردو بولنے اور سمجھنے والوں میں سب سے مقبول چینل ہوگا۔
نیٹ ورک کی جانب سے 'وائس آف امریکہ' کو جاری تفصیلات کے مطابق'ہم یورپ' کو 'برٹش اسکائی براڈ کاسٹنگ' (بی اسکائی بی ) کے ذریعے دیکھا جا سکتا ہے۔
'ہم'
ادارے کے پبلک ریلیشنز ڈپارٹمنٹ کے عہدیدار منہاس صغیر نے وی او اے کو بتایا 'نیٹ ورک کے سب سے پہلے چینل 'ہم' نے بہت کم وقت میں ہر جگہ اپنی منفرد پہچان بنائی ہے۔
پاکستانی خواتین کی بہت بڑی تعداد میں اس سے پیش ہونے والے پروگرامز خاص کر ڈرامہ سیریلز پسند کئے جاتے ہیں۔ اسی مقبولیت کے سبب دنیا کے کئی دیگر چینلز ان ڈراموں کو اپنی اپنی زبانوں میں ترجمہ کرکے ٹیلی کاسٹ کرتے ہیں۔
'ہم ورلڈ'
'ہم' نے اپنی پہلی بین الاقوامی نشریات شمالی امریکہ کے لئے وقف چینل 'ہم ورلڈ' کے ذریعے متعارف کرائی تھی، جبکہ مشرقی وسطیٰ اور شمالی افریقہ کے ناظرین کے لئے 'ہم مینا' کے نام سے بھی نشریات شروع کی ہوئی ہیں۔
'مصالحہ ' ۔۔۔ پہلا کوکنگ چینل
نیٹ ورک نے کھانا پکانے میں دلچسپی رکھنے والے ناظرین کی پسند کو بھی اہمیت دی اور جنوبی ایشیاء کا پہلا 24گھنٹے چلنے والا کوکنگ چینل 'مصالحہ' متعارف کرایا۔ 'مصالحہ' اپنی نوعیت کا پہلا چینل ہے جسے اس وقت بھی دیگر کوکنگ چینلوں پربرتری حاصل ہے۔
'ہم ستاری'
ہم نیٹ ورک نے پاکستان کی فیشن صنعت کو معاونت فراہم کرنے کی غرض سے اسٹائل360 برانڈ کو متعارف کرایا جو پاکستان کی بڑی فیشن تقریبات بشمول 'برائیڈل کیٹیور ویک' کا منتظم ہے۔ نیٹ ورک نے حال ہی میں 'ہم ستارے' کے نام سے ایک نیا چینل بھی متعارف کرایا ہے جس پر 'سٹ کام' فیشن شوز اور گیم شوز نشر کئے جاتے ہیں۔
Source: http://www.urduvoa.com/content/introducing-hum-europe/1870558.html
Rashid Nazir Ali