Imran Ashraf is one actor who rose to the ranks due to his hard work and genuineness. He has performed many brilliant roles and his role as Bhola will be remembered for years to come. He also inspired Zahid Ahmed, another versatile actor to take up more challenging roles and he is now in playing the character of a person with a split personality in Ishq Zah e Naseeb.
YouTuber Shahveer Jafry, however, was not probably watching all these dramas and went on to say that Pakistani dramas are all about Saas Bahus:
Pakistani's dramas are good but they all revolve around SAAS BAHU. I think I'm going to have to think of a creative a new unconventional web-series in Pakistan and change the entire TV DRAMA industry.

— Shahveer Jafry (@shahveerjaay) June 25, 2019
Imran Ashraf did not really like the statement and went on to reply to it in a witty manner:

To this Shahveer said that Ranjha Ranjha Kardi was an exception:

Imran Ashraf then went on to say that Shahveer is undermining a lot of work: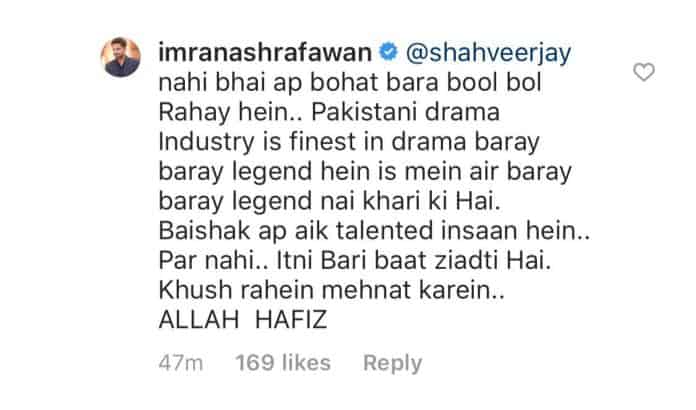 Well, Pakistani dramas are loved all over the world due to their diversity. Let's see what Shahveer has as an alternative in his kind!