Saba Qamar is a leading performer, acted in many memorable roles like Maat, Paani Jaisa Pyar, Daastaan, Thakkan, Mein Chaand Si. She has also received PTV award for best actor (female). Here is her interview from magazine Gourmet Khawateen, done by Mubeena Malik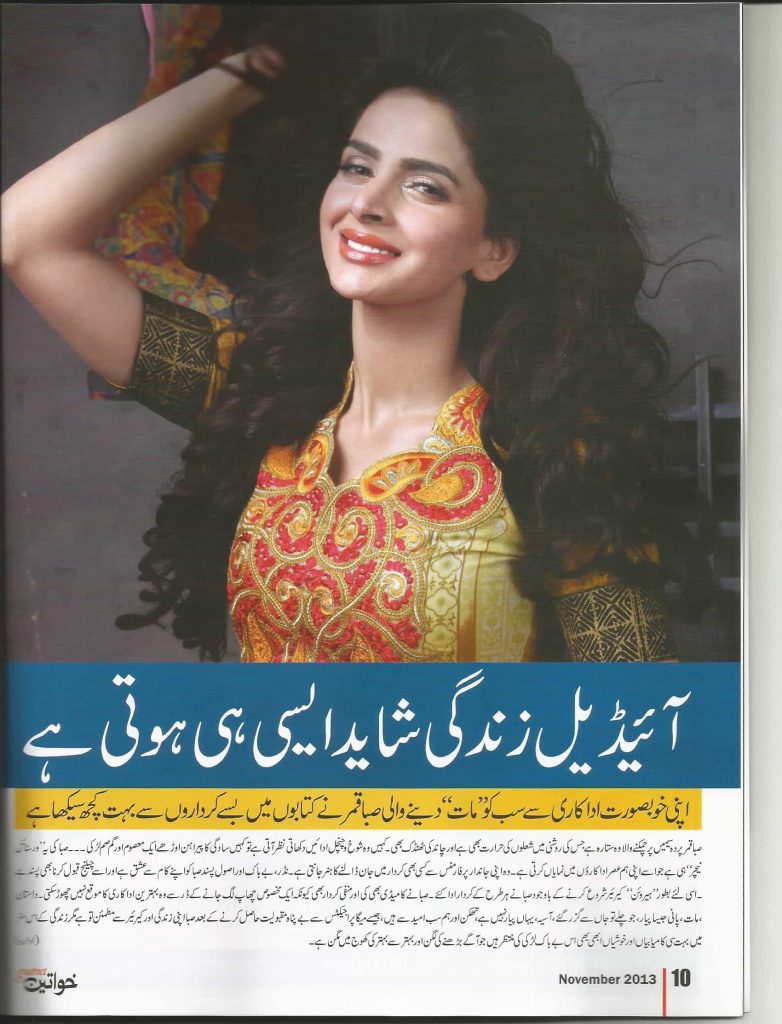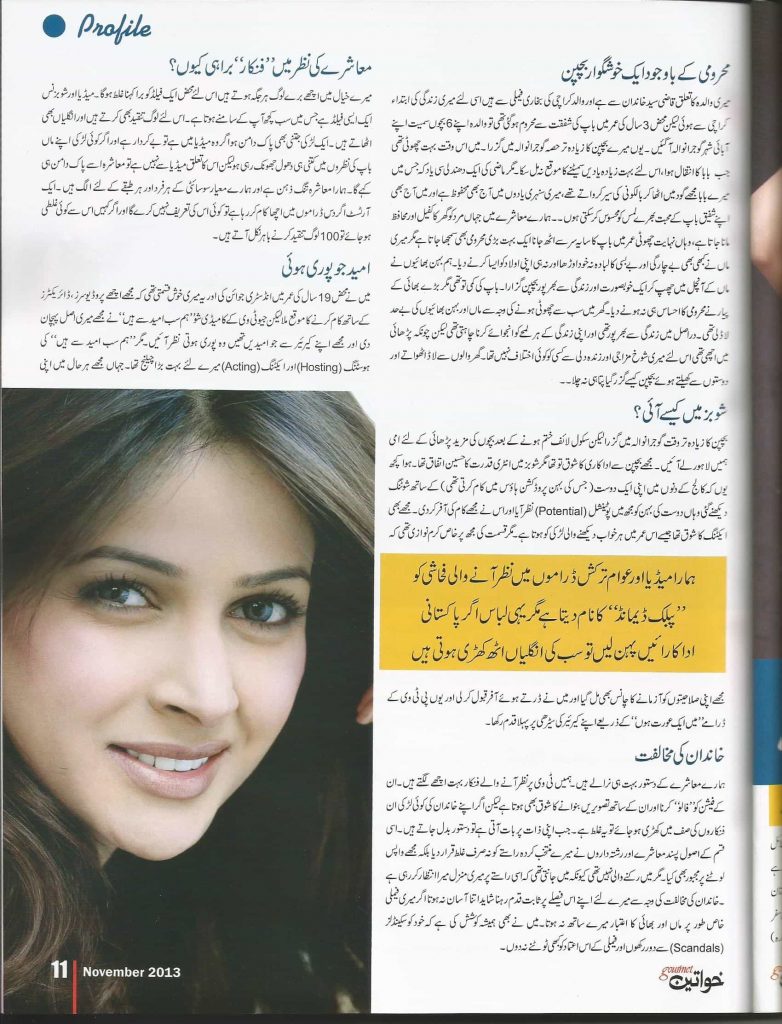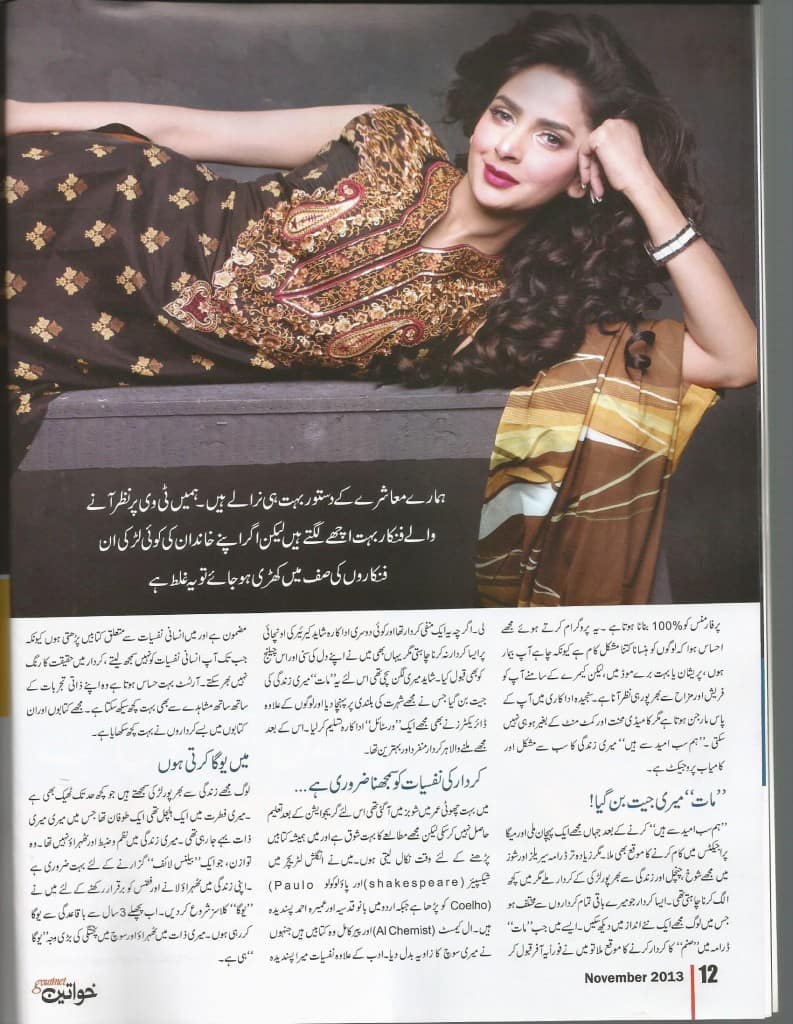 Here is the roman Urdu version of this interview
Ideal zindagi shayed aisay hee hoti hai
Apni khoobsoorat ada-kaari say sab ko maat denay waali saba qamar nay kitaboN mein bassay kirdaron sey bohat kucch seekha hai
Saba qamar parda-e-seemenN per chamaknay waala who sitara hai jis-ki roshni mein shoalon kee hararat hai aur chaand ki thandak bhi. Kahin who shaukh-o-chanchal adayeN dikhati nazar aati hain to kahin saadgi ka perahan aurhay aik masoom aur gum-sum larki. saba ki yeh versatile nature hi hai jo ussay apni hum-asar adakaraoN mein numayaN kartee hai. who apni jaandaar performance say kissi bhi kirdaar mein jaan daalnay ka hunar jaan-ti hai. nidar, bebaak aur asool pasand saba ko apnay kaam sey ishq hai aur ussay challenge qabool karna bhi pasand hai. isi liye bator heroine career shru karnay kaay baw-jood saba nay har tarah kay kirdaar kiye hain. saba nay comedy bhi ki aur manfi kirdar bhi kiya kyon-kay aik makhsoos chhaap lag jaanay kay dar say wo behtreen ada-kaari ka mauqa nahin chhor saktee . dastaan, maat, paani jaisa pyaar, jo chalay to jaan say guzar gaye, aasiya, yahan pyar nahin hai, thakkan, hum sab umeed say hain jesay mega projects say bey-panah maqbooliyat haasil karnay kaay baad saba apni zindagi aur career say mutma-in to hain magar zindagi kay is safar mein bohat see kamiyabiyan aur khushiyan abhi bhi is bey-baak larki kee muntazir hai jo aagay barhnay kee lagan mein behtar sey behtar kee khhoj mein magan hai (idara)
Mehroomi key baw-jood aik khush-gawar bachpan
Meri walida kaa taaluq qazi syed khandan sey hai aur waalid Karachi kee bukhari family sey hain, isi liye meri zindagi kee ibtida Karachi say hui lekin mehaz teen (3) saal kee umar mein baap kee shafqat say mehroom ho gayee thhee to walida apnay 6 bachon samait apnay abayee shehar Gujranwala aa gayen. Yoon meray bachpan ka zyada tar hissa Gujranwala mein guzra. Mein us waqt bohat chhoti thee jab baba ka intiqal huwa, is liye bohat zyada yaadein samaitnaay ka mauqa naa mil saka. Magar maazi kee dhundhlee see yaad kay jis mein meray baba mujhey gaud mein utha kar balkoni kee sair karwatay thhay, meri sunehri yaadon mein aaj bhi mehfooz hai aur mein aaj bhi apnay shafeeq baap kay mohabbat bharay lamas ko mehsoos kar sakti hoon. Hamary muashray mein jahan mard ko ghar ka kafeel aur muhafiz samjha jaata hai wahan nihayat chhoti umar mein baap ka saaya sar sey utth jaana aik bohat bari mehroomi bhi samjha jaata hai magar meri maan nay kabhi bhi bey-chargee aur bey-basi ka libada na aurha aur na hi apni aulad ko aisa karnay diya. Hum behan bhaiyon nay maan kay aanchal mein chhup kar aik khoobsorat aur zindagi say bharpoor bachpan guzara. Baap kee kami to thee magar baray bhai kaay pyar nay mehroomi kaa ehsaas hee na honay diya. Ghar mein sab say chhoti honay kee wajay sey maan aur behan bhaiyon kee laadli thee. Dar-asal mein zindagi say bhar-pur thhee aur apni zindagi kay har lamhay ko enjoy karna chah-tee thee lekin chaun-kay parhai mein acchi thhee is-liye meri shaukh mizaji aur zinda-dili say kissi ko koi ikhtilaaf nahin thha. Ghar say laad uth-waatay aur dostaun say kheltay huway bachpan kesay guzar gaya pata hee na chala
Showbiz mein kesay aayee?
Bachpan kaa zyada tar waqt gujranwala mein guzra lekin school life khatam honay kaay baad bachon kee mazeed parhai kaay liye ammi hamain Lahore lay aayen. Mujhay bachpan say ada-kaari ka shauq to thha magar showbiz mein entry qudrat ka haseen ittefaq thhaa. Huwa kucch yoon kay college kay dinon mein main apni aik dost (jis ki behan production house mein kaam karti thhee) kaay saath shooting daikhnay gayee wahan dost kee behan ko mujh mein potential nazar aaya aur uss nay mujhey kaam kee offer kar di. Mujhey bhi acting ka shauq thha jesay uss umar mein har khawab daikhnay waali har larki ko hota hai. Magar mujh per qismat kee khaas karam-nawazi thee kay mujhey apni salahi-taun ko aazmaanay ka chance bhi mil gaya aur mein nay dartay huway offer qabool kar lee aur yoon ptv kay dramay 'mein aik aurat hoon' kay zariyay apnay career kee seerhi per pehla qadam rakkha.
Khandan ki mukhalfat
Hamray muashray kay dastoor bohat hi niralay hai. Hamain tv per nazar aanay walay fun-kaar bohat acchay lagtaay hain. In kay faishon ko follow karna aur un kay saath tasweerain ban-wanay ka shauq bhi hota hai lekin agar apnay khandaan kee koi larki in fun-karoon kee saf mein khhari ho jaye to yeh ghalat hai. Jab apni zaat per baat aati hai to dastoor badal jaatay hain. Issi qisam kay asool pasand muasharay aur rishtey-daaron nay meray muntakhib karda raastay ko naa sirf ghalat qarar diya balkay mujhey wapis lotnay per majboor bhi kiyaa. Magar mein ruknay waali nahin thee kyon-kay mein jaan-ti thee kaay issi raastay per meri manzil mera intezaar kar rahi hai. Khandaan ki mukhalfat ki wajah se meray liye apnay iss faislay per saabit qadam rehna itnaa aasaan naa hota agar meri family khaas taur per maan aur bhaai ka aitbaar meray saath naa hota. Mein nay bhi hamesha koshish kee hai kaay khud ko scandals say door rakkhon or family kaay aitmaad ko kabhi tootnay naa doon
Muashray ki nazar mein fun-kaar bura hi kyon?
Meray khayal mein acchay burray log har jaga hotay hai is-liye mehaz aik field ko bura kehna ghalat ho gaa. Media aur showbizness aik aisi field hai jis mein sab kuch aap kay samnay hota hai. Is-liye log bhi tanqeed kartay hain aur ungliyan bhi utthataay hain. Aik lark jitni bhi paak-daman ho agar who media mein hai to bay-kirdaar hai aur agar koi larki apnay maan baap kee nazron mein kitni hee dhhool jhonk rahi ho lekin uss kaa taaluq media say nahin hai to muashra ussay paak-damman hee kahay gaa. Hamara muashra tang zehan hai aur hamary mei-yaar society kaay har fard aur tabqay kay liye alag hain. Aik artist agar das (10) dramon mein accha kaam kar raha hai to koi uss ki taareef nahin karay gaa aur agar kahin uss say ghalti ho jaaye to 100 log tanqeed karnay bahir nikal aatay hain
Umeed jo poori huwee
Mein nay mehaz 19 saal kee umar mein industry join kee aur yeh meri khush qismati thee kay mujhey acchay producers, directors kay saath kaam karnay kaa mauqa mila. Lekin geo tv kay comedy show 'hum sab umeed sey hain' nay mujhey meri asal pehchaan dee aur mujhey apnay career say jo umeedain thhee who poori hoti nazar aayeen. Magar 'hum sab umeed say hain' kee hosting aur acting meray liye bohat bara challenge thha. Jahan mujhey har haal mein apni performance ko 100% ban-ana hota hai. Yeh program kartay huway mujhey ehsaas huwa kaay logon ko hansaana kitnaa mushkil kaam hai, kyon kaay chahay aap beymaar hon, perishaan hon yaa bohat hee buraay mood mein hoon lekin camera kaay saamnay aapko fresh aur mazah say bharpoor hee nazar aana hai. Sanjeeda ada-kaari mein aapkaay paas margin hota hai magar comedy mehnat aur commitment kaay baghair ho hee nahin saktee. 'Hum sab umeed say hain' meri zindagi kaa sab se mushkil aur kamyaab project hai
"Maat" meri jeet ban gaya
"hum sab umeed say hain" karnay kaay baad jahan mujhey aik pehchaan milli aur mega projects mein kaam karnay ka mauqa bhi milla. Magar zyada tar serials aur shows mein mujhey shaukh, chanchal aur zindagi say bharpoor larki kaay kirdaar millay magar mein kucch alag karna chah-tee thhi. Aisa kirdaar jo meray baaqi tamam kirdaron say mukhtalif ho jis mein log mujhey aik naye andaaz mein daikh sakain. Aisay mein jab "MAAT" drama mein "SAMAN" ka kirdar karnay ka mauqa mila to mein nay foran yeh offer qabool kar lee. Agar-chay yeh aik manfi kirdaar thha aur koi doosri ada-kaara shayed career kee oonchayee per aisa kirdaar naa karna chahtee magar yahan bhi mein nay apnay dil ke sunni aur iss challenge ko bhi qabool kiya. Shayed meri lagan sachi the is liye yeh 'maat' meri zindagi kee jeet ban gaya jis nay mujhey shohrat ki bulandiyon per ponhchaa diya aur logon kaay ilaawa directors nay bhi mujhey aik versatile ada-kaara tasleem kar liya. Is kaay baad mujhey milnay waala har kirdaar munfarid aur behtereen thha
Kirdaar kee nafsiyat ko samajhna zaroori hai
Mein bohat chhoti umer mein showbiz mein aa gayee thhee isliye graduation kay baad taaleem haasil nahin kar saki lekin mujhay mutaalay kaa bohat shauq hai aur mein hamesha kitabain parh-naay kay liye waqt nikaal leti hoon. Mein nay English literature mein Shakespeare aur Paulo Coelho ko parha hai jabkaay urdu mein bano qudsia aur umera ahmed pasandeeda hain. Al-chemist aur peer-e-kaamil who kitabain hain jinhon nay meri soch kaa zawiyaah hee badal diya. Adab kaay ilaawa nafsiyaat mera pasandeeda mazmoon hai aur mein insaani nafsiyat saay mutaaliq kitabin parhti hoon kyon kaay jab tak aap insaani nafsiyaat ko nahin samajh letay kirdaar mein haqeeqat kaa rang nahin bhar saktay. Artist bohat hisaas hota hai who apnay zaati tajarubaat kaay saath saath mushahidaay say bhi bohat kucch seekkhtaa hai. Mujhay in kitabon aur in kitabon mein bassay kirdaroon nay bohat kucch sikkhaya hai.
Mein yoga karti hoon
Log mujhay zindagi say bhar-poor larki samajhtay hain jo kucch had tak theek bhi hai. Meri fitrat mein aik hulchul thee aik toofan thha jis mein meri zaat bahay jaa rahi the. Meri zindagi mein nazm-o-zabt aur thehrao nahin thha. Who tawazun jo aik balance life guzarany kay liye bohat zaroori hai. Apni zindagi mein thehrao laanay aur fitness ko barqarar rakkhnay kay liye mein nay yoga classes shru kar deen. Ab picchlay teen (3) saalon say baa-qayedgee say yoga kar rahee hoon. Meri zaat mein thehrao aur soch mein pukhtagee kee bari wajah yoga hee hai
"Mein manto" mera dream project
Qismat hamesha mujh per meharbaan rahee hai aur shayed meri khush qismati hee hai kaay career kee shuruaat mein hee kayee yaadgaar performances day chukkee hoon lekin har fun-kaar kee tarha behtar say behtreen kaam karnay kee yeh fitri khawahish meray andar zinda hai aur mujhey umeed hai kaay kaay yeh khawahish aur tish-nagi hamesha zinda rahay gee aur meray andar chhupay artist ko kaam karnay per uksaati rahay gee. Wesay to mera har project hee meray dil kaay qareeb hota hai magar is waqt mein jis project per kaam kar rahi hoon uss ka naam hai "mein manto" jo kay mash-hoor afsaana nigar saadat Hassan manto kaay afsanon per mabni aik mega project hai jissay sarmad sultan khoosat direct kar rahay hain. Iss project ko aap mera dream project bhi keh saktay hain, jiss mein log mujhay jald aik naye andaaz mein daikhhin gay. Jab sarmad sultan khoosat nay mujhey yeh role offer kiya to mein bohat nervous thee kaay itna bara aur aham role kesay kar paoon gee magar sarmad sultan kaa yeh kehnaa thha kay yeh role aap kaay illaawa koi aur ada-kaar kar hee nahin sakti, meray liye yeh aik bohat bara compliment hai
Shaadi kab?
Shaadi aik bohat aham faisla hai mein iss mein jalad baazi nahin karna chahtee aur wesay bhi mera yaqeen hai kaay naseeb say zyada aur waqat say pehlay kissi ko kucch nahin miltaa hai. Iss liye jab sahih waqat ho gaat to meri shaadi bhi ho jaye gee. Aaj kal meri shaadi kaay baray mein afwahain manzare-aam per aati rehti hai magar unn mein koi sidaqat nahin. Meray nazdeek shaadi zindagi kaa aik aham faisla balkay turning point hai aur mein jab shaadi karoon gee to ussay kabhi bhi nahin chhupaoon gee aur mein yeh bhi wazah kar dena chah-tee hoon kay meri koi ideal nahin hai. Haan bas mera shareeke safar aik sacha insaan ho gaa
Ideal zindagi kiya hai?
Ideal zindagi wohi hai jis mein aap khush aur mutma-inn hon aur yeh khushi aur itmenaan tab hi hasil hota hai jab aap ko iss haqeeqat per yaqeen aa jaye kay waqat sey pehlay aur naseeb say zyadah kissi ko kucch nahin milta to phhir zyada kee hawas nahin rehti aur insaan ALLAH TAALAA kee naimtoon kaa shukar guzaar ho jaata hai. Aaj mein aapni zindagi say mutma-inn hoon . aap keh saktay hain kay mein aik ideal zindagi guzar rahi hoon. Mohabbat karnay waali family, bulandi ko chhota huwa career aur lakkhon logon ka pyar – – aik ideal zindagi shayed aisee hee hoti hai—!
Award show kiya hain?
Aik ada-kaar kay liye pazee-rayee utnee hee zaroori hai jitnaa kissi poday kay liye paani! Jis tarah poday ko nasho-numa kay liye paani kee zaroorat hoti hai hai ussi tarah har fun-kaar kaay dil mein apnay fun ko nikkharnaay kay kee umang mojood hoti hai aur iss jazbay ko zinda aur tawanaa rakkhnay kay liye pazi-rayee bohat zaroori hai. Artist ko yeh pazi-rayee faraham karnay kay liye award show aik bohat aham zariya hain basher-tekay yeh award merit per diya jayen. Aik to hamary mulk mein award shows hotay hee bohat kam hain aur jo chand gintee kaay award hotay hain uun mein merit kaa koi tasawur nahin. Yoon lagta hai jesay award jury apni zaati pasand aur face value per logon ko nawaz rahi hai jabkay award denay kaa asal may-yaar sirf aur sirf performance honi chahiyay
Confused muashray kay liye
Mein Pakistani hoon aur mujhay apnay Pakistani honay per fakhar hai mein kissi Indian film mein maamooli saa kirdaar karnaay kee khawahish-mand nahin hoon. Haan agar donon mulk barabree kee satah per kaam  karain to uss ka fayeda donon mumaalik kaay funkaaron ko ho gaa. Iss waqt halaat yeh hain kaay tamam Indian aur Turkish ada-kaar to Pakistan kay har ghar aur tv lounge mein dasti-yaab hain magar Pakistani ada-kaaron ko unkaay ghar mein koi nahin jaan-taa. Is kaay bar-aks india kaa koi third class actor bhi Pakistan aa jaye to media aur awam paaglon kee tarah uss ka istaqbaal kartee hay. Iss waqt hamary mulk mein indian aur Turkish drama nashar karnay kaa jo riwaaj chal niklaa hai iss khatarnaak riwayat seay agar-chay Pakistani channels to khoob kama rahay hain lekin agar rating barhaanay kee daur mein shaamil channels ko bar-waqt naa roka gaya to iss kaay sangeen natayej pooray muashray ko apni lapait mein lay lain gay. Pehlay hamara artist khatam ho gaa aur phhir Pakistani siqafat — hamara media aur awam Turkish drama mein nazar aanay waali fahashi ko public demand kaa naam deti hai magar yehi libaas agar Pakistani ada-kaarayen pehan lain to sab kee ungliyan khari hoti hai. Dar-asal ham confused qaum hain jis nay dohray may-yaar apnaa rakhay hain aur hamara media iss gumrah qaum kee islaah karnay ki bajaye mazeed gumrah kar raha hai
Rashid Nazir Ali