After announcements of release of Turkish films in cinemas, Iranian film productions are also knocking the door. As per media reports preparations are underway to release Iranian films in cinemas too. Relevant agreement among Iranian film producers and Pakistani film distributors has been reached, after which Iranian films will be released in cinemas with Urdu dubbing.
It is too early to comment what sort of reception Iranian or Turkish films will receive. Historical stats show that Pakistani cine-goers mostly like Indian styled masala films. In regional Pashto/Punjabi cinema, Maulat Jutt styled action films are mostly successful. Apart from few exceptions, mostly Indian style films are the successful one in cinema.
About Iran
Iran is western neighbor of our country, and its national language is Persian (Faarsi). Iran has a vibrant cinema industry, and every year many Iranian films run successfully in Iranian cinemas. Iranian films are also popular in Persian speaking countries Afghanistan and Tajikistan, and other countries like Bahrain, UAE, Iraq, Turkey, Azebaijan where Persian is understood by minority groups. As per wikipedia, Iran is considered one of the best exporters of cinema especially in 90's.
Actual news from Urdu daily Nai Baat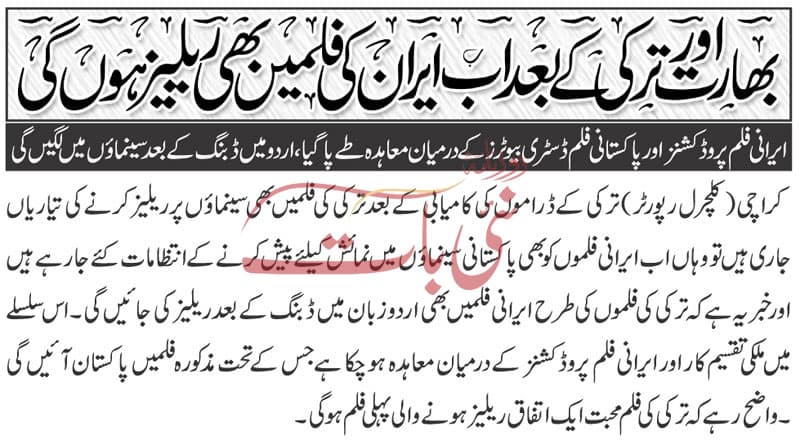 Rashid Nazir Ali