There used to be a saying about moving everything but the kitchen sink, but we cannot apply it to our celebrities when it comes to Ramzan transmissions. They move to the sets with everything, including the kitchen sink.
Talking about shaan e sehar or iftar or dil dil ramzan or ramzan main bol or barkat or whatever ingenious names they come up, there has to be a certain amount of topics you can really discuss every day, so they just leave the topics and preparation. They just shoot life as it happens.
Ramzan transmissions are more like vlogs now with kids singing, playing, aunties cooking, scholars arguing, hosts giving presents, guests debating and even swans roaming at will. And on top of all that, Sanam Baloch has now shown a live nikah on her program or in her words provided relief to the mother by wedding off her daughter.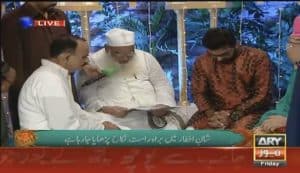 The sequence of doing a live nikah seems quite desperate to be honest. There has to be better ways to helping out parents for their daughters' wedding and especially since it didn't involve any monetary contribution from the viewers. It looks more like filling screen time by finding one uniquely weird idea after the other to boost the ratings.
The funny thing is how they find people to be willing to just do everything on air. And how they must be grabbing people for everything. If  they can do live nikah, live fights and live cooking on stage, I wonder what will we see next.
Let's stay tuned, because there are more than three weeks of ramzan left and the ramzan transmissions teams are certainly going to come up with many more entertaining ideas like this… to keep the show going ?