It won't be incorrect to say that Humayun Saeed is Pakistan's biggest star. In fact, Saeed is a superstar which can be confirmed from the fact that none of his films or dramas in recent times has seen a bad day. Whether it has been his film Jawani Phir Nahi Aani or his drama Dil Lagi, everything Humayun Saeed has been involved in recent times has become a major hit.
Saeed's latest drama serial, Meray Paas Tum Ho became a cult sensation, becoming one of the biggest drama serials to be followed in the history of Pakistan television. The craze of Meray Paas Tum Ho grew so much so that the finale was screened in cinemas across the country.
Humayun Saeed's amazing performance as Danish in Meray Paas Tum Ho was lauded right from the very start as the actor took upon a challenging role, keeping his glamorous looks aside. Humayun's face conveyed his expressions and pain so well, the entire nation bore witness to the act that he was indeed, one fine actor.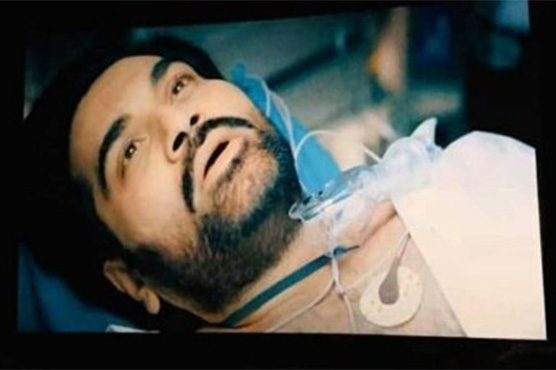 And therefore when co-star and friend Mahira Khan took to her Twitter to praise Saeed for his superb acting, it doesn't really come as a surprise. Taking to her Twitter, Mahira praised Humayun Saeed for his role as Danish in Meray Paas Tum Ho.
"Humayun, aap ka dil aap ke chehray aur kaam mein nazar aata hai, hero," wrote Mahira on her Twitter.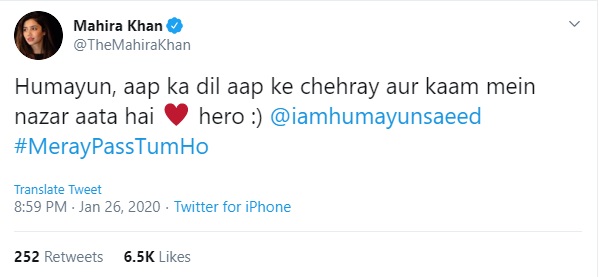 Humayun Saeed was quick to respond to Mahira stating it had all been the result of so many prayers and love.

In the past Mahira Khan and Humayun Saeed did Bin Roye together, a major blockbuster in cinemas across Pakistan and overseas as well.