The diva Mahira Khan is immensely loved in Pakistan and is all set to make her Bollywood Debut with Shah Rukh Khan starer Raees. An old interview clip of Mahira from 'The Omer Sharif' show has went viral on social media, as an Indian woman tweeted the clip with a hateful caption.
Views of our patriotic Raees's Pakistani co-actress Mahira Khan about India and Bollywood. Plz sell your self-esteem before watching Raees. pic.twitter.com/OFozL8iEY8

— Sonam Mahajan (@AsYouNotWish) December 29, 2016
In the clip, Mahira in conversation with Omer Sharif said, "Aapko India se inspire nahi hona chahiye. Bilkul nahi. Hum Bollywood nahi hain (We should never be inspired from Indians. We are not Bollywood)." The clip, which was captured over five years ago, hasn't gone down well with some on the Internet but there were many of those too who supported the diva. Mahira had said all this in the context of a larger conversation about supporting Pakistani talent. Unfortunately, the clip has gone viral and Twitteratti have expressed their views on this issue.
@AsYouNotWish @TarekFatah very old show sonam, she had just turned actress from a vj, people grow, mindsets change.

— RIZ (@rizwarned) December 30, 2016
@pnkunicrnbb @AsYouNotWish I watched the interview and I think we should boycott that Idiot @iamsrk's Raees. His heart bleeds for Pakistan.

— Karma (@BinuJoseKarayi) December 30, 2016
@nivedim @AsYouNotWish it's completely your wish. Don't decide to watch movie based on that bias . They are only for entertainment.

— Raees Ravi (@Ravisrkian) December 31, 2016
@AsYouNotWish majority of Indian public put celebrities ahead of their ego and country in the name of "liberalism" and "But this is art!"

— DatAsianGirl (@ShradanjaliRai) December 30, 2016
@AsYouNotWish @DhirajPareek9 one thing I always appreciate pakistan Walae love there nation t most unlike traitors in Hindustan.

— MyRebel1 (@my_rebel1) December 30, 2016
@AsYouNotWish Neither she criticized nor she said anything against India. But there are people like you who digs negativity out of anything.

— ʀαjdєєp (@RajSpeaKING) December 31, 2016
@AsYouNotWish Thank you for this video usko india aur bollywood se inspire nhi hona par yaha ki film karni hai wow doublefaced Mahira khan

— Abhishekkumar sharma (@abhisharma1193) December 31, 2016
@AsYouNotWish @iamsrk sir ..ur heroin praising India &Indians so much V thank u for casting her sir..hope u introduce more and more from pak

— Not a Paid TROLL (@BakthbyDefault) December 31, 2016
@AsYouNotWish Good trick to get attention. Congrats for success. She said what any actress in any country will say abt their film industry.

— ღ Nαν ღ (@Navneet__Sandhu) December 31, 2016
@seherhafeez @TeamMahiraKhan @AsYouNotWish stop misleading people by posting such videos #MahiraKhan is a very genuine human being.

— Deep Basu (@deepbasu1) December 30, 2016
here we go Trolls and Propaganda to ruin #Raees . Use a cut and paste from a comedy show which is meant to be tongue in cheek #mahirakhan

— SadafSays (@tomtomatoe) December 31, 2016
This is how Mahira responded to the false news doing rounds on the internet.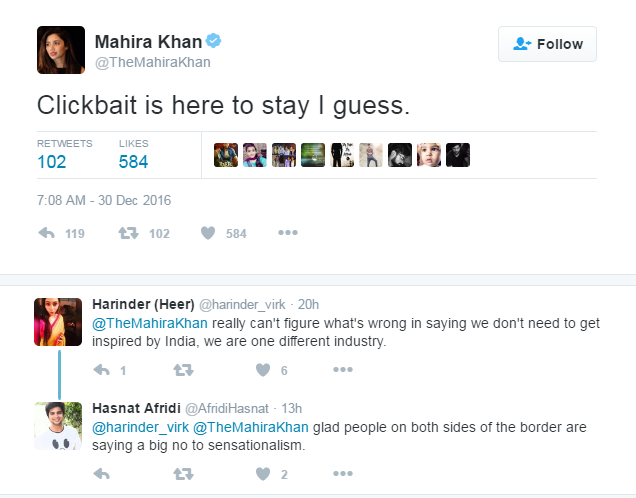 The clip which went viral was picked out of context and used to point fingers and take a dig at Mahira for "anti-India sentiments". Here is the full interview which was captured 5 years ago. https://www.youtube.com/watch?v=b0sQLUaXLM8#t=891 Rimsha Butt